It's been three months since William's last update and it seems like so much has changed! He's really a toddler now, not a baby, and he is more fun every single day. And, being a mom is that much more rewarding and exhausting! He literally doesn't stop while he is awake – just to eat and occasionally he'll sit to read a book. The biggest challenge over the last three months? Knowing when to drop William to one nap a day. After we made the change, we were both much happier and are glad to be back in a groove. Did any of you mom's also struggle with when to drop a nap?
To celebrate 15 months with William, we've teamed up with Freshly Picked to giveaway three pair of Freshly Picked moccasins (William's favorite shoes!), to one reader – To enter, keep scrolling to the end of this post!
on william: striped sunsuit|moccasins|blanket/beach towel
on stia: gingham top $55|jeans|sandals
Height/Weight
We go to William's pediatrician on Wednesday, so I don't have exact measurements! I do know that he has grown so much since his first birthday. Or maybe it's just that he's upright walking around he seems so much bigger!
Sleeping
After a little regression around nine months, William has been sleeping twelve hours a night since about ten months old. He was always a good sleeper, just getting up to nurse once a night (other than the regression). Thankfully, he loves his sleep now! He dropped his afternoon nap just two weeks ago, so we are now adjusting to life with one nap. He and I both 😉
Nursing
After finding out I was pregnant on NYE, I knew that I would need to wean William to give my body a break before baby #2 arrives. Right now, we have weaned all feedings other than nursing right when he wakes up in the morning. I will most likely drop the morning feeding in the next few weeks. It is so bittersweet. I am so happy that breastfeeding worked well for us. I will miss that special one on one time with William, but I know that my body needs a rest before doing it all over again in September! I'll just have to sneak my snuggles in when we're reading books and throughout the day when he'll let me.
Personality
William is such a ham. He plays tricks and just realized when he's funny (which makes him laugh even harder), wants to spend every waking second outside (if he sees the pool, stroller or wagon – it's all over), he communicates very well (although he just has about 5 words) and is the sweetest little boy. He loves giving out kisses, blowing kisses, waving, raising his hands, clapping, shaking his head no and gives the biggest hugs. He started walking a few weeks ago, and ever since then he is always on his feet getting around. He hands Gigi her sunglasses and hat when he wants to go for a walk and we always end up at the playground – on the swings or slides. He loves to mimic – He "cheers" during meals, pretends to talk on the phone, brushes his teeth and hair, and fakes coughing. In just the past three months, it's incredible how much he's grown up and that he seems so much more like a little boy than a baby!
Solids
My goodness, this boy can eat. We joke that he eats more than we do, but of course, it fluctuates from day to day. Breakfast is usually a cup of oatmeal, almond butter toast with bananas and then some fruit. For lunch, we do anything from quesadillas, grilled cheese, burritos, tuna or avocado toast. I'll start him with some veggies (peas, carrots and corn are his favorites) and we finish with fruit. For dinner, I feed William a variation of what we are eating for dinner. He loves taco meat (usually ground turkey with kidney beans and Whole Foods taco seasoning), fish, ground beef or beans. Again, we give veggies to start and finish with "dessert" aka fruit. William will eat pretty much anything, but he's a typical toddler in that he loves one fruit or veggie one week and the next week won't even look at it!
Snacks
Because we are on the go a lot, I tend to keep a few go-to snacks in my purse. William loves string cheese (or any cheese in general) and cut up fruit. But some days, it just isn't practical to have food in my purse all day, so I've been keeping Pure Growth Organics snacks in my bag. You guys, William loves them. His favorites are the strawberry breakfast bites and the snack mix. They make the perfect on the go snack and I love that they are organic, something that is hard to find in a packaged snack food. We try to feed William strictly organic, which isn't always possible, but it's so nice to have organic snacks for on-the-go and while traveling.
Schedule
Now that we are down to one nap a day, William typically wakes up around 7:30. I'll nurse him, we'll read a few books and then head downstairs to eat breakfast around 8. During the morning, we will run a few errands, go for a walk, play at the house and then we usually start lunch around 11:30/12. William takes a nap around 12:30/1 and sleeps for a good three hours. When he wakes up, we usually have a snack then more playtime and we start dinner around 6/6:30. Following dinner is bath time and then we play in William's room, settle down with a few books, say our prayers and he's usually asleep by 7:30!
Teeth
This guy has a moth full of teeth! We are just waiting on those two year molars.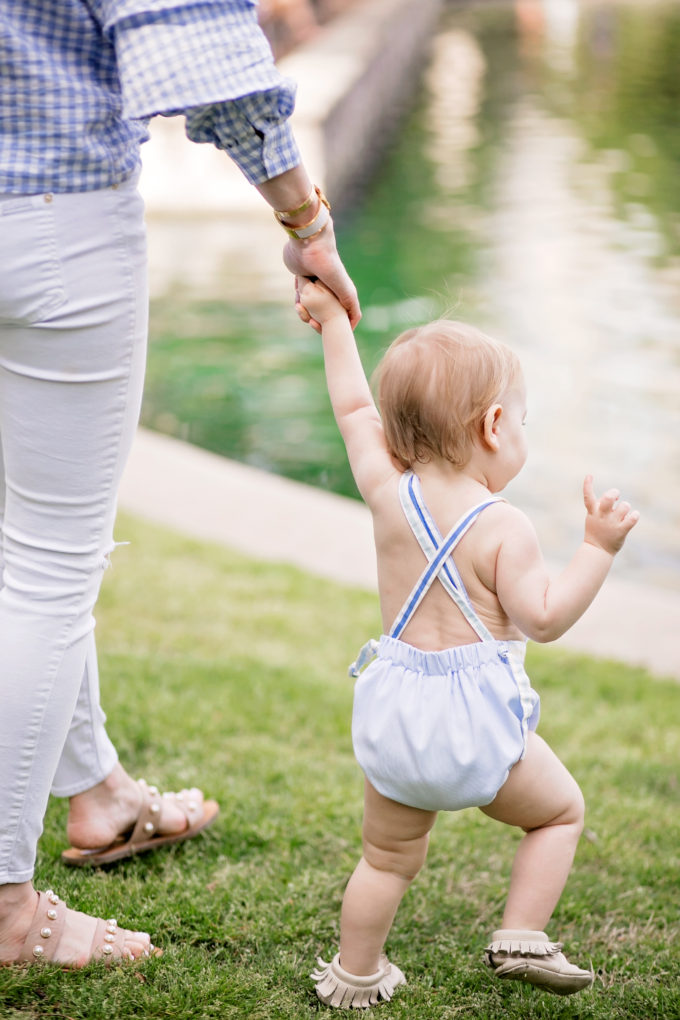 Travel
We've been to LA and Las Vegas with William this year and I will say that traveling with a toddler is way different than a baby who sleeps the whole flight. We have quite a bit of travel planned until August, when we are homebound to await the arrival of baby brother or sister! I'll plan to share our tips/tricks for traveling with a toddler after the next few trips are under our belt. Find our traveling with a baby tips here and here!
Favorite Products
We love our UPPAbaby Vista and G-LUXE. They are at the top of our list because we use them so much!
Clothing from The Beaufort Bonnet Company. We love the traditional options for William and that pretty much everything can be personalized.
His sleep suit is so cuddly and when we put it on William, he knows it's time for bed, and he is ready!
William took right to this sippy cup. He has some pretty cute ways to open it to get to the straw 🙂
A dual camera baby monitor – can't tell you how excited I am about this now and especially when baby brother/sister arrives. This is a new addition to the nursery and essential.
William has two "lovies" that he takes everywhere 1) his "baba" aka blanket and 2) Ellie the elephant. We lost Ellie the other day and had to order a new one immediately. William knew it wasn't the right one (kids are so smart) and when we finally found the real Ellie on Friday, he was so excited and kept hugging her and wouldn't set her down.
Freshly Picked Moccasins – scroll to enter to win a bundle of three pairs!
Freshly Picked Giveaway
To enter to win three pairs of Freshly Picked Moccassins, login to app below. It will take you through a step by step process to enter. Giveaway ends 4/19 at Midnight- so enter now! Good luck! Please note: You must follow Freshly Picked on Instagram to be eligible to win. Winner may not have won a moccasin giveaway in the last 60 days.
Three pairs of Freshly Picked Moccassins

We never share emails. Your privacy is top priority for us! We only need your email to notify you if you win. Giveaway ends Wednesday, April 20th at 11:59 pm. Winner has 24 hours to email us before a new winner is selected. Good luck!
Cheers,
Stia, Jean and Katherine
Photos by Angie Garcia