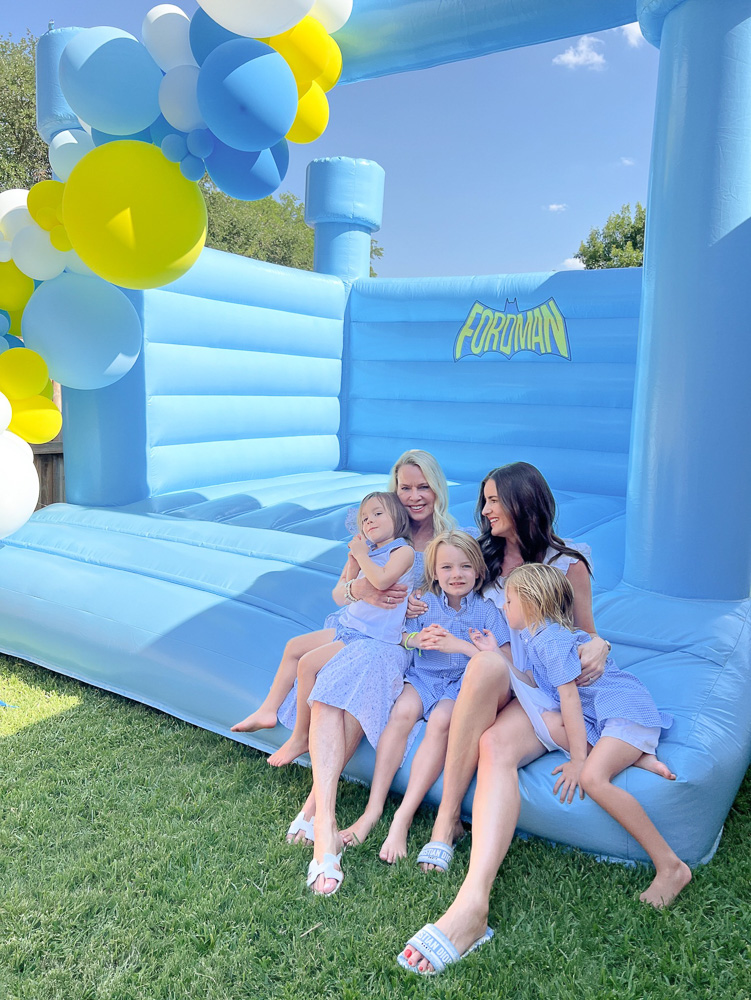 Ford is three! He is obsessed with Batman, so we decide on a "Fordman" aka Batman party. Ford had the best night celebrating with his friends, family and Batman!
Invitation
Sequins and Lipstick is the best to work with all on things party related! Since Batman can be a little scary, I wanted to make the party as geared to little kids as possible. I found an old batman logo with "batman" written inside the bat signal and sent it to Tammy and told her my vision. The "Fordman" logo turned out so cute and we used it on the invitations and on a lot of the party decor!
Food/Drinks
We had Velvet Taco catered for his party. We served two types of tacos and quesadillas for the kids. Queso and chips, too! To go along with the tacos, Caleb made his famous margaritas that are always a hit!
Activities
Ford is obsessed with the color blue, so we did a blue bounce house this time. Even though it was 103 degrees outside, it didn't stop the kids from bouncing and playing in it! Thankfully we had some shade.
To encourage the kids to come inside as well, we had a balloon guy come to make balloon art. The kids asked to make all kinds of different things and he did. He was so talented and a big hit with the kids!
Of course, we had to have Batman stop by to see Ford. Ford was so excited to have Batman at this house and didn't leave his side. Batman had Superhero training for the kids and they all loved it! I was happily surprised, but most of the kids loved having Batman at the party – no tears from anyone!
Decor
With most of our parties, we have custom cups, napkins and placemats made from Sequins and Lipstick. I love the personalization they bring to the party. We used the "Fordman" logo on all of these. They really turned out so cute!
Lushra did the balloons and we can 't say enough great things about the company. So easy to work with and they always have great ideas. We sourced the decal for the bounce house from Lushra too. Sequins and Lipstick created it and you can purchase the image to use for the vinyls. It's very streamlined!
What We Wore
We found the cutest little bloomer set for Ford in white with blue gingham accents. Since blue is his favorite color, and we were planning to use a lot of blue in his party decor, it was the perfect thing for him to wear. William and Henry wore coordinating blue gingham button down shirts with white shorts. Stia wore this cute and cool white mini dress, while Jean wore this smocked midi dress and Katherine wore this super cute one-shoulder maxi dress. We were all in coordinating blue and white with the boys.
Cheers,
Stia, Jean and Katherine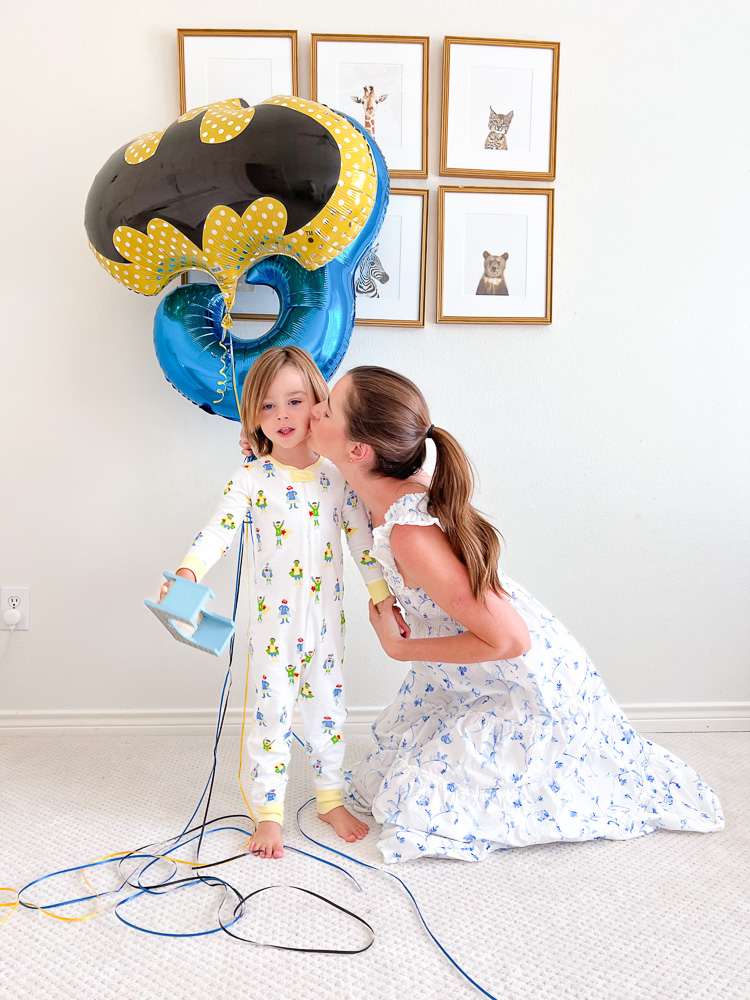 // super hero pajamas // dress //
Ford is three! We had the best time celebrating our big three year old all weekend long! He is a big fan of Batman, so we had a Fordman/Batman birthday party on Friday evening with family/friends at our house. I don't think he could have had more fun than he did! I'll share more on his party tomorrow.
Ford has been the sweetest addition to our family. He loves his brothers so much and he is always up for anything/everything! We love you Ford!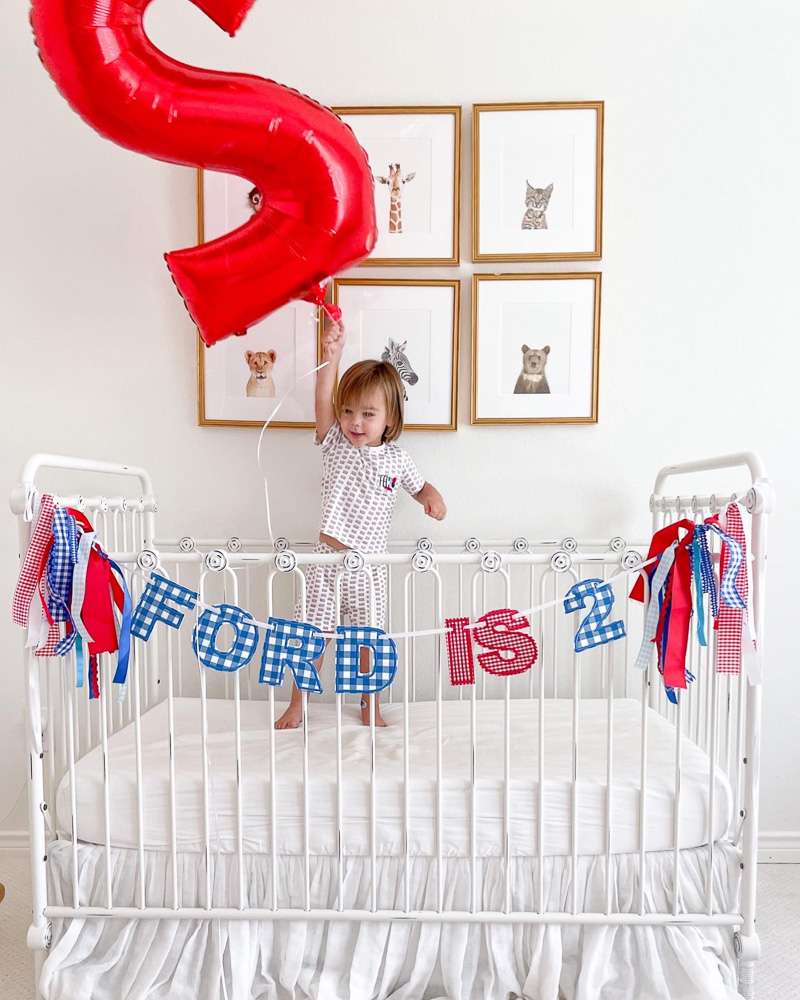 Height/Weight
He continues to be tall and weighs about 38 pounds.
Sleeping
Ford moved out of his crib and into a big boy bed earlier this year. He was crawling out of his crib, so we decided to make the transition. He did really well and loves his big boy bed. We had to work through some sleep issues – he went through a phase of being hard to get to bed, middle of the night waking and early morning wake ups (all at different times!). Also, he stopped going down for naps right after his second birthday. I tried everything I could (William napped until he was 5!), but the only time I can get him to nap is in the car. He is an early riser and ready to go before 7 am each morning!
Personality
There is no lack of personality with Ford! He has a ton of it! He's very strong-willed and acts much older than he is, but then he will want to be the baby again. He keeps us laughing and on our toes all the time. He loves the color blue and will always pick blue anything!
He loves this brothers, always asking "Where'd the brothers go?", doing puzzles, playing make believe and loves to cuddle up for a movie. His favorite type of play is imaginary play with Henry. They can make believe play for hours. He likes to pretend to read – pointing at the pages and "reading" what it says. Ford loves characters – Batman, Chase, Sonic etc. He gets obsessed with one and that's all he wants to play/read/talk about!
Schedule
He is usually up before 7, he may catch a cat nap in the car and bedtime starts around 7:30. Since there are no more naps in his bed, he is very go with the flow and we aren't on much of a schedule these days.
Meals
I'm pretty sure Ford could be a vegetarian. He could eat only veggies for every meal. My first child to do that! For breakfast, Ford loves greek yogurt with berries, flax and cacao nibs. For lunch, he likes avocado, peppers, carrots and he loves toast. For dinner, he likes rice and veggies bowls, grilled cheese and occasionally a burger!
Travel
Since he turned two last year, Ford has been to San Diego for our yearly beach trip with extended family, Vail right after Thanksgiving, London, Hampshire, Paris and Cabo! He's a great traveler – always goes with the flow!
Activities
Ford started pre-school in the fall and loved it. He had the best year and made the sweetest friends. He's also in swim lessons and loves them! That's all his scheduled activities for now.
Milestones
Moved to big boy bed
Learned to swim
Gets himself dressed
Started pre-school last Fall
Must-Have Items for Three Year Old:
Cheers,
Stia, Jean and Katherine