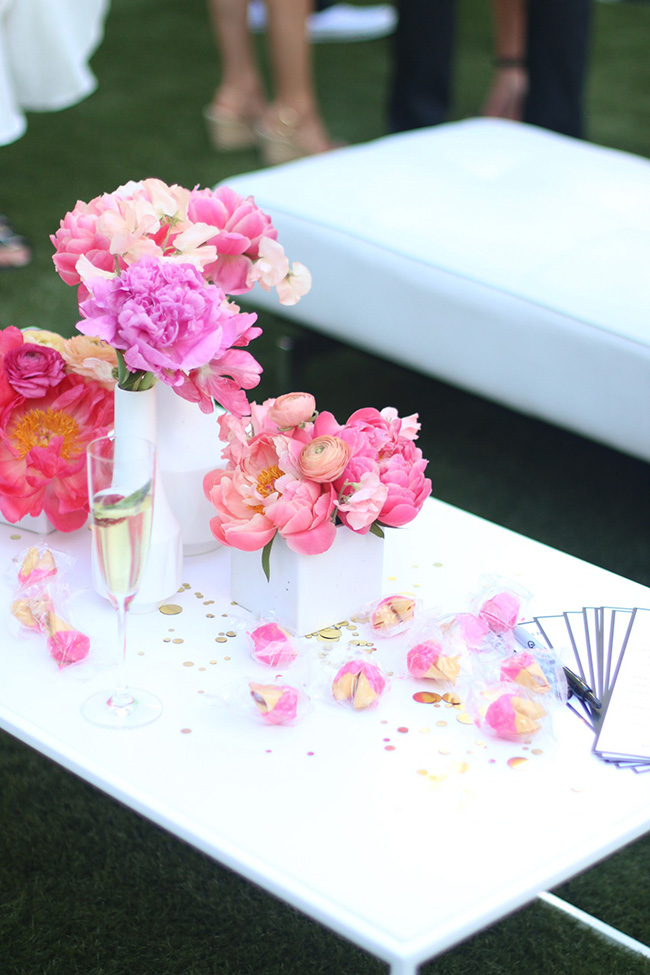 |image via|
Last month during rSTheCon, we attended a party hosted by Kate Spade New York.  It was in a small park in downtown Dallas on a beautiful evening.  The decor was gorgeous – loads of white with black & white stripe accents and pops of pink color everywhere, even fortune cookies dipped in pink icing!  We were greeted with trays of a delicious prosecco cocktail.  It was so different, light & refreshing, plus very girly, that we decided we had to try to make it at home!  We found out that the secret ingredient giving it such a unique flavor is limoncello, which is an Italian liquer.  This cocktail can be made with Prosecco (Italian sparkling wine), or any champagne or sparkling wine of your choice.  Add a frozen raspberry  & a sprig of mint and it looks as good as it tastes.  After a couple of experiments, we think we came very close.  We plan to make this our signature cocktail to celebrate with over the long weekend!
Sparkling Limoncello Cocktails
Serves 2
1/4 cup fresh mint leaves (plus 2 leaves to garnish each drink)

1/4 cup limoncello

2 tablespoons sugar plus additional for dipping Champagne flutes

Lemon peel strips from 1 lemon

4 teaspoons fresh lemon juice plus 1 lemon wedge

1 cup (about) chilled Champagne or sparkling wine
Place mint, limoncello, 2 tablespoons sugar, and lemon strips in blender; blend until mint is finely chopped (lemon peel will be coarsely chopped), 10 seconds. Strain into small cup; discard solids. Run lemon wedge around rim of 2 Champagne flutes. Dip rims into sugar. Divide limoncello mixture and lemon juice between flutes. Top with Champagne. Optional: garnish each drink with a mint leaf & a fresh raspberry.  Enjoy!
While you're enjoying your drink, be sure to check out these great Memorial Day weekend sales:
Shop Memorial Day Sales:

Click on the picture to go directly to the retailer, click on the arrows to see more!
Cheers,