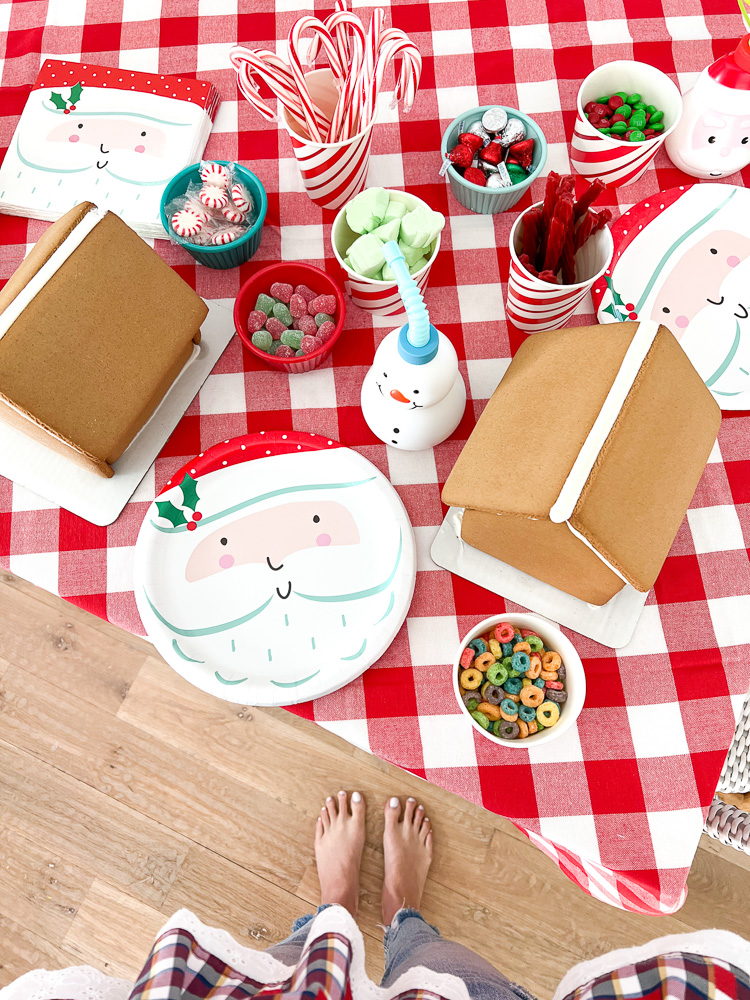 Thank you to Walmart for partnering with us on this post!
We have Henry's friends from school coming over tomorrow to decorate Gingerbread houses. We did it last year for his class and he talks about it all the time. The kids all had so much fun using their imaginations and we couldn't wait to do it again! It's a pretty easy party to host and using my Walmart+ membership made it even easier.
Since the holidays are upon us and stores are so busy, I decided to use my Walmart+ membership to order everything for the gingerbread party. I made a list of the items we needed: pre-made gingerbread houses, all the candy for decorating and some festive decorations, like these cute Santa plates and Christmas cups for each kid. Walmart has the best selection of holiday baking needs and I know that my Walmart+ membership offers the same everyday low prices that you find in store. The pre-made gingerbread houses are key to making the experience streamlined for the little ones, and Walmart has a variety of shapes and sizes. Walmart+ offers the best assortment of high quality groceries, so it's a win/win with unlimited, free delivery ($35 order minimum. Restrictions apply)!
Walmart+ made party prep a breeze for me! I was able to have everything we needed for the party with unlimited, free delivery ($35 order minimum. Restrictions apply). Walmart+ unlimited free delivery was very helpful when I realized I had forgotten to buy a few essential kinds of candy! You can see the full list of Walmart+ benefits in your area here. Now is the perfect time to start your free trial membership!
Shop Gingerbread Party:

Cheers,
Stia, Jean and Katherine