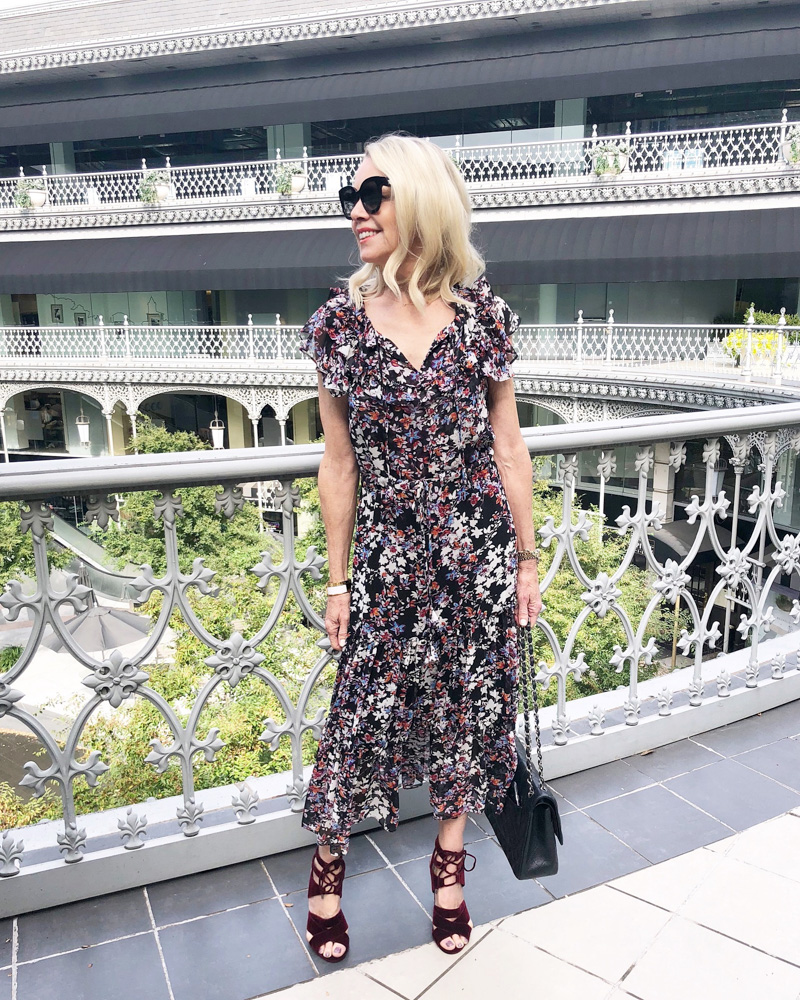 floral maxi dress // velvet heels // bag // sunglasses
Ok, you guys, we are starting to feel like a broken record here, but didn't November just fly by in a blink of an eye?? We finally had the chance to celebrate Justin's October birthday at the beginning of November. Celebrating our birthdays together is always one of our favorite family times. After having a fun dinner and opening presents, everyone stayed over at Jean's house. In the morning we had brunch together and William and Henry were over the moon to have Aunt Kat and Uncle Justin there first thing in the morning.
The goop GIFT pop-up at Highland Park Village and Katey McFarlan Hellman's Holiday Brunch at The Shops at Clearfork really kicked off the holiday season for us. We got a great start on our Christmas shopping list at goop GIFT and had the best time with our friends at Katey's brunch. It was beautiful, and so festive and fun!
We finally made it Waco for a Baylor football game! With all the house renovation, it's been hard to find time to make the trek, but it was worth it to see our Baylor friends and for the boys to hang out with our friends' babies. Precious moments.
The day before Thanksgiving we spent our first night in the new house- yay!!!! It wasn't really ready and it's still a work in progress, but it's so nice to know we are in. The next day was Thanksgiving and we all went out of town to see family- Katherine and Justin to Austin, Stia and Caleb to Granbury. Jean stayed in Dallas and got all her Christmas decorations- and so much Christmas shopping done!
The last day of November marked the beginning of Christmas party season for us! Stia and Caleb had a big party in Dallas and that's just the beginning. We hope that y'all had a fun November and we are so looking forward to this season of Christmas joy and blessings which means spending time with the ones we love and remembering the reason for it all!
Most Read Blog Posts
Top Selling Products
Instagram Round Up
pom pom hat // jacket // sweater // jeans // over the knee boots
navy longall // navy sweater // navy shoes // peter pan collar shirt
frames // rocker // rug // debut set
ombré sweater // jeans // over the knee boots // tote bag
duck pajamas // duvet cover // euro sham // standard sham // giraffe // welcome to the parker print
striped sweater // jeans // mules // gucci camera bag // round sunglasses
velvet shortall // velvet jon jon // peter pan collar shirt
high/low dress // sandals // sunglasses
Cheers,
Stia, Jean and Katherine