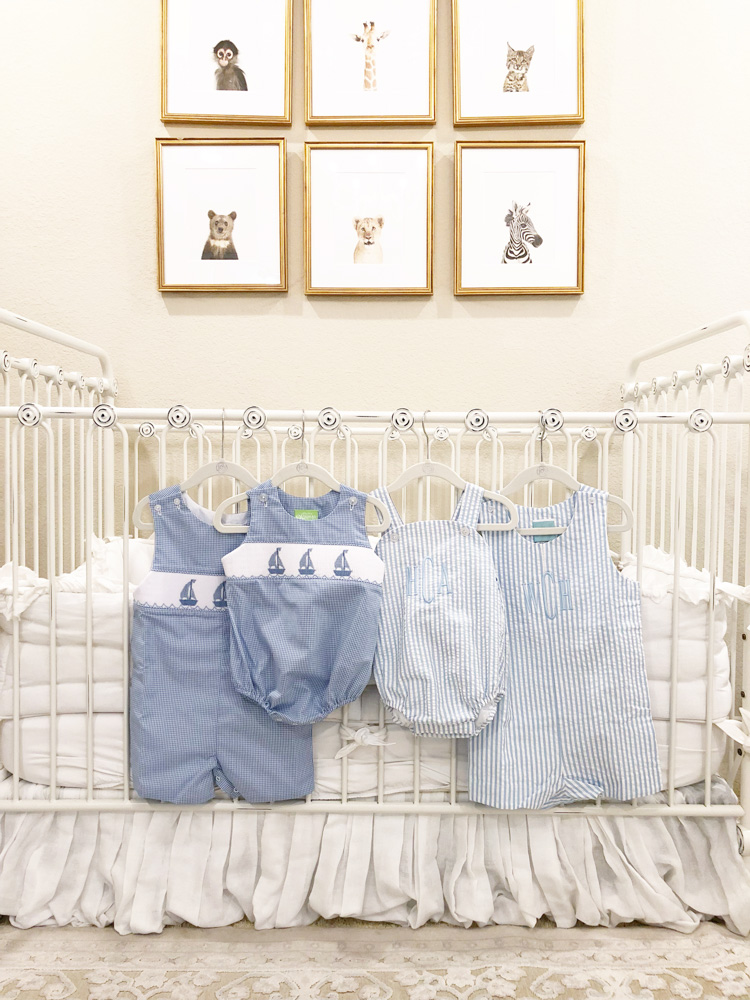 Before having boys – I thought the only cute baby clothes were for baby girls! It didn't take long to realize that dressing my boys in traditional clothing was just as sweet as the precious little bloomer sets for baby girls. Here are a few places we shop for the boys and some clothes we are loving for them as we head into Spring. There are also cute girl options, too! We also love to find and shop special children's boutiques, but these are the places we frequent the most for the boys! Would love to hear of a few of your favorite kid's clothing shops, too!
The Beaufort Bonnet Company
The Beaufort Bonnet Company has the sweetest traditional clothing for kids. We've been dressing William and Henry in TBBC from the time they were born and love having two little boys to match in Beaufort Bonnet's sweet clothes!
Boys: I love little boys in bubbles and TBBC has some of the cutest ones. This striped bubble and this smocked bubble are too sweet. William has pretty much outgrown Jon Jons from here (insert cry face), so we have moved onto the cutest polos with coordinated shorts to go with Henry's bubbles. The boys both have these striped trunks and these sailboats for swimming this summer. I love these plain white rash guards (they are harder to find than you think!) and so many adorable hats to choose from. They also make the softest coordinating pajamas!
Girls: Oh my goodness, the girls' clothes are just precious. If you have a girl – this is the sweetest little dress, this bunny set is perfect for Easter festivities and how adorable are these pajamas?! Plus, we love that if you have a boy and a girl – there are so many cute coordinating sibling outfits!
Nordstrom
We head to Nordstrom not only to shop for ourselves, but also for the boys. It's so nice to have a place where we can pretty much pick up everything at once. A lot of the boys' play clothes are from here and also their shoes. I love to add a personal touch to some of their plain T's – Nordstrom will monogram at some locations. And, as a mom of two, I love curbside pick-up!
Boys: A lot of William's play clothes are from Nordstrom (we love Mini Boden) and we love their little onesies for Henry! Not to mention shoes – our favorite place to buy shoes! Natives, Salt Water sandals, sneakers & moccs – they have everything. PS: Nordstrom now sells crewcuts!
Girls: A strawberry swimsuit that is too cute, we love Kissy Kissy – this garden rose print is adorable, and how precious is this blue and white dress with bloomers?!
Smocked Auctions
You can't beat the price of the sweetest smocked outfits from Smocked Auctions. Smocked Auctions started as a Facebook online bidding boutique – but you can also shop in-stock items and pre-orders online, too. Dallas moms – Smocked Auctions will be hosting their sample sale this Tuesday from 5:30 – 8:30 pm and again on Wednesday from 9 am – 1 pm and 5:30 – 7:30 pm at the Magnolia Hotel Park Cities (6070 N. Central Expressway). It's the perfect time to stock up on Spring!
Boys: The boys have these matching seersucker Jon Jon and bubbles, this is Jon Jon is perfect for the puppy lover, and if you're still looking for an Easter outfit – this Bunny Jon Jon is too cute. PS: They also have the cutest swim trunks for boys!
Girls: This pink bubble with lace sleeves is too sweet, this gingham bubble is adorable and comes in ten colors and this pink check/floral rash guard set is precious!
The Tot
We love to visit the Tot in Dallas. They have the most fun activities for kids, and William loves to play at the Tot Playhouse while we shop. The Tot stands for safe and non-toxic products – that are also stylish. That's a brand we can get behind 😉 PS: Here are some of our favorite new mom must-haves from the Tot from when Henry was born.
Boys: We just adore this navy and white striped bubble for Henry, this linen bubble is perfect for the warmer weather and how cute is this sweatshirt for an extra layer?!
Girls: A darling little peach swimsuit, the sweetest little top and bloomer set and the cutest play romper in blush pink.
Shop Spring Clothing for Kids:

Cheers,
Stia, Jean and Katherine