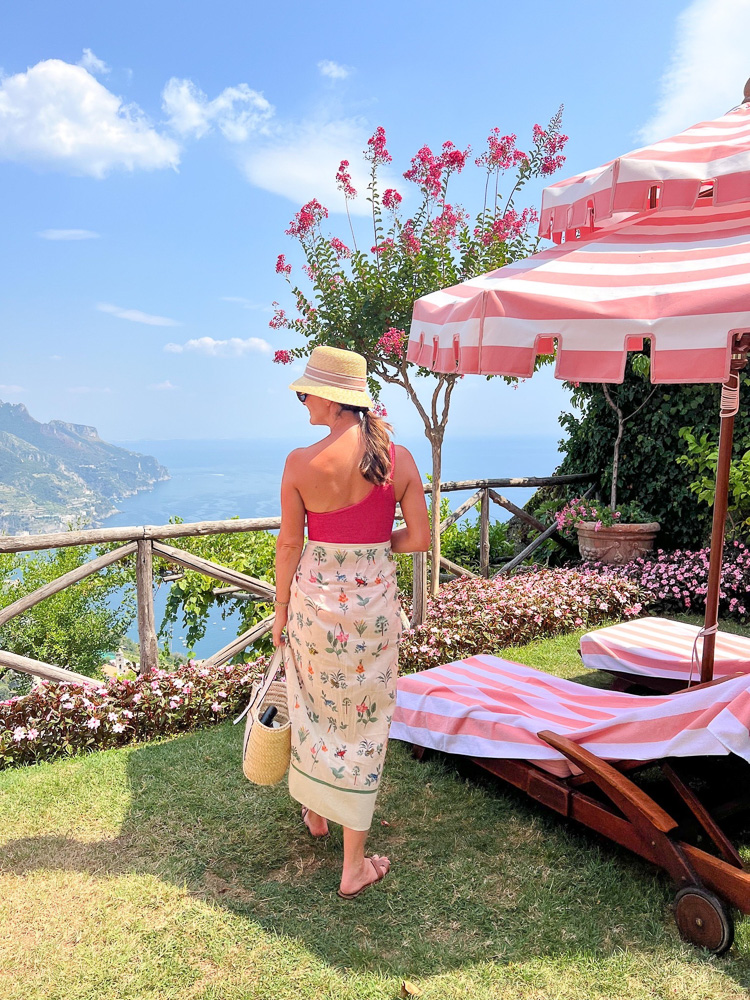 Our first stop on our trip to Italy was Ravello. It was the perfect place to kick off our trip – it was absolutely stunning and equally as relaxing! We were tired from the flight and journey to get there, but were so happy we chose to start in Ravello. It gave us time to get acclimated to the time zone and it's just a very low-key, more quiet town than the stops on the rest of our trip.
Ravello is located on the Amalfi coast, but it sits at the top of the mountain and the views are breathtaking! We felt like we were in a dream the whole time we were there. Words are hard to find to describe this place – its truly better than we could have imagined!
We hired Next Exit Travels to help with our trip since we started planning it just 1.5 months before we went. She helped with airport transfers/transfers between hotels/trains/reservations/excursions. We had never worked with a travel agent before and we just kept saying how seamless she made everything!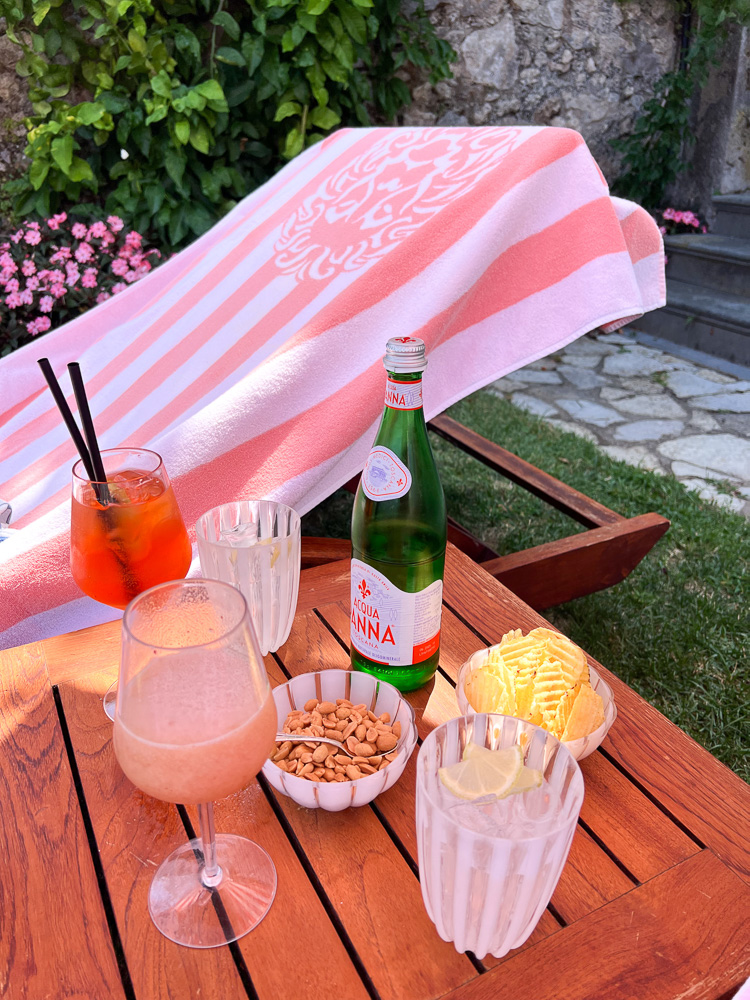 Stay
We stayed at Palazzo Avino and absolutely loved our stay. The hotel is known as the "Pink Palace" and it lives up to its name! Everything is picture perfect here. We stayed for three nights and on our first day we just stayed at the hotel pool. It was quite literally the perfect way to start our Italy trip – Caleb had an Aperol spritz and I had a Bellini and we just read and relaxed before dinner. The grounds of the hotel were perfect and we loved everything about it.
Eat
Breakfast was included in with the room rate and we loved waking up and then walking down to breakfast. They have a full breakfast buffet every morning.
Cumpa Cosimo: Located in Ravello, this was such a charming, family run restaurant and we loved it. This was a more casual meal and one of our favorites.
We ate lunch at the Beach Club each day – more on that below.
Ristorante Belvedere : This was located at the Belmond, which is right next door to Palazzo Avino. We got there early for drinks and appetizers at the hotel bar. They had live music and the views can't be beat! The restaurant feels like you are eating in the clouds – it was such a fun and memorable dinner for us.
Terrezza Belvedere: We originally were going to Rossellini's for our third night, but we decided to do something more casual that night. It also has views and the food was great! We pretty much ate fish and pasta for every meal.
Lobster & Martini Bar: Palazzo Avino has a lobster & martini bar that is on the terrace level. We loved sitting here, taking in the views, listening to live music and enjoying a martini!
Do
Beach Club: One of the main reasons we decided to stay at Palazzo Avino is because the hotel has a beach club that is a 20 minute drive from Ravello to the beach in Amalfi. We spent most of our days in Ravello at the Beach Club. The hotel provides transportation to/from the beach club and its for hotel guests only. Because it's built into the cliffs, there are different levels. When you get there, you walk into the restaurant/bathrooms/changing rooms level, the next level is a pool and lounges, and the bottom level has about twelve lounges with direct access to the water. We spent each day on the bottom level – jumping in the water when we wanted to cool off, reading, drinking spritzes and enjoying the amazing views
Explore Ravello: Ravello is such a charming town. The walk to the square is just a few minutes from Palazzo Avino. We ate dinner there one night and explored all the shops. The streets are all cobblestone and tiny!
There are a lot of other things to do – if only we had more time!
What to Wear:

Cheers,
Stia, Jean and Katherine