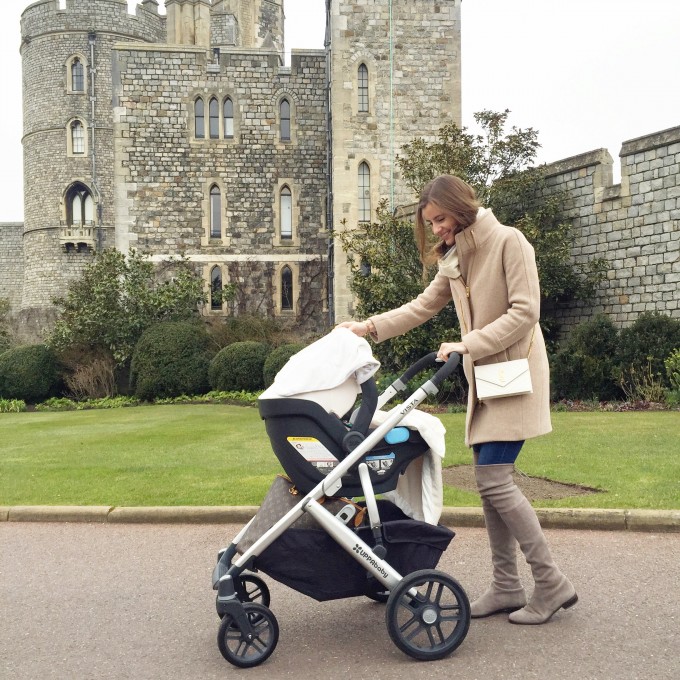 Travel is a big part of our lives and something we love to do, so it was important to us to introduce Baby Will to travel at an early age. We decided that for his first trip we would take him to London to meet his great-grandparents. At just 8-weeks old, we probably could have started off on a smaller scale. As it turns out, the hardest part of traveling with Will was getting him to look directly at the camera at 3 weeks old for his passport photo! Will did great and slept most of each flight, adjusted to our new time-zone without blinking an eye and he loved being out and about in the city each day. Things went better than we ever expected, but we did learn a few things along the way:
If you are planning to travel abroad with baby, order and apply for their birth certificate and passport asap. Once we got back from the hospital, we ordered and expedited Will's birth certificate. We had one long week in March that we were able to get away to London, so we knew we had to rush the process. Once you have the birth certificate, you can get their passport within three weeks, if expedited.
Packing: Of course we had to check bags on this trip, but we also carried on changes of clothes for us and three changes for Will (in case of accidents!). Packing plenty of baby blankets and swaddles is also key. The temperature in the plane can go from cozy to cold and back again, so we always had a blanket to put over Will. Blankets also come in handy when nursing to throw over your shoulder for more privacy. And in London we had to pile on the blankets for Will on those extra chilly days. We packed our own diapers and wipes, not knowing if the ones we like would be available. The empty space where the diapers were made a great spot for our London shopping! Pack extra pacifiers. You never know when Baby's favorite may fall on the ground in a place where you can't clean it. We bought a double of Will's favorite and were glad we did!
Be prepared: We used to like to get to their airport at the last possible minute, right before boarding time. This time, because we knew we had to check a bag and have time to feed and change Will before we boarded, we got there two hours early. That was hardly enough time, even with no line in TSA pre-check! We had just enough time for a (very) quick drink, and to feed and change Will before rushing to our gate.
Request a bassinet: As soon as we went through security, we went to the gate to request a bassinet. Unfortunately, on the way to London they were already all taken, but thankfully we had a plan B, which was a wrap baby carrier. This was great for a secure place for Will to sleep while we tried to get a little shuteye as well. On the way home we were able to get a bassinet, which also made a very convenient place for diaper changes!
Get access to the Admirals Club (or the lounge for your airline of choice): This was key to have a nice place to relax before boarding. The club has a nice, clean family bathroom that was great for changing diapers in a space that wasn't openly available to the public.
To help with change in cabin pressure, Stia fed Will while we were taking off and landing. If it isn't a good time for a feeding, a pacifier will do the trick.
Pay more for first class/business class/main cabin extra/bulkhead: While we wish we could have flown first class to London, it just wasn't feasible. But we were able to sit in main cabin extra to London.  This section of the plane has only 3 rows and gives you more space and more privacy. On the way home from London we were able to reserve bulkhead seats which gave us lots of room for the bassinet, Will and all his gear.
Bring your baby's stroller. We use the UPPAbaby stroller system (VISTA stroller and MESA car seat), and couldn't be happier. We highly suggest the travel bag to protect the stroller when being gate checked. Will loves riding in his car seat which attaches to the stroller base. It made strolling him all over London a breeze! The stroller also comes with a bassinet attachment which folds up and fits in the stroller travel bag. This was the perfect bed for Will while we were in London. It was cozy and safe, and familiar to him.
Be willing to go with the flow: Impromptu diaper changes made this changing station a God-send. It's used all the time at home, but when Will needed an immediate diaper change (i.e.: on the plane, on the train, using the stroller base in the middle of London, numerous pubs) we don't know what we would have done without it! Also, a quiet corner in a pub makes a great nursing spot- plus it gave Caleb the opportunity to try a new beer and add a pub to his list.
Bring as much help as you can: on this trip we were so thankful for Jean's third set of hands and arms to help with Will!
Most importantly, relax! Baby can sense if you are nervous or anxious about traveling with them and they will react the same. Know that your baby will probably cry on the plane at some point and that is ok. When we first boarded our flight to London, Will started screaming, but after a few long minutes he stopped (to the relief of our co-passengers) and then slept most of the flight there.
We are so grateful for a such a wonderful experience on Will's first trip! Now we are busy planning our next getaway- this time it will most likely be on this continent 🙂
Shop Baby Travel Essentials:

Cheers,