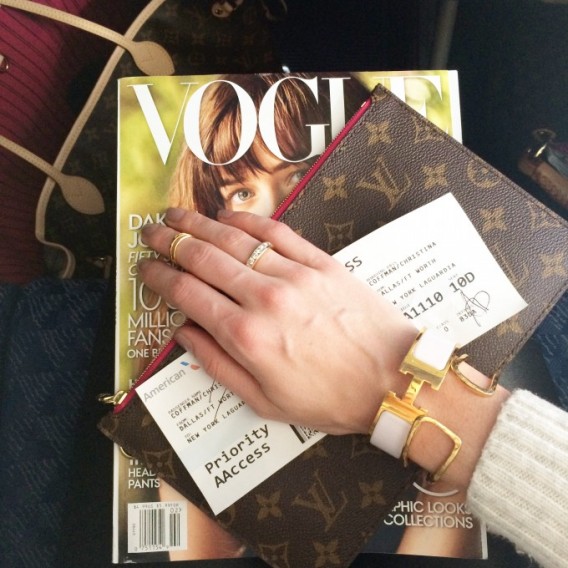 en route to new york: louis vuitton neverfull|gorjana teagan cuff- c/o|gorjana isla & midi ring-c/o|sweater
Our second Fashion Week experience was a little different than our first.  It was absolutely freezing in NYC!  In fact, it was the coldest weather New York had experienced in 20 years. Basically we ran from the front door of wherever we were, outside to the waiting Uber car,  and to the front door of our next location, so that we didn't literally freeze.  All that to say we didn't get outside much!
So unfortunately, we didn't take a lot of pictures with our camera – sooo thankful for the iPhone camera!  We have never done an Instagram round-up before, but thought it may be fun for those of you who aren't on Instagram to see some of our shots from our trip.  Plus if you don't use Liketoknow.it, now you have the product links to shop our looks from Fashion Week.  We hope you enjoy a glimpse into our Fashion Week experience!
Head over to Manuscript Cellars to see our full recap and some exclusive shots!
hunter bell presentation: a fellow southern girl, hunter has such an inspiring line.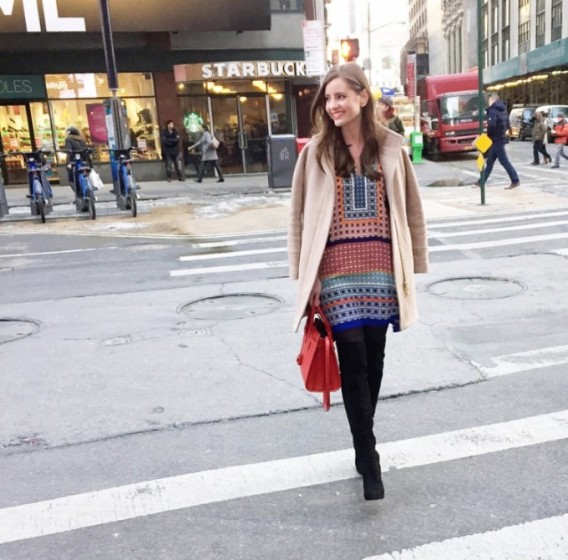 this trina turk tunic was the perfect layering piece for day one.  as soon as we landed, we changed quickly and made our way to Hunter Bell, Ann Taylor, Elaine Turner & then met the Kendra Scott team for drinks at Fig. 19 (a must do if you are in NY): trina turk tunic- c/o|j.crew camel coat|same edelman kayla boots|red saint laurent sac du jour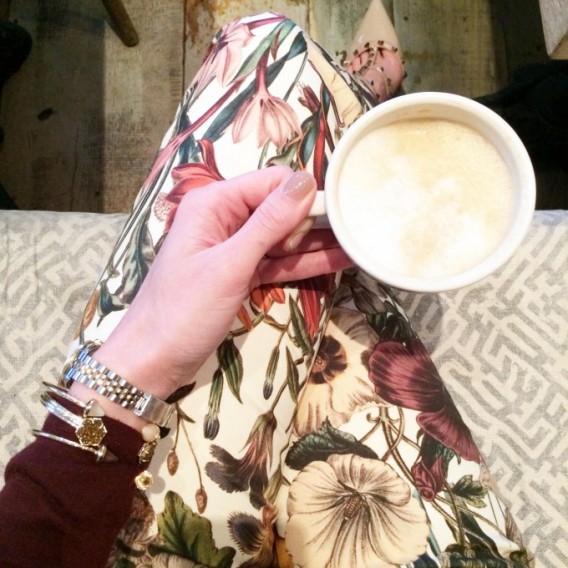 day two consisted of more meetings. first was the outnet (love their iris & ink label), brunch at claudette (the cutest french bistro!) and then we stopped by the Shoshanna showroom to preview Fall 15 and the new midnight collection: zara pants (similar)|vince burgundy turtleneck|valentino rockstud pumps|kendra scott arden bracelet-c/o|ann taylor bracelets- c/o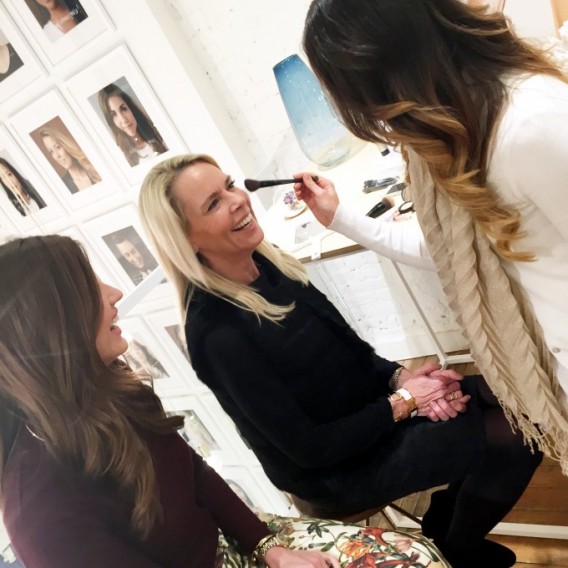 from shoshanna we made our way to the Meatpacking district to visit with our favorite Yosi Samra girls, and ran into our Gigi New York friends there too!  The Yosi Fall 15 Collection is amazing.  Next we made our way to Soho to get our makeup touched up by BareMinerals.  Have you tried the new complexion rescue?   We've been using it for two weeks, and can't believe how it's changed our skin.  It is seriously a life changer: vince burgundy turtleneck|zara pants (similar)|joie fur vest (similar)|nicole miller dress|zara booties (similar)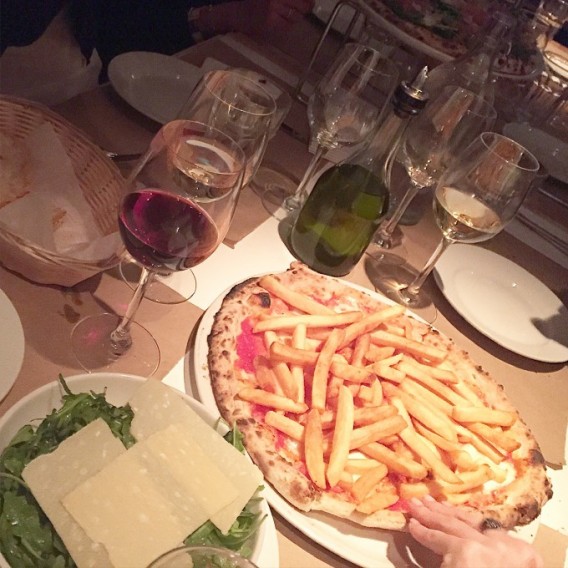 from bare minerals, we stopped into the french connection store for a little shopping, and then met kristi, from french connection, at the best pizza place, ribalta pizza.  we had way too much to eat, and yes, that is fries on top of a pizza!  here are some of the things we picked up at french connection: blue pants|white sweater|brown sandals|polka spray dress|leopard jeans|black mules
on day 3 aka valentine's day, we started our day with brunch at the park hyatt (highly recommend the lobster hash).  it was a perfect galentine's start w/ Ashley, Haley, Katey & Ashley!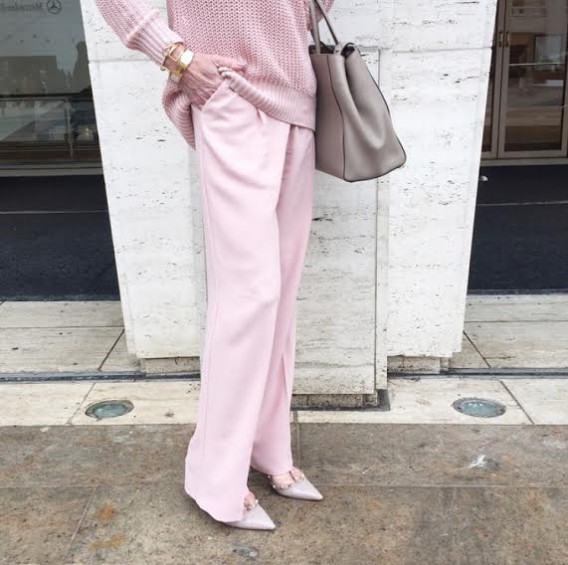 look for day 3: trina turk pants- c/o|trina turk sweater- c/o|fendi 2 jours handbag|valentino rockstud pumps|gorjana teagan cuff-c/o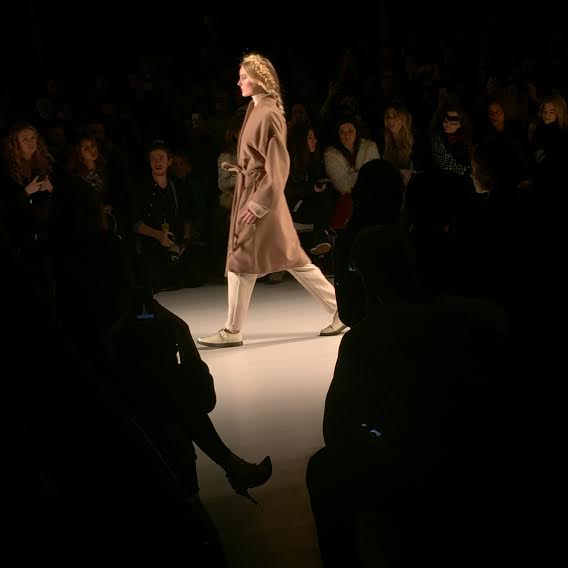 the mara hoffman show was incredible.  she did not disappoint with her signature patterns, but also great basics like this camel coat.  the braids were incredible, too.
day 3 full looks: trina turk pants- c/o|trina turk sweater- c/o|fendi 2 jours handbag|valentino rockstud pumps|gorjana teagan cuff-c/o|j.crew coat|ray ban aviators|topshop striped coat|sam edelman kayla boots|vince sweater-c/o|grey skirt (similar)|chanel handbag (similar)|ray ban clubmasters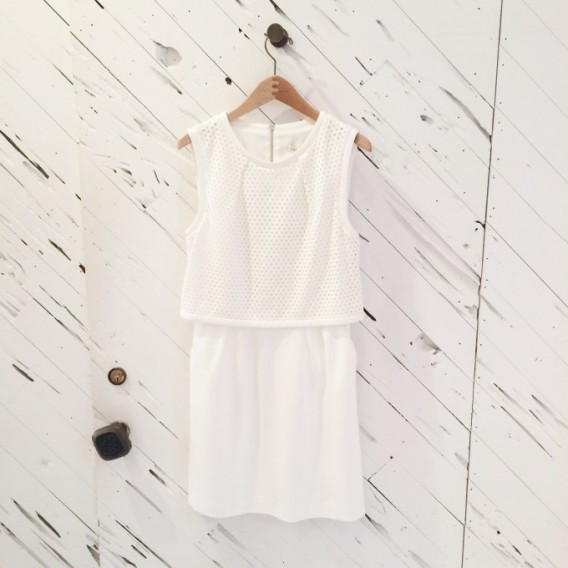 on day 4, we went to brunch at fig & olive and popped into the trina turk boutique in the meatpacking district.  we were dying over this little white dress and secretly wishing we were in warmer temps to be able to wear it: |trina turk white dress|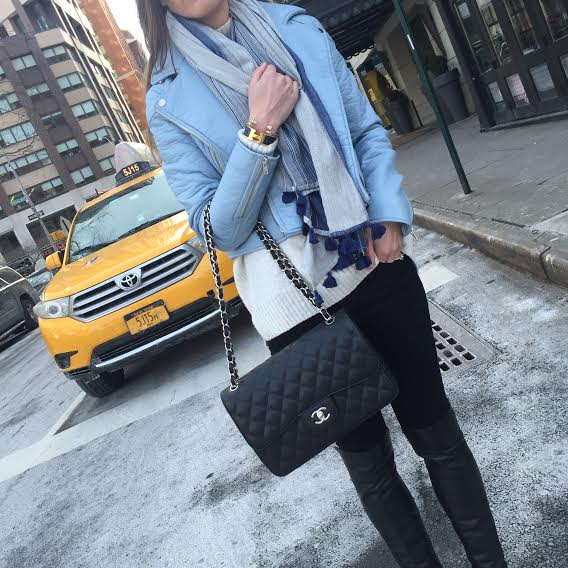 day 4 look (minus huge coat!): ann taylor pastel blue leather jacket-c/o|ann taylor scarf- c/o|gray sweater|j. brand jeans|stuart weitzman over the knee boots|chanel handbag (similar)
Shop New York Fashion Week looks:

Cheers,