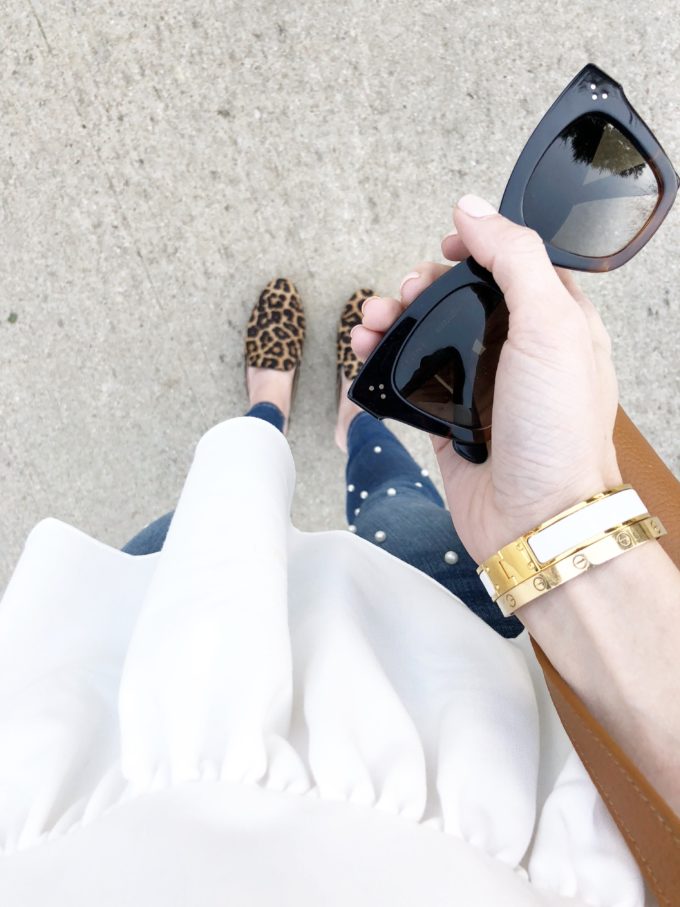 Happy Monday! We had such a positive response to our first ever q+a, that we decided to make it a monthly thing, as long as you guys still have questions for us… It's so fun to interact this way!
What do you buy at Costco?
After posting to Insta Stories about Costco, we received so many DMs about what we buy there. Here's a quick breakdown!
Food: Organic almond butter, organic multigrain bread, white queso, mini chicken tacos, organic kombucha, organic chicken breast, Pellegrino water, organic pretzel thins, organic apple slices (for William to take to school), rack of lamb, organic turkey, organic string cheese, manchego cheese. We could go on!!
Wine: We love buying wine at Costco! We find that our Costco stocks so many great reds that our guys love; mostly California reds, but also some from Argentina and France. We love the selection of bubbly; French rosé, California bubbles and also good Cava. And the rosé, chardonnay and sauvignon blanc selection is well curated. It's our favorite place to find new wines to try without risk- if we don't like it they will take it back 🙂
Essentials: Paper towels, toilet paper, electronics.
What skincare products did you use while pregnant?
After writing about our current skincare favorites, we got a lot of questions about what to use while pregnant – Stia wrote all about her pregnancy skincare routine and continues to use a lot of the same products!
What is your go-to restaurant for date night?
Katherine & Justin have a standing date night every Thursday night at Asian Mint. They have been going there for years! But for a special date night, Tei An is Kat's fave! Jean and Bill love to head to Dallas when they get out for a date night – a couple of favorites: Nonna or Nobu, and if they stay closer to home – it's usualy Samui Thai. When Stia and Caleb have the chance to go out for date night, they always head to Houston's!
What are the styles of your Celine sunglasses?
Celine is one of our favorite sunglass designers. So many of you have asked about our sunglasses and we are so excited you can now find them online at Nordstrom! Jean and Katherine both have these cat eye sunglasses in tortoise – Jean's have the navy accent and Katherine's have a black accent. Stia has these oversized sunglasses (this is the newer version).
What is one of your favorite easy weeknight dinners?
Stia: Nights tend to go by quickly, so I always try to cook something fast, but delicious and healthy. One of our favorites over the years is Taco Salad. It's something my mom used to make for us weekly and it's easy and tastes so good! All you do is brown ground turkey – add taco seasoning and a can of kidney beans. Chop romaine, green onions, avocado, cherry tomatoes, jalepeño and top with corn, mexican cheese and crumble a few tortilla chips on top! We use Italian for the dressing. For William, I will serve his deconstructed – turkey/kidney beans, avocado, corn and a few chips 😉
Katherine: We like trying different recipes and we are big fans of chicken stir fry! You can add any vegies you like or have on hand. One that we've been making lately is this whole 30 Kung Pao Chicken. It's easy and so yummy!
Jean: I like grilling chicken or shrimp (actually Bill does the grilling!) and serving with an easy salad; arugula, diced sweet peppers, cherry tomatoes and shaved parmesan, tossed with Blush Wine Vinaigrette dressing. So simple, but really delicious!
 What are Jean's favorite lipsticks?
This is such a hard question! It really depends on what I'm wearing and what season; right now I'm loving the red and orange tones. Current faves are Estée Lauder's Pure Color Envy Sheer Will 310 or Namedropper 330 and then a second layer of a nude like Naked Steel 110 to mellow the color- plus a touch of Bobbi Brown lip gloss in Buff 🙂
Where are your crib and animal prints from?
One question we get over and over again is about our nursery decor. We love that you guys love their nursery! The animal prints are from the animal print shop and the crib is from Bratt Decor. You should be able to find all details about the room in William's newborn photos and Henry's newborn photos, but if you have any additional questions, let us know.
What is your favorite nail salon?
Jean and Stia: MiniLuxe. For one, it's pretty, and two, we are obsessed with the performance polish. It's nail polish that dries in 5 minutes and they guarantee it's chip free for 5 days. Ours typically stays on for close to two weeks. It comes off with regular polish remover, too! Plus, you can enjoy a glass of wine or bubbly…an added bonus!
Katherine: Nails. In Oaklawn, it's a neighborhood favorite. They do great manis and pedis and have a full bar to enjoy while being pampered (which gets Justin to go along for a pedi as well) 🙂
What are your favorite jeans?
Katherine: I recently bought a pair of Mother jeans and I am obsessed. I don't usually spend this much on jeans, but I'm so glad I took the plunge. They are so comfortable and whenever I wear them I get a ton of compliments.
Jean: My Frame stagger hem jeans are my faves. They fit so well and keep their shape for at least two to three wearings. I've had them for over two years and they're still my go-to jeans.
Stia: I have always loved AG jeans and still do, but I recently tried a pair of Frame high waisted jeans and I LOVE them! They tend to stretch after a couple of wears, but they are so comfortable and I feel so good when I'm wearing them.
Cheers,
Stia, Jean and Katherine