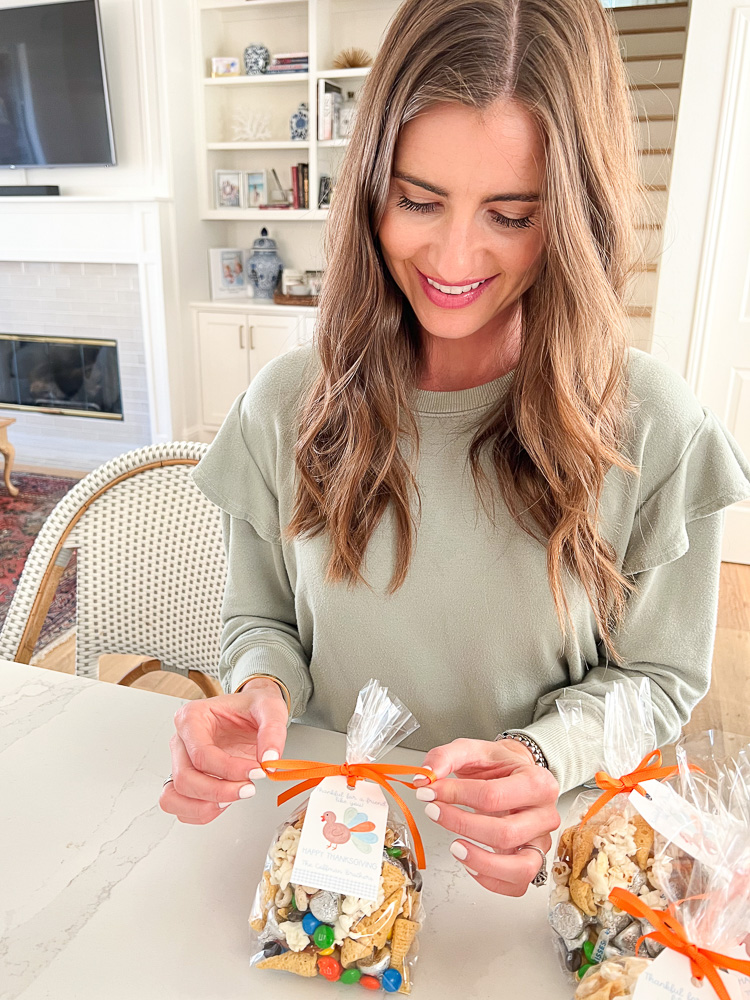 Happy Thanksgiving week! Last week at pre-school, Ford's teacher did the sweetest activity with the class. Each student brought an item and together at school they made a "Blessing Mix." My older boys loved the idea of the Blessing Mix and wanted to make it to bring to their friends before Thanksgiving. This was such a fun and easy idea to do together and using our Walmart+ membership made it stress free!
Blessing Mix Ingredients
Everyone is home from school this week for Thanksgiving, so we decided it was the perfect time to make the blessing mix for their friends. We utilized our Walmart+ membership for unlimited free delivery on fresh, high-quality groceries and ordered all the ingredients we needed to make these fun, last-minute Thanksgiving treats for our friends. Not only were we able to order all the ingredients we needed, but we were also able to order the treat bags and orange ribbon to complete our project. With the Holidays in full swing, my Walmart+ membership will be so helpful when I run out of every day ingredients, need for a fun craft for the boys, need to bring an appetizer to a holiday get-together or realize I'm out of diapers for Ford (it happens!).
I use my Walmart+ membership all the time for unlimited free delivery ($35 minimum) order. With three little ones at home, I can easily shop for fresh, high-quality groceries from the comfort of my home. It makes holiday entertaining stress free! If you haven't started a Walmart+ membership, we highly recommend joining before the busyness of the Holiday season! I have saved so much time/stress this year by using my membership. Plus, right now you can try it out with a free trial! My favorite part is the unlimited free delivery ($35 minimum) and free shipping, no order minimum (Excludes most marketplace items, locations & freight surcharges).
Hoping you all can enjoy a happy, stress free Holiday season with a Walmart+ membership!
Shop Blessings Mix:

Cheers,
Stia, Jean and Katherine
Thank you Walmart for partnering with us on this post.