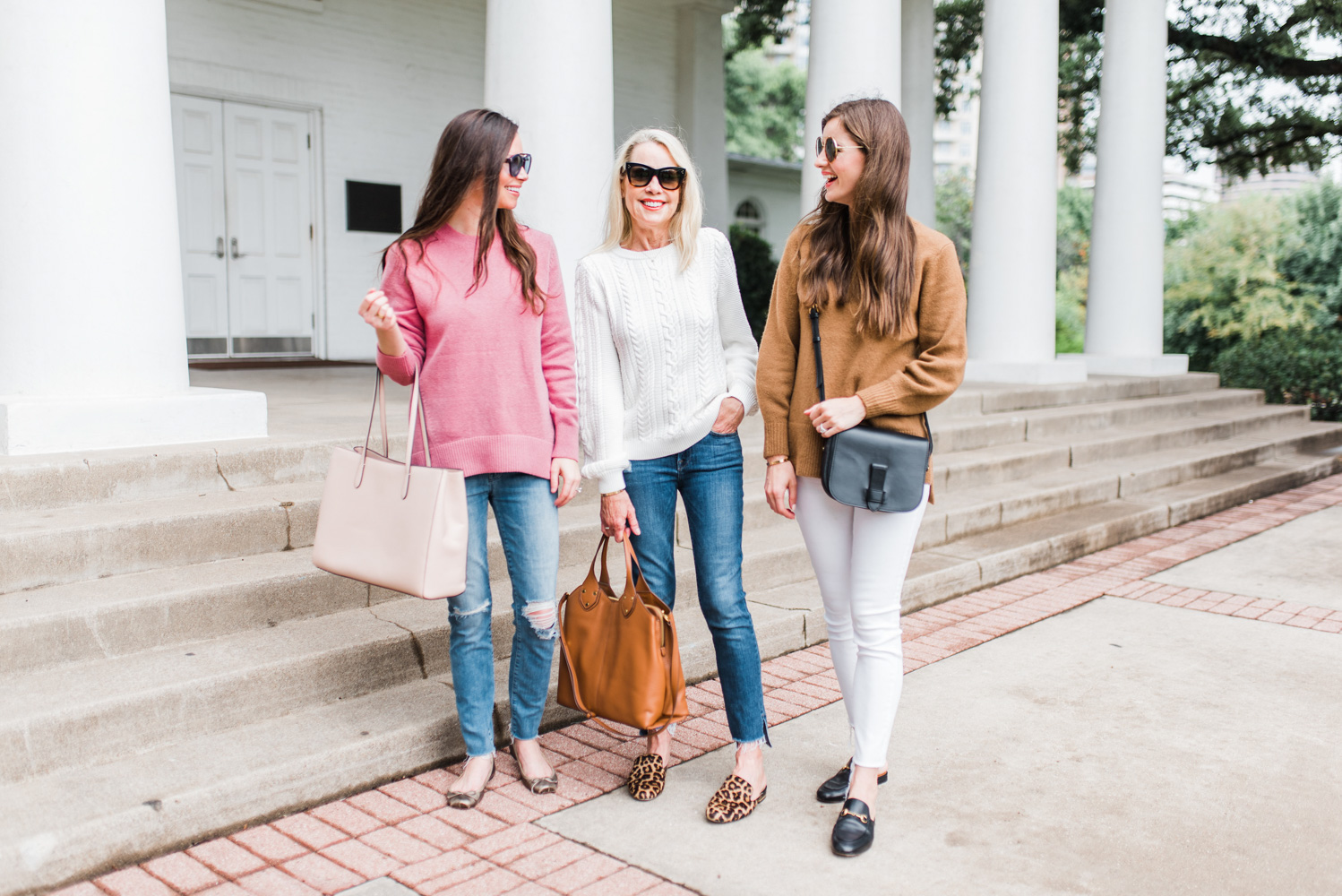 It's been two and half years since we last did an "About Us" post and a lot has changed since then! We figured this would be the perfect time to re-introduce ourselves and help you guys know more about us and who is who! One thing we can say about us in general is that whenever we're all together we'll be having fun and laughing- a lot!
​

Jean, The Mother (In Law)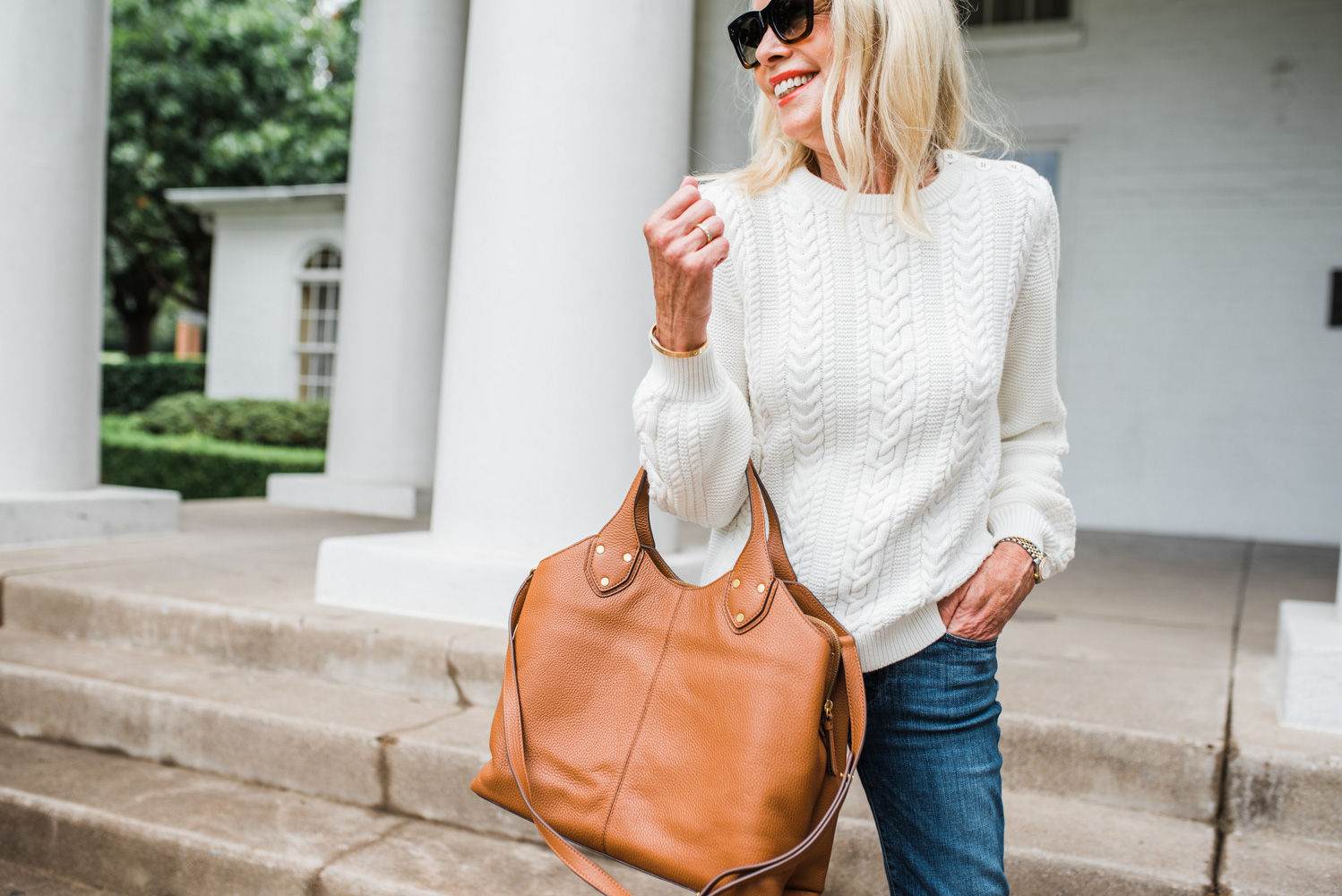 Before the blog started I was busy helping with wedding planning for Katherine and then Stia. I also worked part time at Neiman Marcus. After we started the blog, I brushed up on my photography skills so I could shoot our outfit posts, and realized I needed to relearn just about everything! I struggled through a very steep learning curve and now one of my main jobs for the blog is doing our outfit post photography. I also write content, handle our accounting and negotiate with brands on collaborations. When I'm not working on things for bishop&holland, I'm probably playing with William and Henry or planning our next family trip. I love to travel with our family. My favorite vacation is a relaxing beach vacation, but I also love to explore new cities and countries. My drink of choice is rosé, or a Paloma during the warmer months or if I'm by the pool. I love celebrations, and my husband will tell you that I can find a reason to celebrate just about anything! When it comes to fashion, I love trying out new trends, and staying on top of what's new and fresh in fashion. Day to day you can find me in a favorite pair of jeans and a comfy sweater with a favorite pair of slip on sneakers or my Gucci mules, in the summer give me a maxi dress and sandals every day!

sweater // jeans // flats // sunglasses // bag
Stia, The Daughter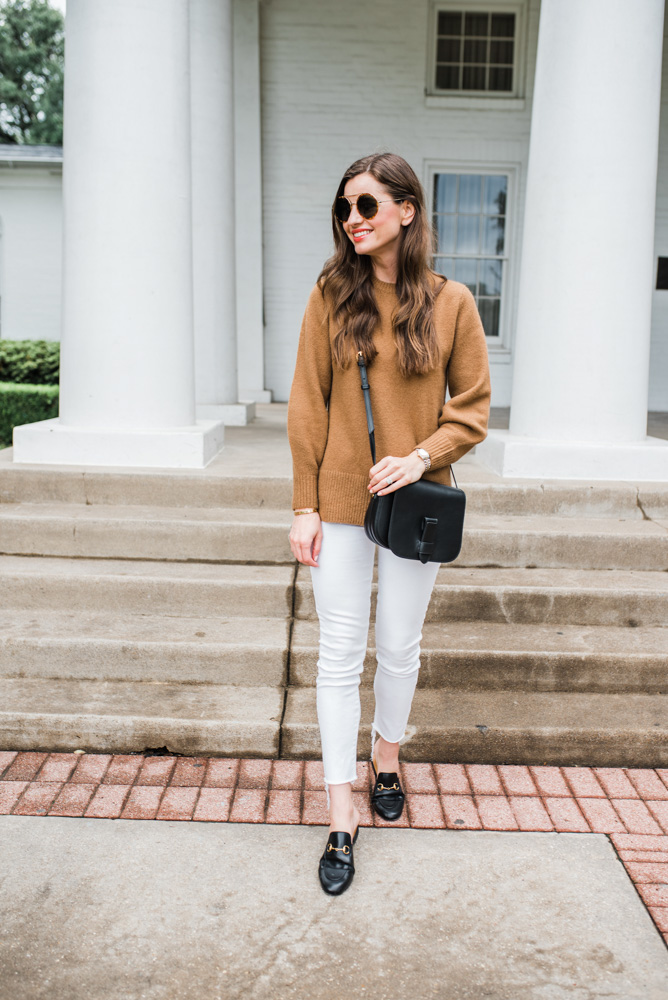 ​​​​​​​I'll start by introducing myself as the mom of William and Henry! They are what I do all the time when I'm not working on the blog- actually I should say it's the other way around. The blog is what I do when the boys are sleeping or otherwise engaged! Before we started bishop&holland I worked in software sales, now I am thankful to be able to be a stay at home mom. My responsiblities for bishop&holland are outfit posts, writing editorial content and styling our lifestyle posts. My fashion style is feminine and girly, but now that I'm a mom of two toddler boys, my style has become a lot more casual and relaxed. Caleb and I do a lot of cooking at home now that the boys are so active. We still go out to eat as a family, but we don't have any expectations of it being a relaxing night out- just a lot of chaos! If we want to relax, we get a sitter and go to Houston's, our favorite date night spot. We recently renovated our home​​​​​​​ over the summer/fall and now I'm starting to tackle the decorating part. My favorite way to start the weekend is our Friday night family date night, a Saturday morning class at Pure Barre Plano and then head to get coffee (always an iced latte) somewhere with my family!
sweater // jeans // flats // sunglasses // bag
Katherine, The Daughter (In Law)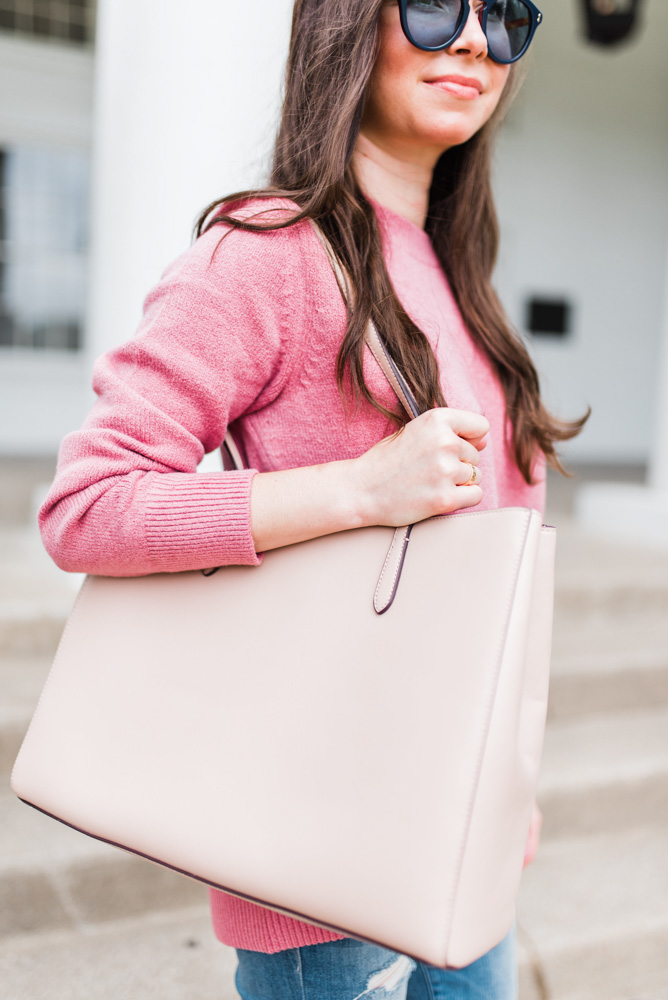 I work at a law firm in downtown Dallas as an administrative assistant and event planner. For bishop&holland, I do our weekly "The Best Sales this Week" feature and also outfit posts. I like to keep up to date on health and fitness trends. Currently Justin and I are on the celery juice bandwagon 🙂 If you ask each of us, we'll have a completely different opinion on it! When we aren't juicing at home, The Gem is our favorite neighborhood juice bar. My favorite workout is at Zyn22- love the workout and the instructors. After working 9-5 all week, my after work and weekend style is comfortable. You can usually find me wearing my workout wear or athleisure, my favorites are Zella, Beyond Yoga or Lululemon. Justin and I love to cook at home, but lately life is so busy we've been eating out a lot more! My new favorite place for a drink and a bite to eat is José, and Justin and I have dinner at our local Thai restaurant, The Mint, at least once a week. A favorite date night for us is dinner at The Honor Bar and a movie at Highland Park Village. Guilty pleasure? Papa John's Pizza delivery- wings and pizza, please!

sweater // jeans // flats (similar) // sunglasses // bag
Cheers,
Stia, Jean and Katherine