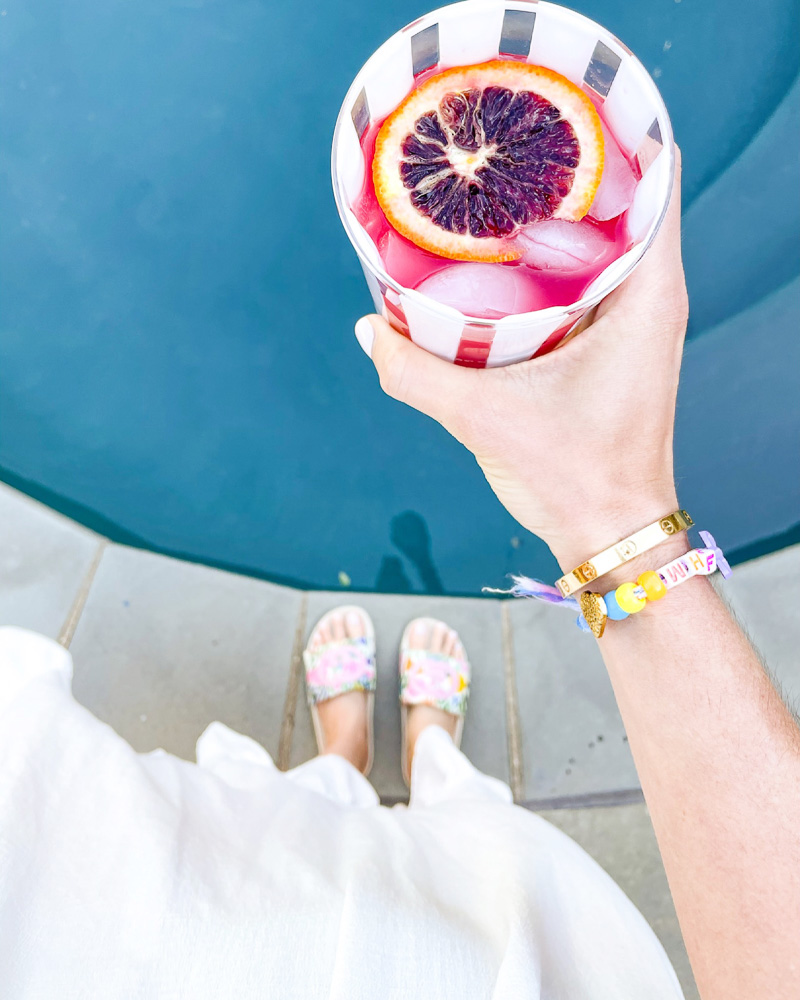 // pool slides // cover-up //
It seems like every year when spring rolls around, and it starts getting a little warmer, our thoughts go straight to summer. Meaning that we're spending lots of time in and by the pool, dining on the patio and mixing delicious cocktails.
We love to experiment with new recipes, so when we spied blood oranges in the grocery store, we decided to see what we could mix up. Lately our go to cocktail has been a margarita made by our favorite bartender- Stia's husband. He has it down to an art! We thought adding some blood orange juice would be interesting… and it is so good! For as long as blood oranges are in season, the blood orange margarita is our new go to!
Blood Orange Margarita
Makes 1 cocktail
Ingredients:
2 oz. good quality tequila (we use Casamigas Blanco)
1 oz. Cointreau (orange liquer)
Juice from 1/2 large blood orange
Juice from 1 lime
Agave nectar to taste (we use a small squeeze, use more if you prefer a sweeter drink)
Topo Chico sparkling mineral water
Mix all ingredients well in a double old-fashioned glass. Add ice to fill and stir well again. Top with a glug of Topo Chico. Enjoy!
Cheers,
Stia, Jean and Katherine