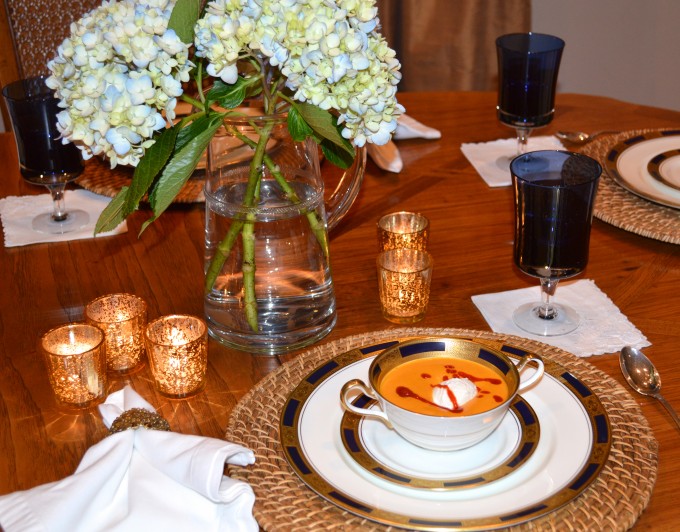 It's Friday… happy weekend! This weekend is a busy one for bishop&holland.  Katherine will be at Neiman Marcus Willow Bend from 2-4 hosting the |Denim Event| with Ashley & Angie.  At about the same time, Jean & Stia will be landing in Southern California for a wedding and quick trip to Palm Springs.  Check Instagram for pictures!
When the air starts turning a bit cooler, we jump at the chance to make soup. Last weekend, we made this soup as a first course for a special birthday dinner we were having at home. It happened that a huge storm came through Dallas that evening, making this Carrot & Coconut Soup the perfect complement to the weather! We started with this recipe from Epicurious, but used all organic ingredients, and added a slice of room temperature goat cheese on top of the warm soup. We topped it off with a drizzle of siracha.  Creamy, warm, and spicy goodness!
Ingredients:
1/4 cup (1/2 stick) unsalted butter
1 pound carrots, peeled, chopped
1 medium onion, chopped
Kosher salt, freshly ground pepper
2 cups low-sodium chicken broth
1 13.5-ounce can unsweetened coconut milk
2 tablespoons Thai-style chili sauce, plus more for serving
Fresh cilantro leaves (optional, we didn't use)
Preparation:
Melt butter in a large saucepan over medium-high heat. Add carrots and onion, season with salt and pepper, and cook, stirring often, until carrots are softened, 15–20 minutes. Stir in broth, coconut milk, and 2 tablespoons chili sauce. Bring to a boil, reduce heat, and simmer, stirring occasionally, until vegetables are very soft and liquid is slightly reduced, 40–45 minutes.
Let soup cool slightly, then purée in a blender until smooth. Reheat in a clean saucepan; season with salt and pepper.
Divide soup among bowls, drizzle with chili sauce, and top with cilantro.
Serves 4, but easily doubled.
Soup can be made three days ahead. Cool, cover, refrigerate. Rewarm stove top on low heat before serving.
Wine Pairing
Buoncristiani is one of our favorite family-owned wineries in Napa Valley.  For this soup, we chose to pair Bouncristiani Sauvignon Blanc 2012.
Cheers,