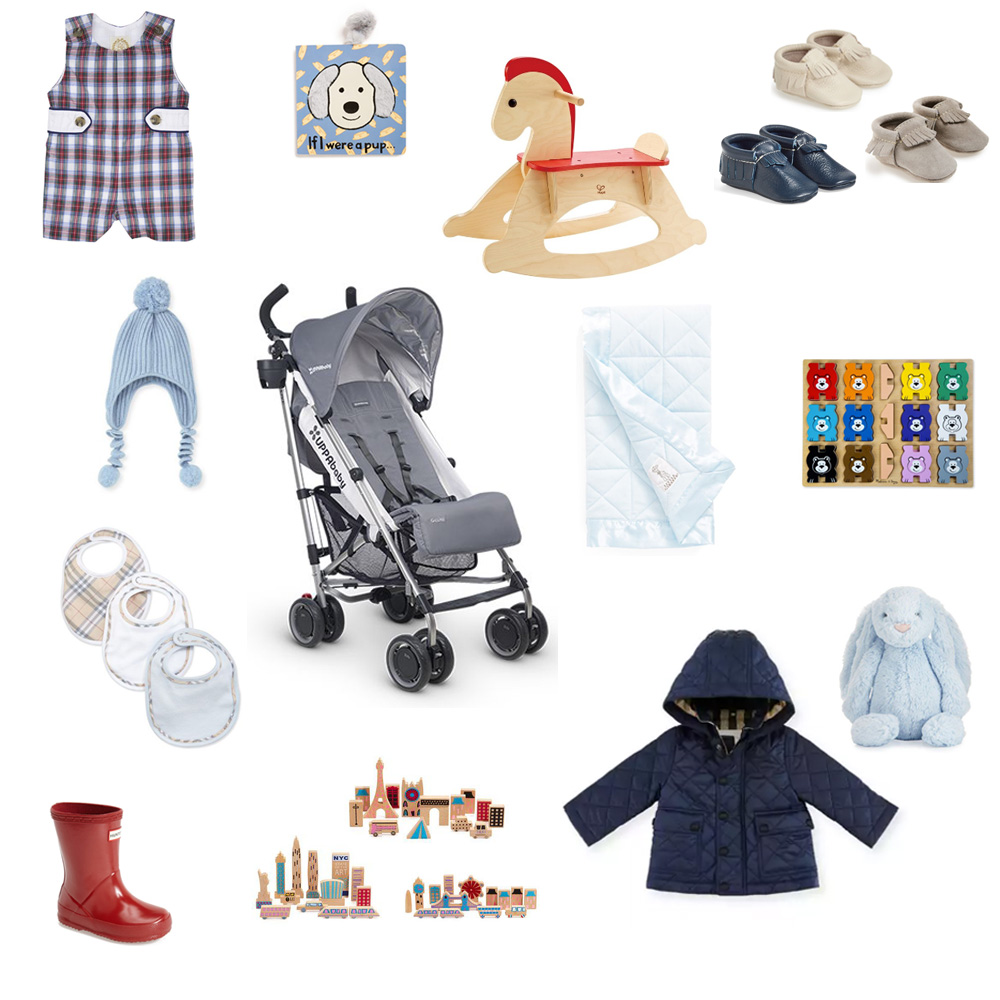 This will be William's first Christmas and we are so excited to start shopping for his Santa gifts! A few new toys, some new clothes and a few new books are some items on his "wish list" 😉 Since this is William's first Christmas, this was such a fun gift guide to put together. For each of the boy items above, we also have added a girl version in the links below!
Now, for our favorite part: the giveaway! There are a few things have been essential for William over the past 10 months. We couldn't live without our UPPAbaby VISTA, G-LUXE or MESA, the only shoes that will stay on William's feet (and are so cute!) are Freshly Picked Moccasins and we find all of William's adorable traditional clothing from The Beaufort Bonnet Company. I am so excited to share that we have partnered with these favorites brands of ours to give one lucky reader an UPPAbaby G-LUXE stroller, three pairs of Freshly Picked Moccasins and a $200 gift card to The Beaufort Bonnet Company! Scroll to the end of the post to enter. Please be sure to follow the instructions to"like" or "follow" for each as indicated. Best of luck!!
plaid jon jon (for girls: plaid dress and bloomers)|puppy board book|rocking horse|freshly picked moccasins (for girls: moccasins)
cashmere hat (for girls: pink cashmere hat)|G-LUXE stroller|quilted blanket (for girls: pink quilted blanket)|puzzle
bib set (for girls: pink bib set)|rain boots (for girls: pink rain boots)|cityscape block set|hooded jacket (for girls: pink hooded jacket)|stuffed animal (for girls: pink stuffed animal)
 To enter, login to app below. It will take you through a step by step process to enter. Please note: You must follow UPPAbaby, Freshly Picked and The Beaufort Bonnet Company on Instagram to be eligible to win. For additional entries, you must "Like" UPPAbaby, Freshly Picked and The Beaufort Bonnet Company on Facebook.
We never share emails. Your privacy is top priority for us! We only need your email to notify you if you win. Giveaway ends Sunday, November 20th at 11:59 pm. Winner will be announced on bishopandholland.com at 11:00 am CST on Monday, November 21st. Winner has 24 hours to respond to us at hello@bishopandholland.com before a new winner is selected. Good luck!
Shop For the Kids:

Cheers,
Stia, Jean and Katherine
Thank you UPPAbaby, Freshly Picked and The Beaufort Bonnet Company for partnering with us to bring you this giveaway!