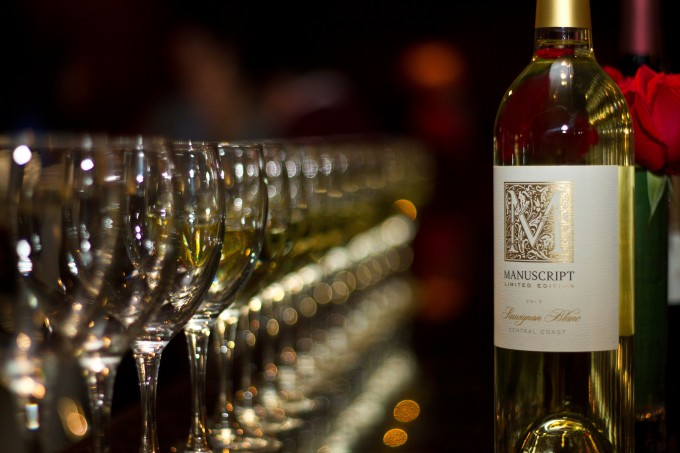 Eat, drink and be merry!  That is the motto for the Holiday season, isn't it?  We did just that with Manuscript Cellars at their Holiday kickoff event, "#sipthroughtheseason".  The event was held at Meddlesome Moth and we were treated to a delicious food & wine paring designed by the chef.  Our favorite pairing was the Limited Edition Sauvignon Blanc paired with the chef's hummus and assorted crudités.  Our husbands thought the Pomegranate Molasses Glazed New York Strip was a beautiful match with the Limited Edition Cabernet Sauvignon, which is always available on the Meddlesome Moth wine list — be sure to try a glass next time you're there!  The chef also paired the Limited Edition Chardonnay with the Meddlesome Moth Balls (see recipe here) & the Pinot Noir with lamb skewers which we also enjoyed.  Wine, food & friends – it was a great way to kick off the party season!
The chef was gracious to share her recipes with us, so we'll share our favorite with you!
Meddlesome Moth Hummus
2 – 12 oz. cans chickpeas
2 teaspoons lemon juice
1/2 teaspoons ground cumin
1/4 teaspoons cayenne pepper
2 tablespoons tahini
1/2 teaspoon garlic powder
1 teaspoon kosher salt
water as needed
Drain the chickpeas and rinse.  Combine all ingredients, except salt, in a food processor or blender and mix until pureed.  Add salt to taste.  If the hummus is dry, add water until you have the desired consistency.
Cheers,