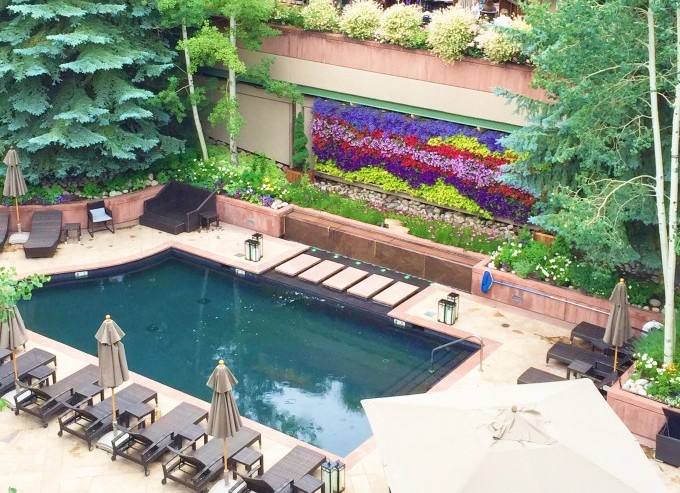 In the heat of a Dallas summer, Colorado is a great getaway option!  We usually fly into Denver and make Vail or Beaver Creek our destination, but it has been years since we have been to Aspen, and we decided it was time to go back.  Aspen is a little bit of a longer drive from Denver, but it is a beautiful one, over Independence Pass and the Continental Divide.  It's a slow and winding road, and the views are spectacular!  Aspen is a charming, buzzing little town – a great place to spend a few days cooling off.
Stay:
The Little Nell  is the only 5-Star, 5-Diamond accommodation in Aspen.  Recently named #27 of Travel & Leisure's World's Top 100 Hotels, this boutique-style Relais & Chateaux hotel has only 92 rooms, and is so warm and elegantly charming.  Newly renovated by Holly Hunt, the rooms are large, averaging over 600 sq. feet, with a sitting area and a fireplace, and views of the town, or of the pool and mountainside.  The bathrooms are outfitted with a steam shower, heated floors and separate his and hers vanities- fabulous!  We did not want to leave our room, and with a nice bottle of wine and a fully stocked complimentary mini-bar filled with snacks and beverages, we really didn't need to!  We absolutely loved staying at The Nell.  With ski-in, ski-out access and a ski concierge, we can't wait to come back during ski season!
If you are planning a Colorado getaway and there isn't any availability at The Nell, there are two sister properties, which we also highly recommend.  The Residences at The Little Nell are two and three bedroom fully furnished accommodations ideal for families or groups, and with the same 5-star, 5-diamond service of The Nell.  Limelight Hotel has a more contemporary, casual atmosphere, and offers complimentary breakfast, and complimentary paddle boarding and kayaking.
Eat:
To do:
Explore the gardens at The Little Nell:  The Nell has the only living wall garden in Aspen, and the only living wall that we have seen that is full of flowers.  It is spectacular.  Arabella Beavers is the head gardener at The Nell and she is passionate about it!  She is the creator of the living wall, the Grace Kelly Garden, and a garden that lines the patio of element 47 that she designed based on NYC's High Line.  She has also cultivated a kitchen garden for The Nell, filled with herbs and edible flowers.  The head mixologist at element 47 used fresh mint from the garden to make us caipirinhas to enjoy while exploring the gardens.  They were delicious!
Aspen Art Museum:  this spectacular space just opened last year and was designed by world-renowned Shigeru Ban Architects.  The rooftop sculpture garden and cafe is a beautiful place to take in views of Aspen Mountain.
Audi test drive:  The Nell has an Audi A8 and Q7 available to guests to take out for two-hour drives.  We enjoyed taking the A8 out on the beautiful winding mountain roads!
Hike:  hiking the Maroon Bells is a must-do.  Be prepared to park your car at the foot of the hike and take a bus up to the start of the trails.  The transportation desk at The Nell will be more than happy to deliver you there!  The Grottos hike was a new one for us.  Just a short drive out of town, this is a hike that can be short or long, depending on the time you would like to invest.  On a short hike, we made it to a spectacular waterfall view!
Silver Queen Gondola:  take the gondola at the base of Aspen Mountain, right outside the door of The Nell, to the top of the mountain.  We enjoyed yoga at 11, 212 feet!  There is also disc golf, hiking trails and a restaurant.  The views are stunning, and the ride on the gondola is fabulous!
Bike riding:  Aspen is very bike friendly!  The Nell has cruiser bikes to use if you feel inspired to bike around town.
Shopping:  Aspen has world-class shopping, so be sure to plan accordingly.  In addition to all our favorites (Louis Vuitton, Dior, Gucci, Prada), explore all kinds of local boutiques to find one of a kind items.
The pedestrian malls:  much of Aspen is pedestrian only, which makes for a relaxing, wandering way to spend a day.  We stopped for drinks, and popped in and out of shops, admiring the flowers that are everywhere!  Don't miss the Dancing Fountain, where you're sure to see kids, young and old, playing in the water.  Also, check out the Wheeler Opera House and other landmarks.
If you have more time than we did, The Nell has guided jeep tours, fly fishing and biking activities to sign up for as well!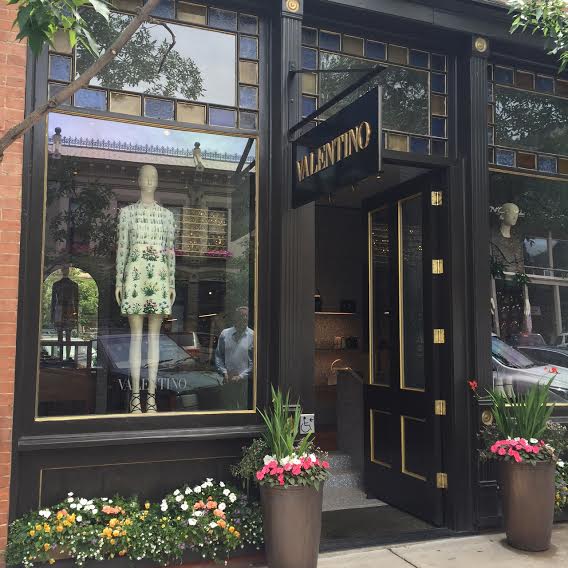 A visit to the private wine cellar before dinner
(image courtesy of The Little Nell)
Cheers,