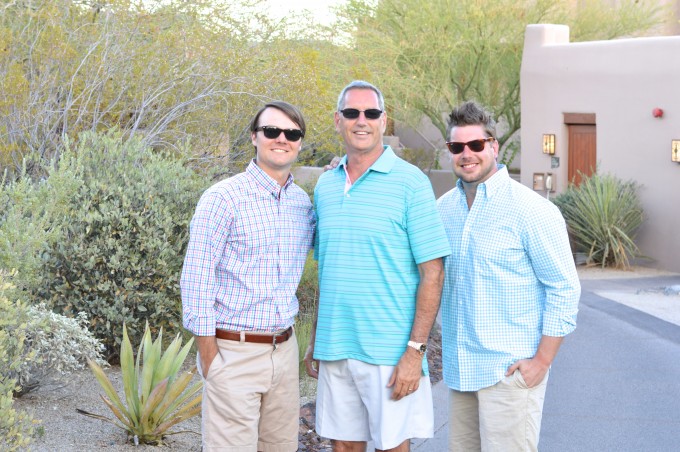 Happy Friday! It's always a nice surprise when Friday comes along quickly.  There isn't a whole lot happening this weekend, which is a welcome change!  The only things on the agenda are taking a few Flywheel classes, a wedding, shopping the Nordstrom Anniversary Sale (see our favorites here & here) & packing for a trip to Southern California on Tuesday.  Oh, and we will probably use the big green egg to cook up an al fresco meal!
Today's post is featuring our husbands. They are the ones encouraging us behind the scenes, but we thought we would give them front and center today.  It didn't take much for them to style these outfits, but we may have had to do a little bribing with golf!
We recently teamed with St. Bernard Sports and discovered what a great boutique line of women's clothing they carry– you can see how we styled three resort wear looks here!  In addition to women's clothing, we also learned that they have menswear collections that our husbands love.  Peter Millar has been a long time favorite of our men and St. Bernard Sports has a great selection, but we also found some new lines that they love – Southern Tide and Maker & Co.   In addition to these, you can find Billy Reid, Nike Golf, and J Brand, to name just a few.  They had a hard time choosing just one shirt for our trip to the Four Seasons Scottsdale, but we think they each chose well!
PS- Today is the last day to enter to win a trip for two to the Four Seasons Scottsdale, enter here!
on justin: maker & co button down shirt- c/o st bernard sports|ray ban sunglasses|peter millar shorts|gucci loafers
on caleb: southern tide button down shirt- c/o st bernard sports|ray ban sunglasses|peter millar shorts|ralph lauren driving shoes
on bill: peter millar polo-c/o st bernard sports|peter millar shorts|john varvatos loafers
on justin: maker & co button down shirt- c/o st bernard sports|ray ban sunglasses|peter millar shorts|gucci loafers
on caleb: southern tide button down shirt- c/o st bernard sports|ray ban sunglasses|peter millar shorts|ralph lauren driving shoes
on bill: peter millar polo-c/o st bernard sports|peter millar shorts|john varvatos loafers
Shop St Bernard Sports Menswear:

Cheers,