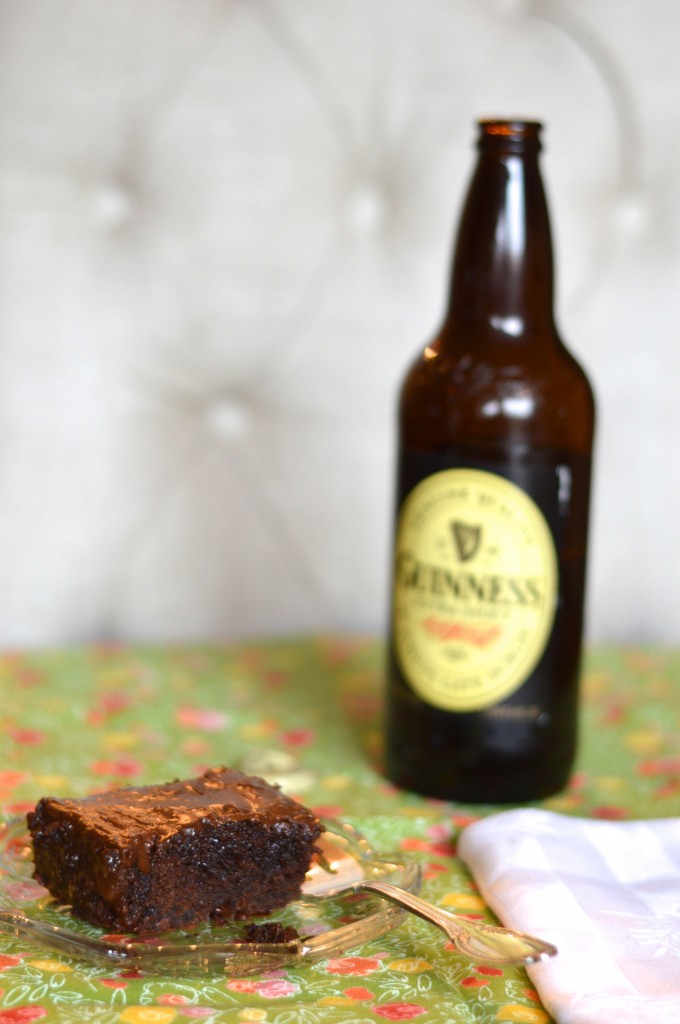 Happy St. Patty's Day! Even though we don't have much Irish in us, we always love an excuse to celebrate! For our St. Patty's Day celebration we decided to do a twist on our favorite Coca-Cola Brownie recipe. We've been making Coca-Cola Brownies for as long as we can remember.  The recipe we use is out of a Junior League cookbook that was printed in 1989!  To make our brownies St. Patty's Day worthy, we substituted Guinness Extra Stout for the cola in the recipe.  The malt in the beer intensifies the chocolatey flavor of these yummy brownies. The texture is like a combination of brownies & cake, but extra fudgy & you won't taste the beer at all – good for some, not so good for others!
And – don't get pinched today – see our favorite shades of green here!
FOR THE BROWNIES:
2 cups flour
2 cups sugar
3 tablespoons baking cocoa
1 cup unsalted butter
1 cup Coca-Cola (or in this case, Guinness Extra Stout!)
1/2 cup buttermilk
2 whole beaten eggs
1 teaspoon baking soda
1 teaspoon vanilla
1 1/2 cups miniature marshmallows
FOR FROSTING:
1/2 cup butter
3 tablespoons baking cocoa
6 Tablespoons Coca-Cola (here we used Guinness Extra Stout again)
1 teaspoon vanilla
1  16-ounce box powdered sugar
Heat oven to 350 degrees.  Butter and flour a 9×13-inch baking pan.
In a mixing bowl, combine flour and sugar.
In a saucepan, melt butter, cocoa and Coca-Cola (or beer), bring mixture to boiling point.  Pour over sugar-flour mixture, and combine.
In another bowl, mix the buttermilk, beaten eggs, baking soda, marshmallows and vanilla and add to sugar-flour, cocoa mixture.  Pour into prepared pan and bake at 350-degrees for 35-40 minutes.
While cake is baking, make the frosting.  Melt butter in a saucepan. Add cocoa and Coca-Cola (or beer), stir to combine and heat to boiling point. Pour mixture over powdered sugar.  Blend with mixer until smooth and add vanilla, stirring to incorporate.  Pour warm frosting over warm cake.  Cool, cut & enjoy!!
Cheers,