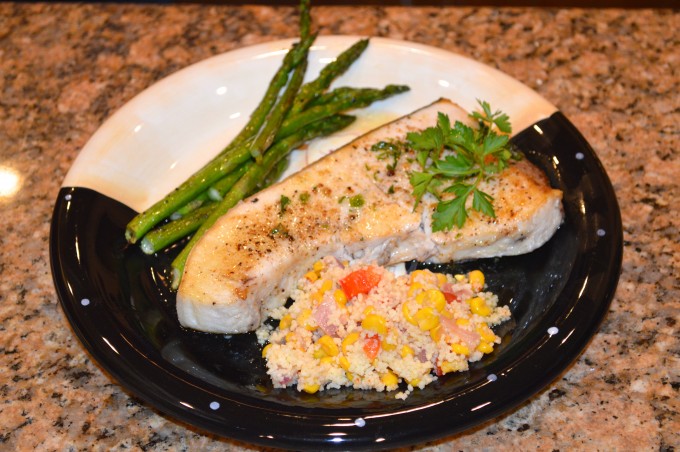 Friday night is usually Date Night for all of us. It's a great time to catch up on what's been happening all week long and for undivided attention to each other!  Justin, who is Katherine's husband, is one of us who has a passion to be in the kitchen trying new recipes & he loves to do just that on date night. He's stepping in today to introduce y'all to this great swordfish recipe.
Here's Justin!…
On Fridays we crave something savory, delicious & healthy as a way to kick off the weekend, but after getting off work, we're always bound by a lack of time.  Although, we always seem to be running on California time, that still doesn't allow a lot of time to shop, prep, and eat.  So, we have a couple of tips and tricks up our sleeve to help out, as well as an easy recipe to satisfy your taste buds.
Pan Roasted Swordfish Steaks with Mixed Peppercorn Butter
2 Swordfish Steaks
½ teaspoon chopped parsley
½ teaspoon zest of lemon
Ground mixed peppercorns
Sea salt
1 garlic clove
Olive oil
I know what you're thinking.  We said easy, right?  We promise that the two biggest mouthfuls are the name of the meal and the first bite you take. Second thought is that we said healthy, right?  Many will debate that butter has gotten a bad rap, but it can actually lower cholesterol, but we won't get into that.  Above our pay grade!  We believe that everything is manageable if done in moderation.  It's how we explain our Chik Fil A addiction, anyway.  And the butter in this recipe is used sparingly, but creates an intense and delightful flavor.
Tip 1- Fish fillets, chicken breasts, pork tenderloin, and most steaks freeze really well and thaw in about 30 minutes.  Next time you shop with a recipe in mind, just double the protein, and freeze half for later.  You'll be thanking yourself when you're not debating Wendy's $1 menu at 7:30 on a Friday night!
To start, we stopped by the store for the parsley and lemon (this division of b&h isn't growing it's own herbs yet!). Lemon zest may seem like a small detail that you could do without, but it adds a great flavor that meshes well with the fish.  Next, it's time for a TGIF cocktail.  The girls like to have a glass of wine, the men love a little martini (little might not be the right word), and while we're sipping and catching up, we'll thaw the swordfish steaks for about 30 minutes, submerged in room temperature water (we hold it down with a cast iron skillet).
Post cocktail, we're ready to cook!
Season the swordfish steaks liberally with sea salt and crushed peppercorns.
Tip 2- Seasoning meat:  Prep your protein with a good amount of sea salt and black pepper.  That is all you need to bring the juices out, and create a great succulent, restaurant quality dish.  Also, try to avoid resting the protein on a wooden cutting board, as the wood will counter the salt and dry it out!
Throw the steaks onto an oven ready skillet (cast iron or Le Crueset are perfect) on medium high heat with a tablespoon of olive oil.  In about 3 – 4 minutes it should have a nice sear, flip the fish over and put it in the oven preheated to 400 degrees F for 10 minutes.
We love our veggies too, and while we are baking the swordfish we will throw asparagus spears into a steamer for 10 minutes.
Now that we're at the 8 minute mark or so, we'll get the butter, dice up the garlic clove, and mash it together with the lemon zest and parsley.
Five minutes later, the oven timer should beep, and the swordfish is ready.  Pop the swordfish steaks onto the serving plates, and toss the skillet back onto the stove at medium/high heat.  Add the butter mixture and stir it in with the juices from the olive oil and fish.
A minute or two later the juices should be ready to drizzle on to the fish to your preference, serve with asparagus & you're ready to eat!
Add a glass of Chardonnay and bon appétit!
Cheers,