Last weekend, we had the opportunity to head to L.A. for the Rebecca Minkoff runway show. Since we decided to pass on NYFW this time (and we are so glad we did considering the blizzard!), we thought it would be fun to head to the West coast for a very quick trip. We mean so quick, that we only spent 36 hours in L.A.! We know there is so much to see/do and so much that we didn't get to do while we were there, but we thought we would share our itinerary of places we put at the top of our list. We're hoping to get back to L.A. for a longer period of time, but we are so glad we decided to go, even if it was for just 36 hours!
Saturday:
Arrive at our hotel around noon: We flew in Saturday morning early and went straight to our hotel. Hotel Bel-Air is tucked away up in the hills of Bel-Air just a few minutes from Beverly Hills and is a serene, beautiful place. If we hadn't been in LA for work, we may have never left the hotel! Our room had a massive patio, which William loved exploring. We left the french doors open most of the time so he could go in and out. It was a little chilly while we were there, so we loved that our room had its own wood burning fireplace. The staff will come and light the fire for you whenever you like. The bathrooms are full of marble, a deep soaking tub and heated floors. Plus, we slept so good in the beds. The hotel leaves a lavender sleep spray for your pillow on the end table and we became a little obsessed!
Lunch at The Ivy: After checking in, we decided to head to the Ivy. What's a trip to L.A. without dining on the patio? We enjoyed complimentary bubbly and a strawberry lemonade while waiting for our table. We had the onion rings (guilty pleasure), swordfish and a grilled vegetable salad. Make a reservation prior – the concierge at Hotel Bel-Air made our reservation for us, but we still had to wait about 15 minutes once we arrived. This was great people watching!
Explore Beverly Hills/Rodeo Drive/Wilshire: Even though we've been to Rodeo Drive a few times before, it's always worth a walk through. Designer store after designer store, you are sure to see a celebrity and the people watching here is also pretty incredible.
Visit LACMA: When you find yourself at the bottom of Rodeo Drive, stop for a drink at Four Seasons Beverly Wilshire and then catch an Uber to LACMA. We didn't have time this trip, but it's on our list for next time!
Shop at The Grove: The Rebecca Minkoff show was at The Grove and it is an amazing outdoor shopping mall. It was especially fun to be there for the runway show, but there is a ton of shopping and walking around you can do anytime.
Order room service for dinner: Let's just say that if William wasn't along, we would have definitely been going to a LA hot spot for dinner. But William was such a trooper all day, we decided to head back to the hotel, get him down for bed and order room service from Hotel Bel-Air. Luckily, the onsite restaurant is Wolfgang Puck, so you really can't go wrong 🙂
Sunday:
Brunch at the Beverly Hills Hotel: We started Sunday morning early. With the two hour time difference, William was up at 6:30 and ready to go. We grabbed coffee in the lobby, got ready for the day and let William play in the room and outside on the patio until we left for our brunch reservation at the Beverly Hills Hotel. The Beverly Hills Hotel is the sister property to Hotel Bel-Air and we highly recommend going for a meal or at least a drink. It's an iconic hotel, decorated in light pink with green banana leaf print everywhere. We originally had planned to brunch in the Polo Lounge, but decided to eat outside by the pool at the Cabana Cafe instead. The Cabana Cafe was so much fun and was great for brunch with William. He loves being outside, so it was a much better option for us! Brunch was fantastic. We had the best avocado toast ever, the McCarthy salad was yummy and William was a big fan of the grilled cheese:)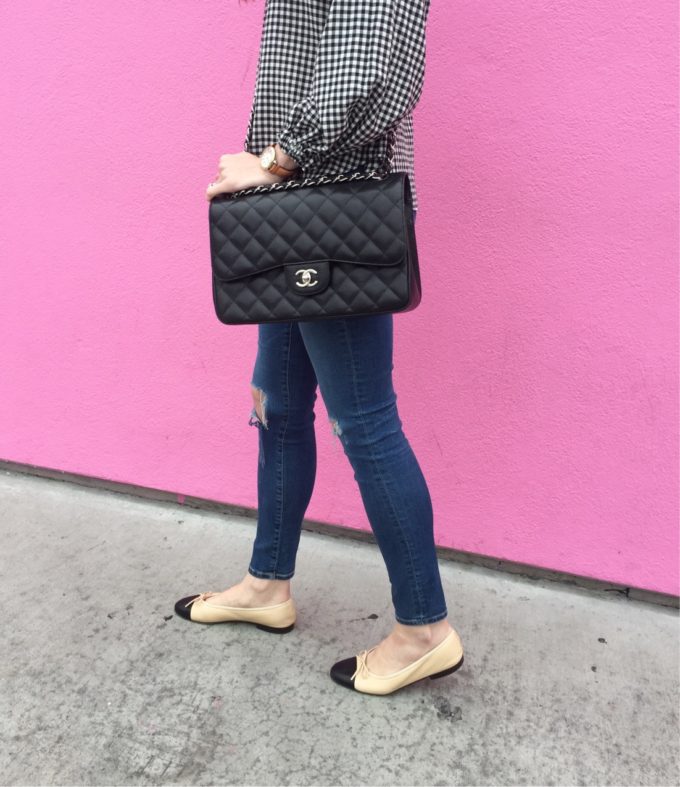 |top|jeans|handbag (similar)|flats (similar)|
Head to the airport Sunday night- It was fast, but so much fun- can't wait for next time! We've already our started our to-do list…
Shop our outfits from 36 Hours in LA:

Cheers,
Stia, Jean & Katherine