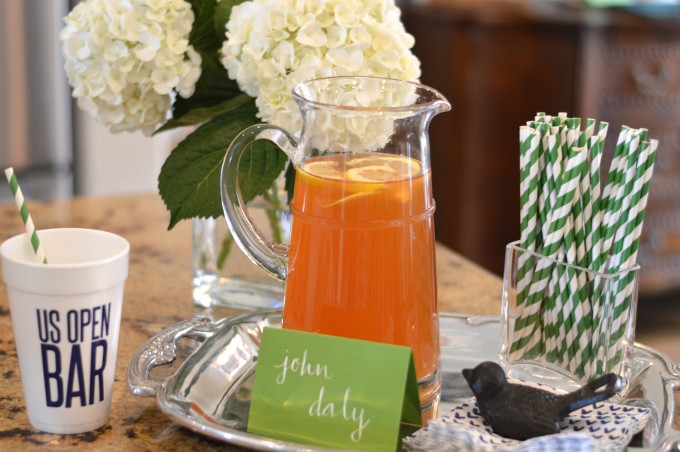 Our husbands love golf.  If they could spend every weekend on the golf course they would! So, in honor of the US Open Golf Tournament this weekend, we decided to have a party to celebrate.  We had guests arrive dressed in golf-themed attire, although some were dressed as "spectators" – mostly the girls!  A Payne Stewart look-alike won the costume contest (see more pictures on instragram here)!  The biggest hit of the party was the John Daly cocktail.  It's a super-refreshing drink for the summer months, so easy to prepare ahead of time & served in a pitcher for everyone to help themselves.  We highly recommend it for your next summer get-together!
The John Daly:
1 part unsweetened iced tea
1 part lemonade
1 part vodka
Mix all three ingredients together in a pitcher.  Garnish with sliced lemon, pour over ice & add a fun straw!  We used Chick-Fil-A tea & lemonade- how easy is that?!
 on katherine: grey t-shirt dress (similar)|embellished sandals (similar)|gucci sunglasses|kendra scott earrings|david yurman bracelet|bobbi brown lipgloss|gorjana cross over cuff- gifted
on jean: alice & olivia striped dress-on sale!|stuart weitzman caesar gladiator sandals|chanel sunglasses (similar)|kenda scott rayne necklace in abalone|gorjana teagan cuff- gifted|laura mercier lipstick in coy
on stia: zara dress (similar)|tory burch sandals|kendra scott rayne neckace-gifted|gorjana necklace-gifted|gorjana taner necklace- gifted|ray ban sunglasses|bobbi brown lipstick in shell
Cheers,