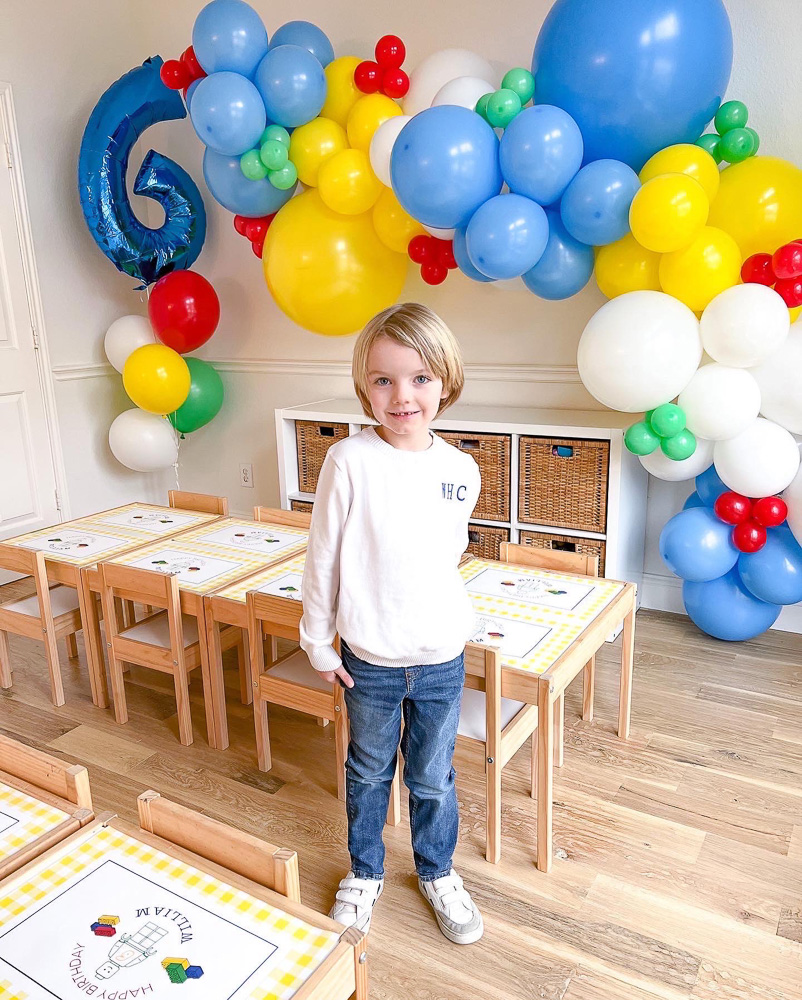 Happy 6th Birthday William! We spent the whole weekend celebrating our sweet six year old! His birthday was Friday and it was a beautiful 70 degree day. He had breakfast in bed, opened presents and then he was off to school. After school, he wanted to go golf and then we went to Mesero for his birthday dinner.
His party was on Saturday and in one day it went from 70 degrees to 30 degrees outside, with a little bit of snow. He said it was the best birthday ever! We had his friends from school and neighborhood friends over to celebrate. He's been asking for a Lego birthday party, so that's what we did! He truly had the most fun day celebrating with family and friends!
We are so proud of this boy. He's kind and funny and smart. He loves Kindergarten and sports, and Legos are everything right now. He's lost four teeth this year. He is the sweetest brother, very caring and his little brothers really look up to him. He loves soccer, T-ball, karate and playing football in the backyard. He started French lessons and it's amazing how much he has picked up in a short amount of time. We love you and are so proud of you William!
INVITATIONS/PAPER GOODS
I ordered these Lego "6" invitations and coordinating party favor tags from Minted. They have different color ways available and can edit for any age birthday!
ACTIVITIES
With William loving Legos, he really wanted to have a Lego themed party and build different things with his friends. We had "Bricks 4 Kidz" come to the party to organize and manage the Lego build. In advance, they sent over different options of the things to build so William could choose. He picked a Lego "Zip Line" and "Future Car" for his friends to build. It was a huge hit and kept the attention of 12 six-year-olds for 1.5 hours, so I definitely call that a win! The two people that came from Bricks 4 Kidz were so helpful with the kids while they were building. They came with 12 kits that contained everything the kids needed to build and ipads for each one with the directions! Each kid got to pick out a mini figure to take home, too.
We also had a bounce house outside for after Lego building to help burn off some energy! It's always a huge hit and the kids loved it despite it being 30 degrees outside!
FOOD
We had In 'n Out burgers and fries for the kids and adults. For dessert, we had Lego petit fours for each kid and mini ice creams. I found William's Lego cake topper on Etsy and the Lego candles here. I also found these Lego spoons and forks for cake and ice cream.
DECOR
Tammy from Sequins & Lipstick created the cutest cups, napkins and placemats. William loved the Lego "6" and the mini-fig!
Lushra always does the best balloons! We did the party in our playroom, so once we cleared it out it was a pretty empty space! Lushra put together the cutest set up for the birthday boy! The garlands added the right amount of Lego colors, but the big hit was the jumbo balloons by the food table!
PARTY FAVORS
Our friends love taking home the personalized cups from our birthday parties, so we put the Lego polybags in the custom cups, along with a mini trophy that William wanted all his friends to have! These party favor tags were so cute!
WHAT THE BOYS WORE
We have these sweaters in light blue and they are so cute and comfy! The boys love them so I decided to order them in white with a blue/yellow monogram (William's favorite colors.) They turned out so cute!
Shop Lego Birthday Party:

Cheers,
Stia, Jean and Katherine