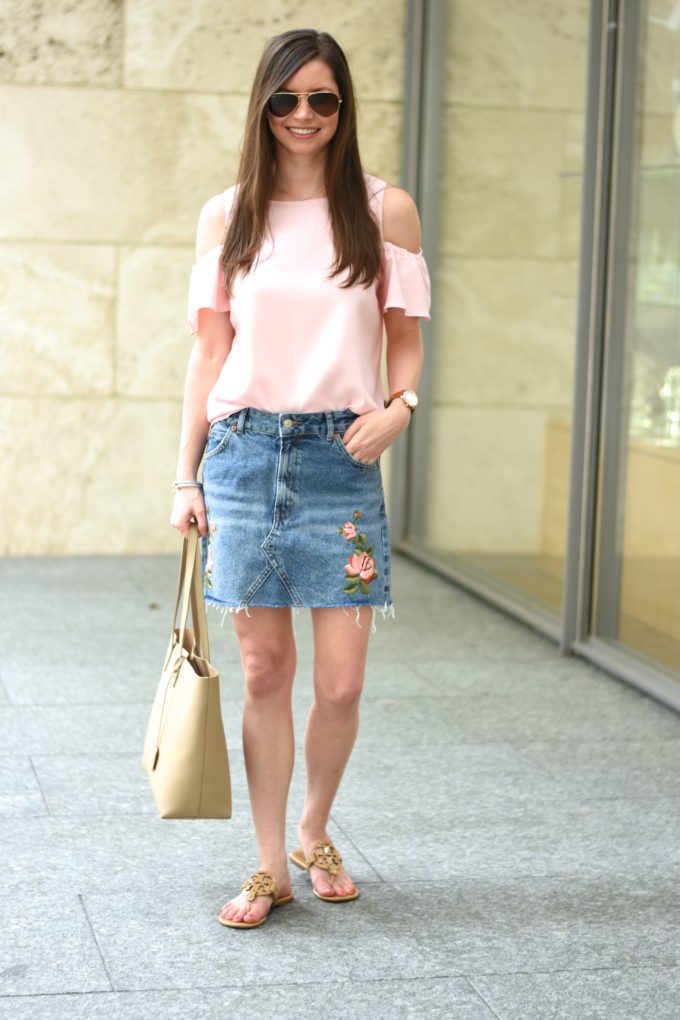 Happy Friday! We are so glad that it's the weekend. This weekend we will be celebrating Bill's birthday. He's number three of four birthdays within a month! Our husbands are playing golf Saturday at their favorite course and then we are grilling rack of lamb and opening up some good wine to celebrate. If this beautiful weather continues, we will most likely spend Sunday relaxing by the pool before another busy week!
How adorable is this embroidered denim skirt?! We are loving everything embroidered right now, but once we saw this embroidered denim skirt for under $70 we decided to jump on the trend. It's the perfect touch to take this outfit up a notch, but if embroidery isn't your thing this denim skirt is so cute too. It kinda takes us back to Abercrombie in high school 😉
PS: Don't miss from earlier this week: spring must-haves that are on our wish list, a spring floral top that is just $70 and of course, the best sales this week! Have a great weekend!
cold shoulder top -c/o|denim skirt (similar)|sandals|handbag (similar under $100)|watch|sunglasses|cross necklace|pearl bracelet|gold bracelet
cold shoulder top– c/o|denim skirt (similar)|sandals|handbag (similar under $100)|watch|cross necklace
sunglasses|pearl tipped bracelet|gold tipped bracelet
Shop Embroidered Denim:

Cheers,
Stia, Jean & Katherine