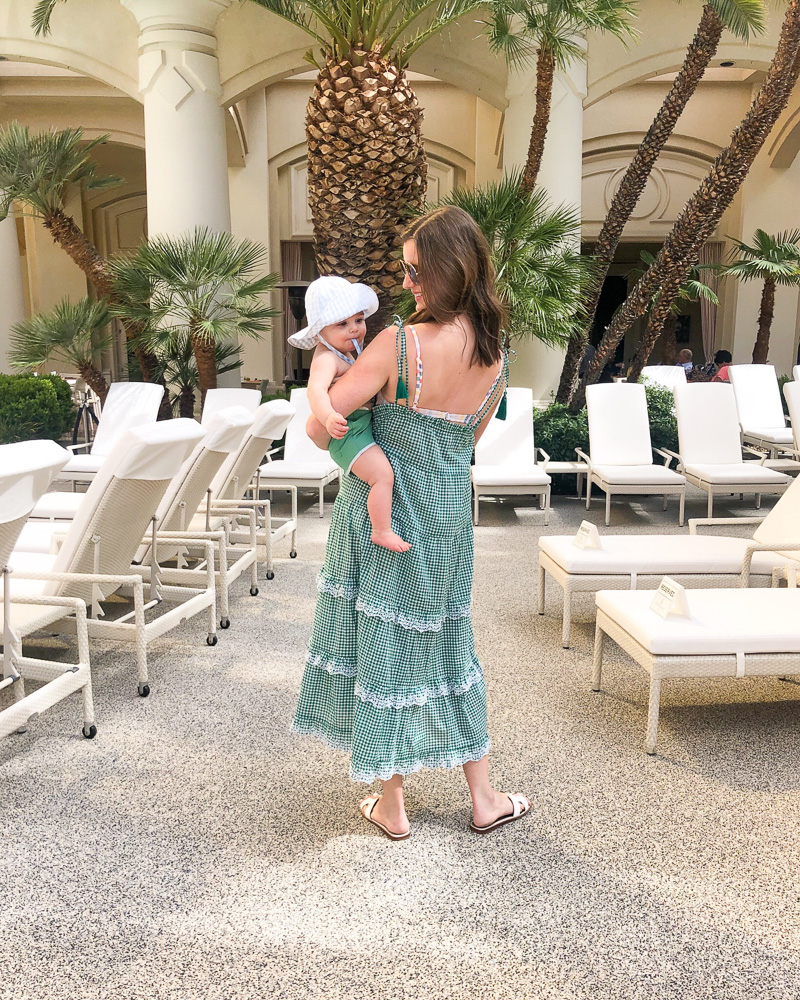 gingham dress // sandals (similar) // sunglasses
At the beginning of the month, we went to Las Vegas for a quick weekend getaway to celebrate Stia and Caleb's birthdays. It's crazy to think that so much has changed in such a short period of time. We had the best time while we were away relaxing in Vegas. We didn't really realize how much we all needed a weekend away!
We stayed at Four Seasons Las Vegas a year and a half ago and once we stayed there we vowed to never stay anywhere else in Las Vegas! It is truly a paradise in the middle of a very busy city, plus it's a non-gaming hotel which means no smoking or loud crowds. It is so nice to walk into a peaceful, elegant, smoke free lobby in the midst of the Las Vegas strip! We realize that now with Coronavirus, not many are traveling – but, once things calm down and go back to normal, you'll want to add Four Seasons Las Vegas to your list!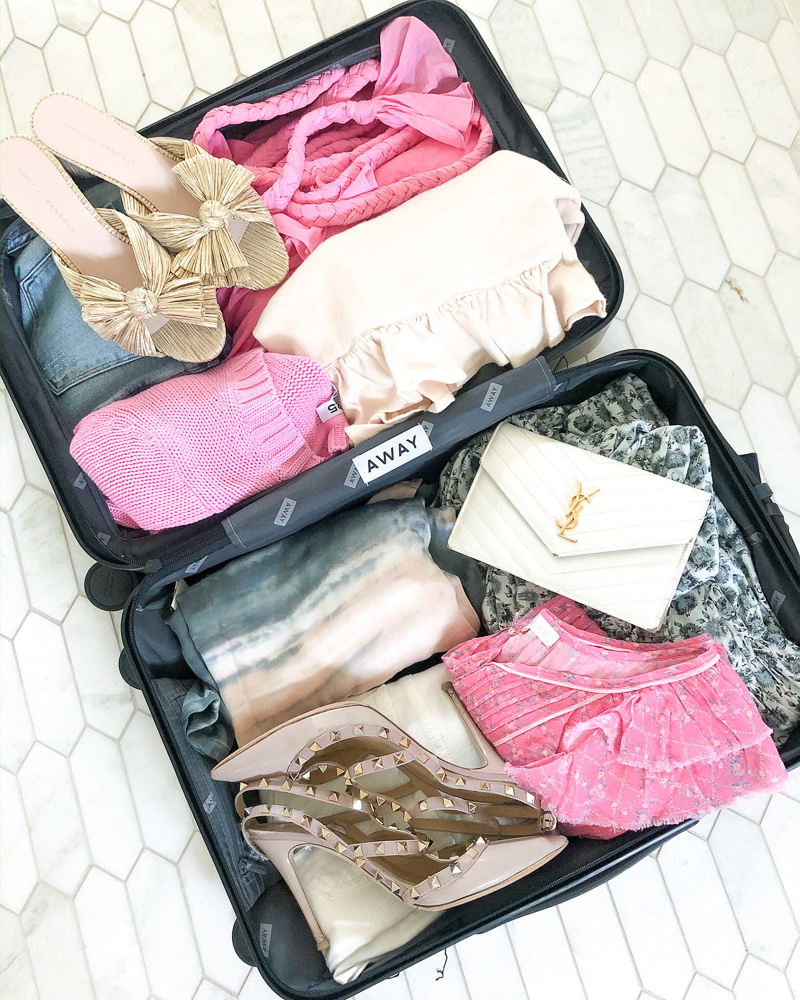 pink ombre dress // jeans // pink cardigan // gold bow shoes // tie dye dress // floral dress // pink floral top // white jeans // rockstud pumps // white bag
Five Things We Love about Four Seasons Las Vegas
In addition to everything we mentioned above, and from our last post, here are the five things we love most about Four Seasons Las Vegas:
Very kid-friendly: Las Vegas and kids don't typically mix, but we had such a great experience with the boys the last time we were at Four Seasons Las Vegas that we didn't think twice about bringing Ford this time! The Four Seasons Las Vegas is very kid-friendly. We were in one-bedroom suites and there was ample space for Ford to have his crib/room for naps and bed. In addition to providing a crib, the hotel had toiletries, diapers and a welcome gift for Ford. We also love that since it is a non-gaming hotel, the vibe is very relaxed and peaceful. We took advantage of the nanny service one of the nights we were there so that we could go to dinner and a show. Each nanny is background checked, holds certifications and we typically utilize the service at least one night per trip!
Spa/Nail services: The spa and nail salon are beautiful! We were treated to "Martinis and Manicures" to kick off our trip. It was so nice to check in, have a beautiful lunch on the patio and then head to our nail appointment. It was such relaxing experience and we very much enjoyed our margaritas and grapefruit spritz while getting our manicures!
The best breakfast/brunch buffet: We went to Sunday brunch and we sat enjoying our breakfast for a few hours – we had nowhere to be and just enjoyed trying everything! And everything we tried was delicious. The guys enjoyed the signature Bloody Marys and we loved the mimosas with fresh squeezed juice. One of our favorite parts of brunch was the homemade mini donut station where you can choose the icing and topping you would like for each one. So fun and so yummy!
Laid back pool: The Four Seasons Las Vegas pool is a serene, quiet spot – unlike most other Vegas hotel pools. We had a cabana for the day which comes with a fruit platter, mineral water, Evian facial spray, a big screen TV and the best service. Cabana One had plenty of room for the six of us, including room for a pack and play for Ford to take his naps. We stayed the whole day. We had the cabana our last day there and it was the perfect way to finish our trip!
Attention to detail and service: Four Seasons hotels have service unlike any other and Four Seasons Las Vegas is one of the best. Everywhere we went on property we were greeted by name. Caleb's actual birthday was on our last day and they provided a special birthday surprise during our Cabana day- the best-ever chocolate covered strawberries. We enjoyed in-room dining for breakfast on Monday and it was delicious, on-time and hot. The server even poured our coffee for us to enjoy while he set up our breakfast. In so many ways, the service at Four Seasons Las Vegas is a step above!
Okay, we have to add one more! Even though FS Las Vegas is a non-gaming casino, if you feel like trying your luck, just step through a convenient door and you're in the Mandalay Bay Hotel casino. Couldn't be easier.
Those are five of our favorite things about Four Seasons Las Vegas, but there are so many more. Let us know if you have the opportunity to stay at Four Seasons on your next trip to Vegas. We would love to hear what you loved about it!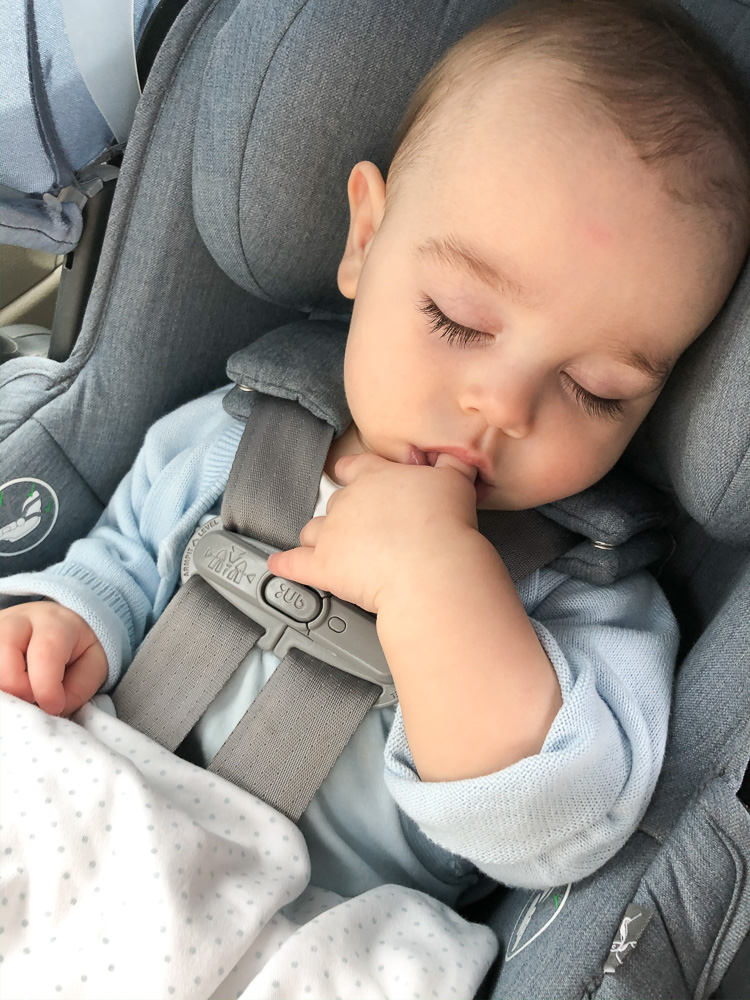 sweater // bubble // blanket // car seat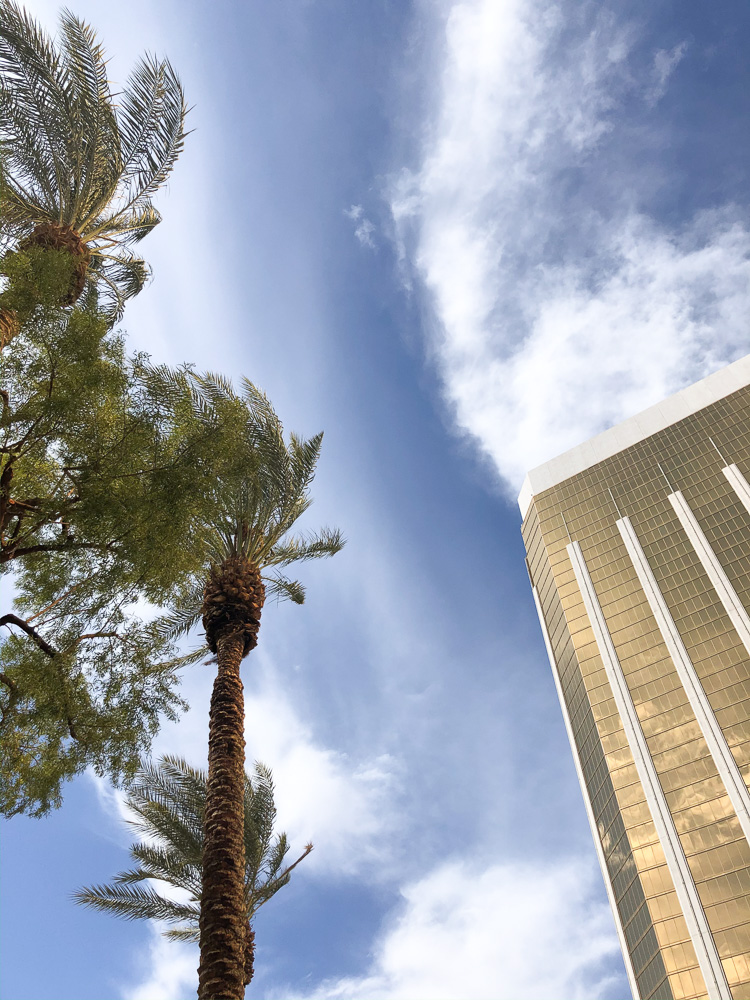 pink cardigan // jeans // sneakers // ruffle sweater // jeans // sneakers // orange sweater // sneakers // shorts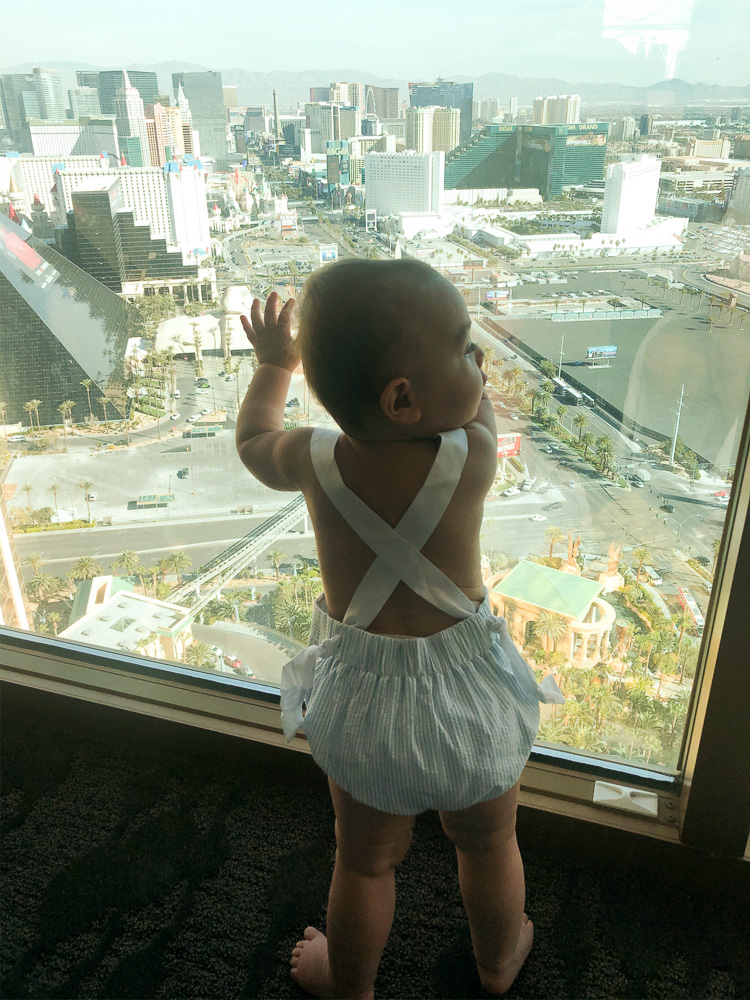 // sunsuit //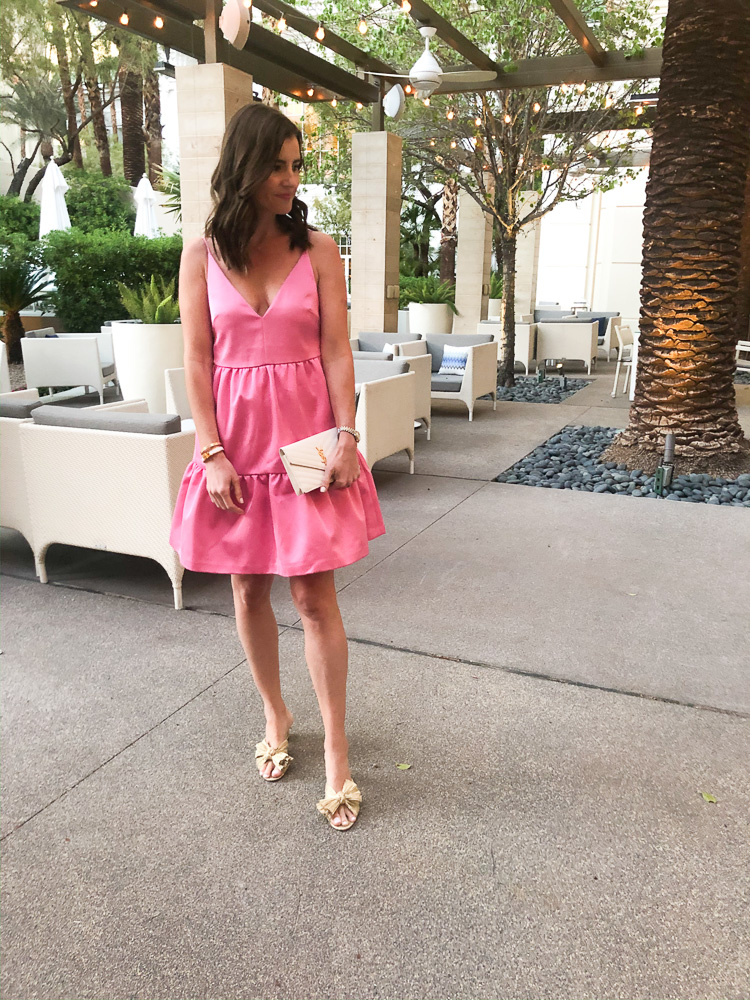 pink dress // gold bow shoes // white bag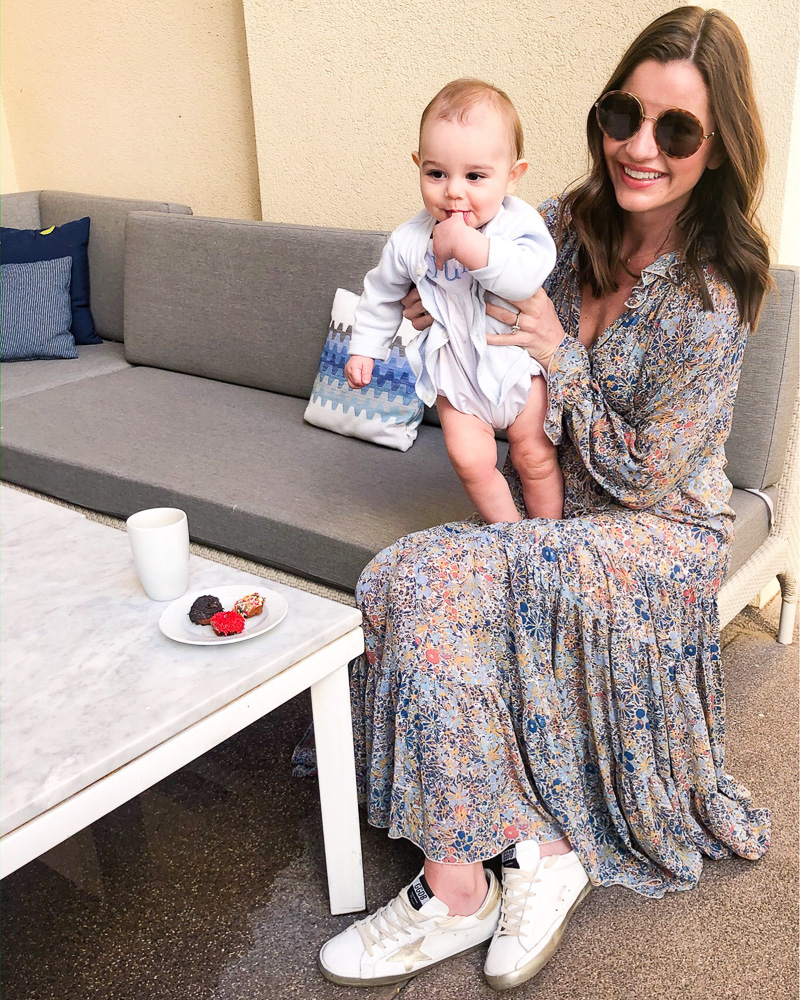 floral maxi dress // sunglasses // sneakers // ford's sweater and bubble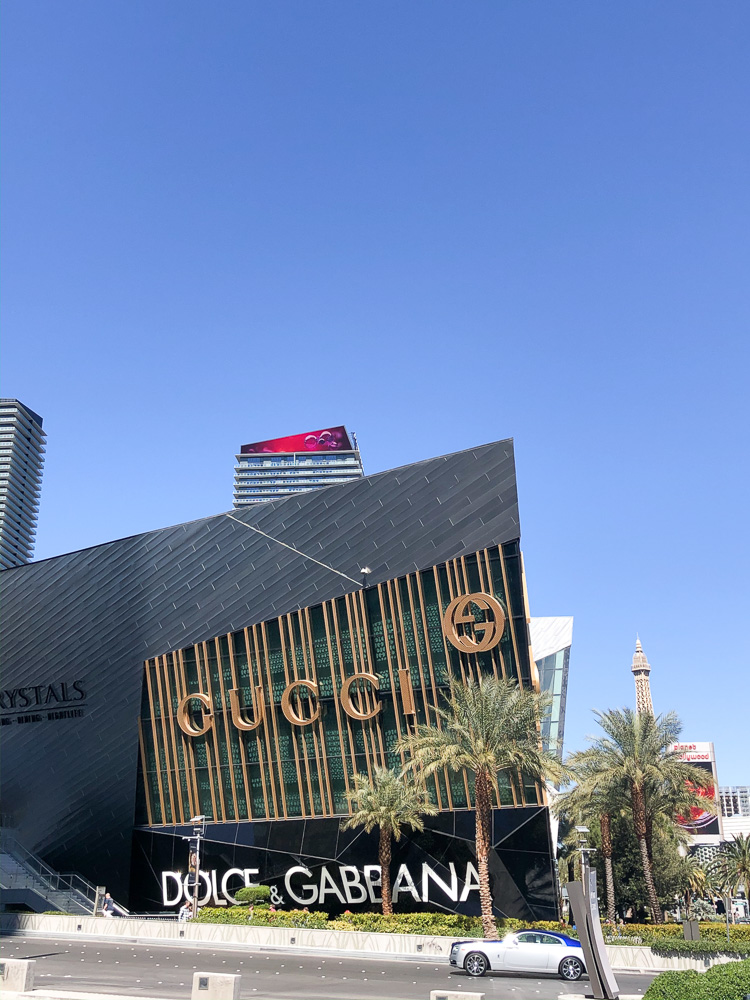 yellow sweater // jeans // sneakers // gucci crossbody // shopping tote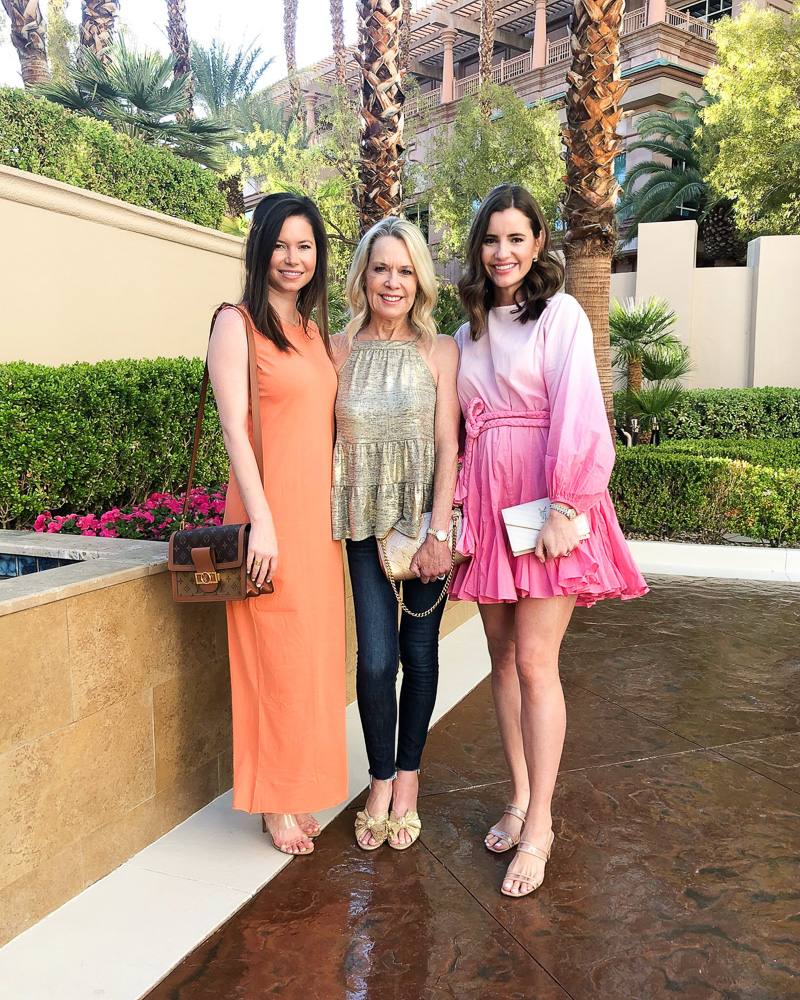 gold top // jeans // gold bow heels // ombre dress // nude heels // orange maxi dress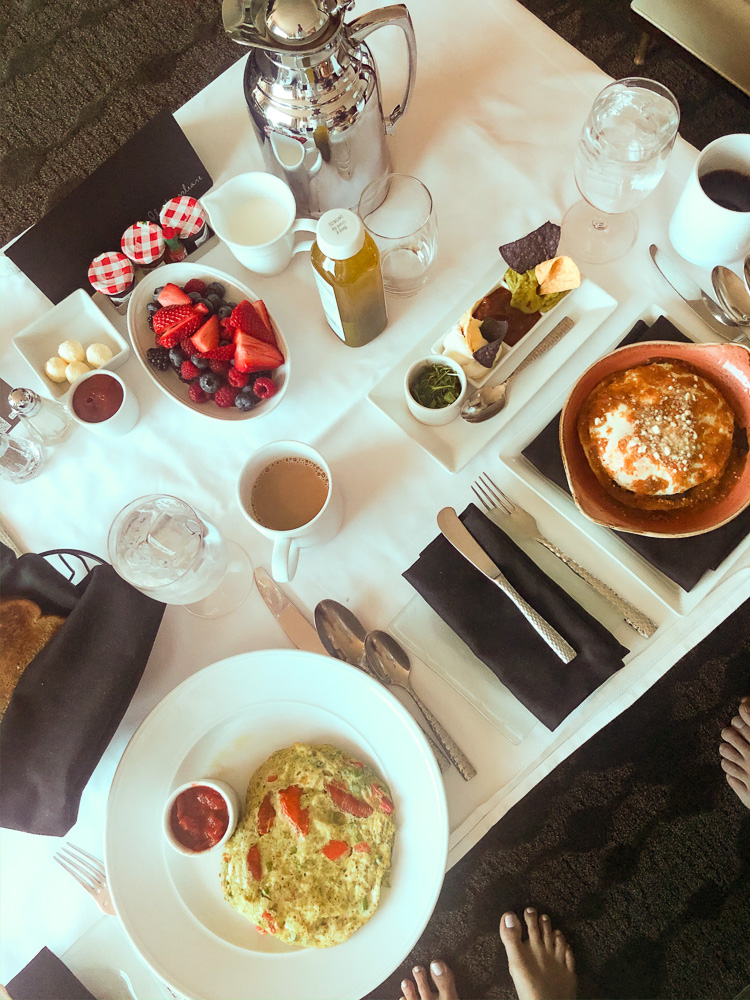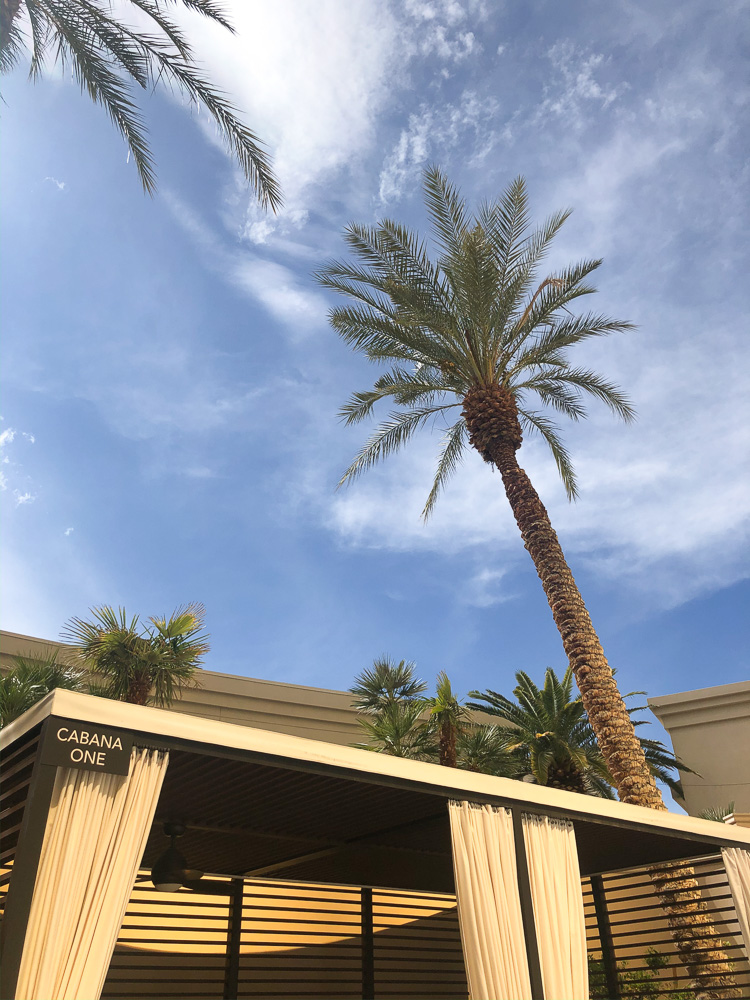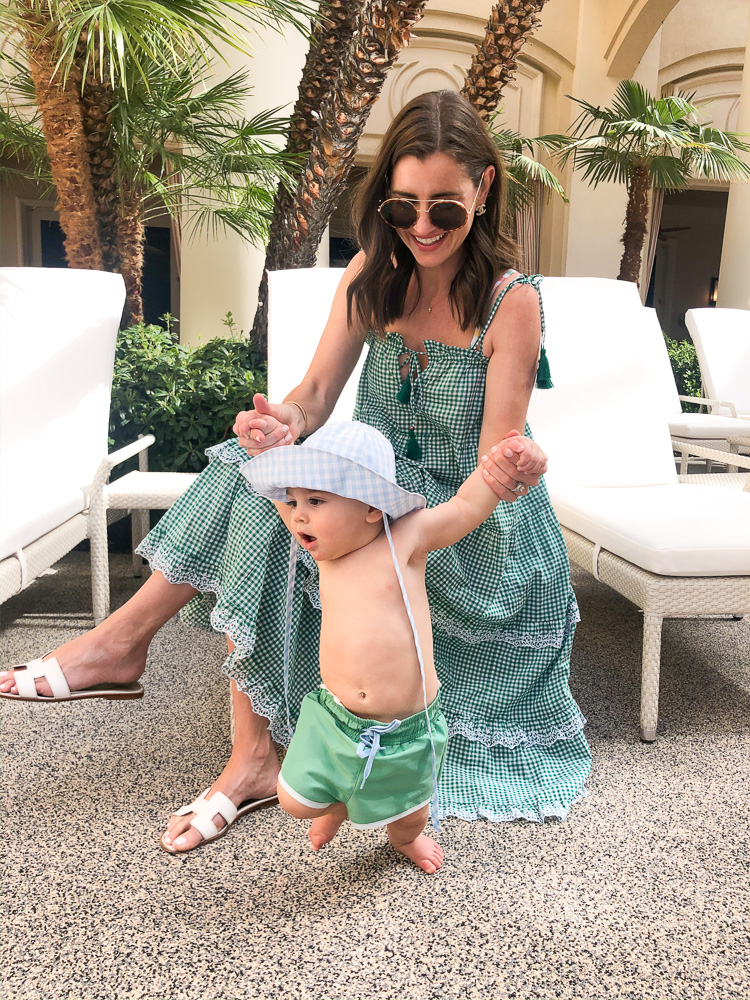 gingham dress // sandals (similar) // sunglasses // earrings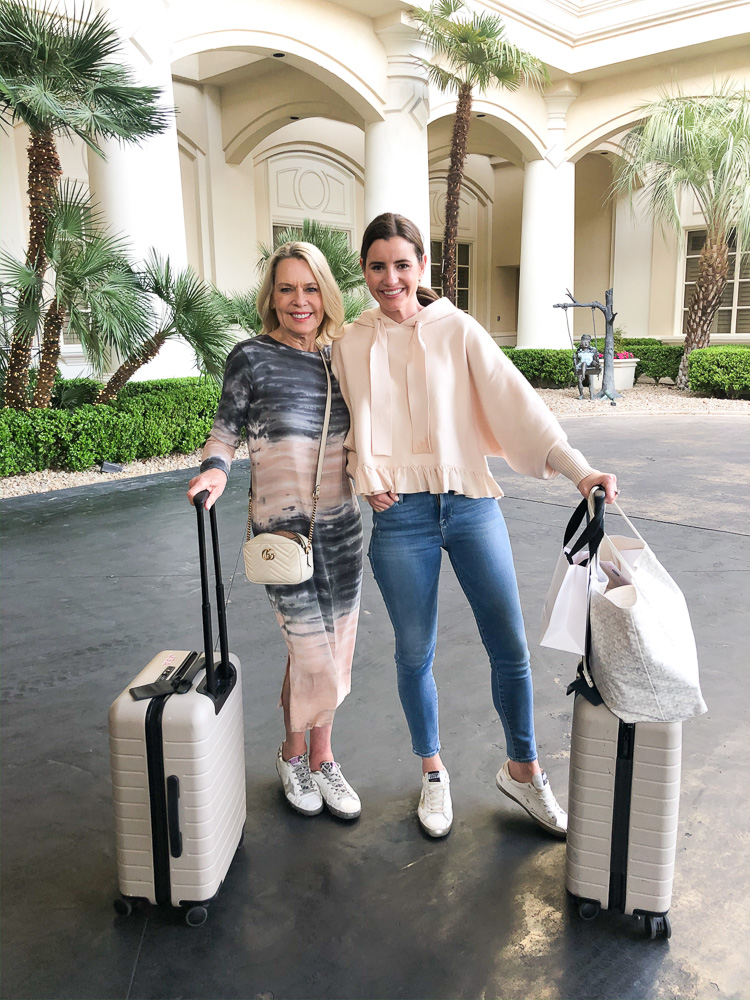 tie dye maxi dress // sneakers // sweater // jeans // sneakers
Cheers,
Stia, Jean and Katherine
Thank you to Four Seasons Las Vegas for partnering with us!