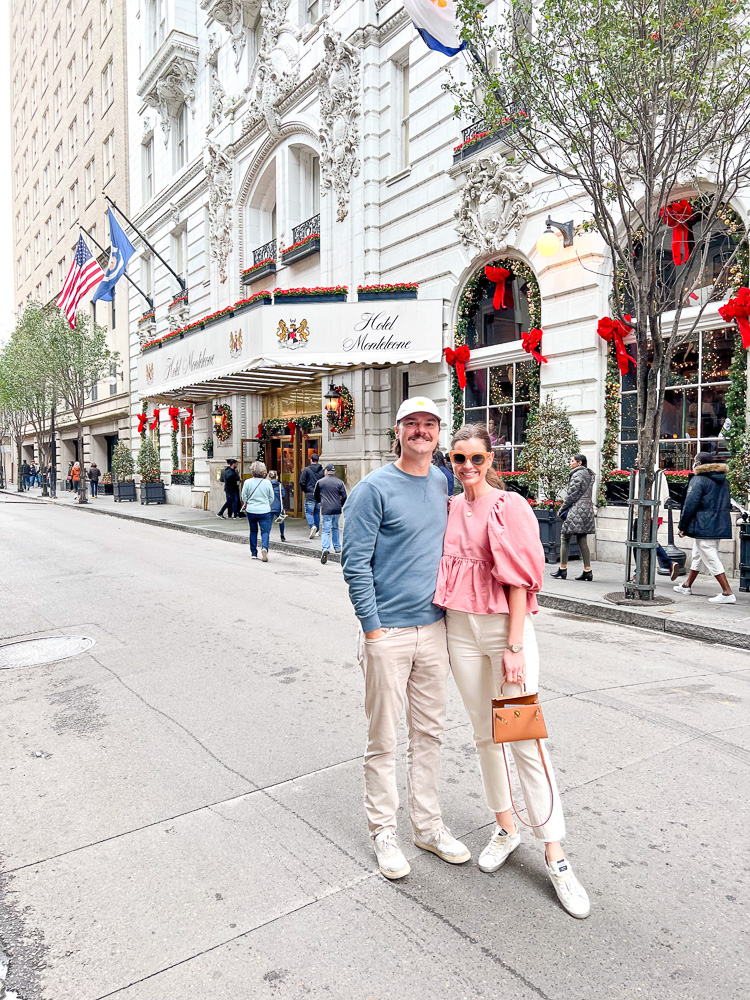 Happy New Year! On the spur of the moment, Caleb and I planned a quick weekend getaway to New Orleans. We both graduated from Baylor and the Bears were playing in the Sugar Bowl on New Year's Day, so we decided to make a weekend of it. Neither of us have spent any time in New Orleans and we had the best time! It's a quick 1 hr flight from Dallas and we made the most of our short time there.
We joke about it, because we basically ate and drank our way through the city! The food in New Orleans is amazing and very unique. We got a lot of recommendations for places to eat, so keep scrolling for the whole list. I'll note the ones that we had a chance to try! We went to the game, spent a little bit of time on Bourbon street in the French Quarter and then a cold front came through, so we spent a lot of time enjoying the brand new Four Seasons New Orleans! The hotel is gorgeous!
Where to Stay
The Four Seasons New Orleans just opened in August and it is beautiful! It's near the river, but also a quick walk to the French Quarter and Bourbon Street. We stayed in the King River room and there was loads of space, a great view and a beautiful bathroom with stand alone tub! The hotel restaurants are also amazing and came highly recommended from a lot of you. The pool is heated and they have a great hotel bar. The spa will open soon. Highly recommend a visit!
Restaurant/Bar Recommendations
Mr. B's: We loved this spot for lunch and then stopped by the Carousel Bar after!
Chemin de le Mar: We had brunch here – food was amazing and the decor was beautiful.
Miss River: Highly recommend!
Commander's Palace: My favorite entree from the trip!
Carousel Bar: Such a fun bar.
Chandelier Bar: This is in the lobby of the hotel at Four Seasons and it's a great spot to grab a drink before dinner at Miss River!
These came highly recommended, too!
Jack Rose
Johnny Sanchez
Brennan's
Willie Mae's Scotch House
Compére Lapin
Galatoire's
Peche
What I Packed:

Cheers,
Stia, Jean and Katherine