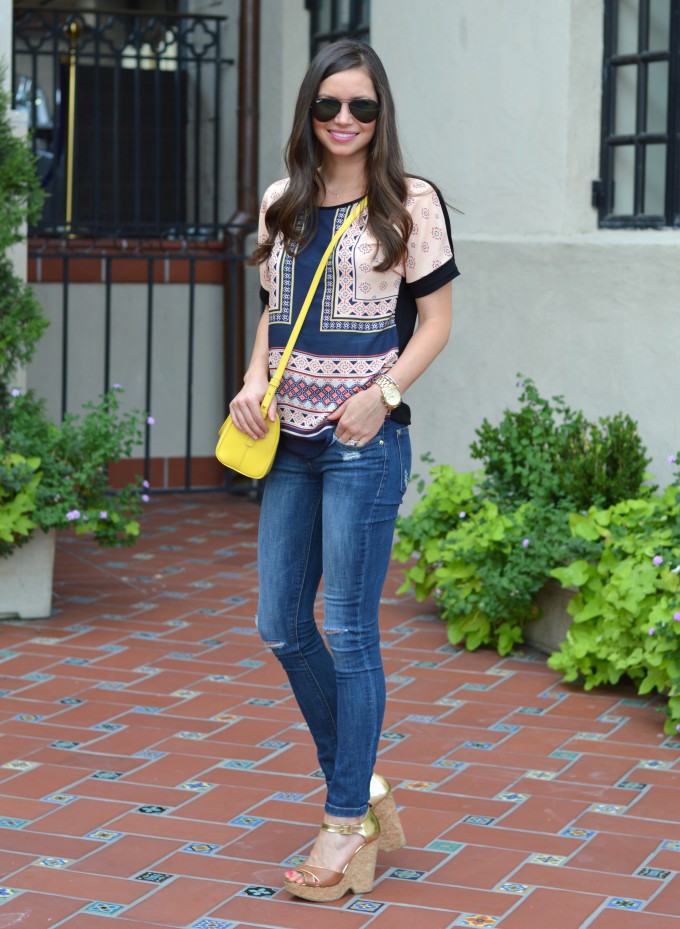 As you are well aware, the summer's in Dallas are HOT.  We try not to complain about it too much, because a warm summer means a warmer winter and we are not the biggest fans of the cold weather! Usually this means the lightest, most comfortable dresses are worn daily.  There was one day last week where the tempatures dropped to the 80s (gasp!) and jeans never felt so good to wear!
When the weather gets cooler, we love nothing more than wearing a favorite pair of jeans and a printed boho top.  Boho tops are one of our favorite things to wear.  The print and detailing takes denim up a notch and they look adorable with boyfriend shorts in the summer.  This boho top has been a summer staple, but we were so excited to finally be able to wear it with jeans while during that fluke 80 degree day! A few of our other boho favorites are: a blue and white embroidered boho jacket with tassels- its adorable! This black and white boho top is a great piece to wear now and into fall with a pair of jeans and over the knee boots, plus it's a great deal at just $38!
PS: You can see how I wore a blue and white boho short set earlier this summer here!
boho top (only $65!)- c/o|distressed denim jeans- c/o|yellow cross body bag- sold out (similar under $60)|wedges- sold out (similar under $90)
boho top (only $65!)- c/o|distressed denim jeans- c/o|yellow cross body bag- sold out (similar under $60)|wedges- sold out (similar under $90)
Shop Boho Print Tops Below:

Cheers,