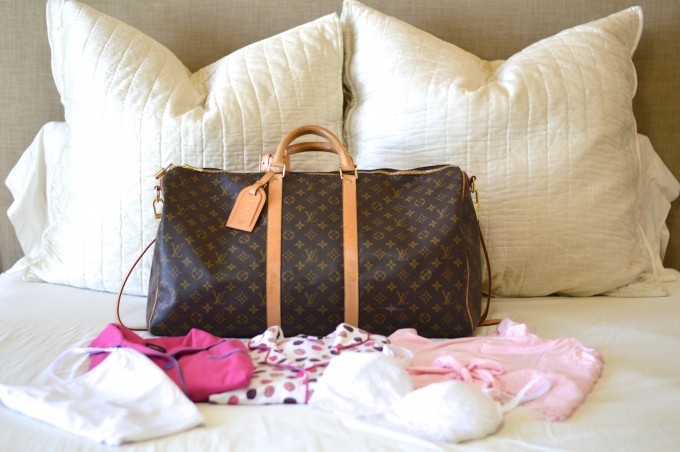 The countdown is officially on. We are just waiting on baby to make his/her appearance and I think everything is pretty much ready. Well, as ready as it can be! It really snuck up on me that after 37/38 weeks, the baby can come at anytime. So over the past few weeks we have completed the nursery, filled in the essentials for baby and finished a few projects around the house. Over the weekend I made it a point to go ahead and pack my hospital bag. There is no way I wanted to be doing that in between contractions once I go into labor, and I didn't want to risk having Caleb pack it for me 🙂
After posting this picture on Instagram, I just wanted to say thank you for all your suggestions and honesty. I definitely hadn't thought about some of those items, but they are now in my bag!
What is in my hospital bag:
nursing friendly pajamas: this hot pink pair and this macaron nightshirt to make nursing easier, but also soft, cozy and cute too
nursing bras: being a big fan of cosabella soft bras, I was thrilled to find out they made a nursing bra option! Neutrals to start (white and nude), but love that they have so many other colors to choose from
nursing cami: I've heard this will become my best friend!
robe: a soft, pink lace robe will be the perfect thing to put on over the nursing cami when family and friends stop by
maternity jeans, sweater and flats: knowing that I will still look about 6 months pregnant when leaving the hospital, maternity jeans will be in my bag!
toiletries: a few personal favorites to feel a little better post delivery- bronzer, blush, mascara, fresh lip treatment and the essentials, of course.
slippers, cozy socks and sandals for the shower
nursing essentials: boppy pillow, nursing pads and ointment
electronics: camera, iPad and chargers
list of who to text when baby arrives
bottle of GH Mumm to cheers to our new addition- the same kind of champagne that my parents drank when my brother and I were born
for caleb: a few changes of clothes, pillow from home and snacks
hot pink pajamas- c/o|pink lace robe- c/o|macaron nightshirt- c/o|nursing bra in nude and white– c/o|nursing cami- c/o
Shop what is in my hospital bag:

*This post is brought to you in collaboration with Cosabella, a brand we love.
Cheers,