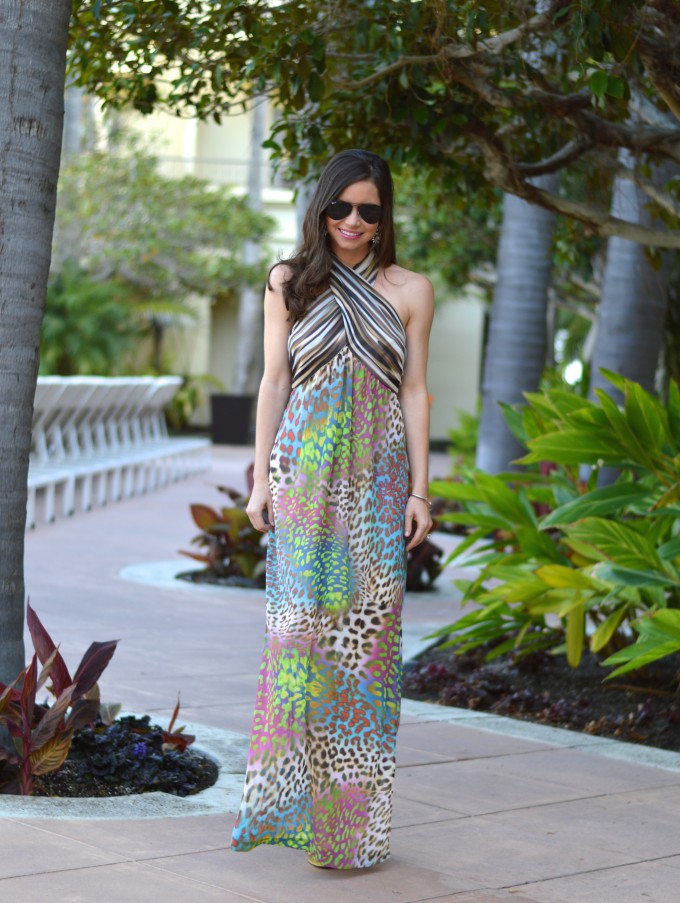 Before summer started, we picked up this leopard print maxi dress from the Trina Turk boutique in Dallas.  We love maxi dressess, they seem to be a piece we keep wearing from season to season.  As soon as we spotted this great leopard print, we were hooked.  The added bonus is the open back which makes it perfect for summer events!
We brought this dress along on our trip to Laguna Beach in early June.  This is another dress that is an "easy to pack" dress.  We talked a lot about this in this post, but we love dresses that can be dressed up or down, depending on the occasion, and take up very little space in your luggage!  We also look for for fabrics that don't wrinkle, or fabrics that will lose their wrinkles quickly after hanging, such as silk.  Looking back on these pictures makes us miss our trip to Laguna Beach.  Hopefully we can squeeze one more trip in before the end of summer…!
PS: Nordstrom's Anniversary Sale Early Access ends tonight!  That means that the sale opens to the general public starting tomorrow!  If you are looking for ideas for what to buy, check out our previous posts here & here.  We like to try to pick up some of the pieces that are more of an investment, such as a great coat, a handbag, or pair of boots.  These things won't be on sale again until long after you wish you had them!  This is also a great time to pick up some work staples for the guys, like this button down or these slacks.  Caleb has his eye on these loafers, and this shirt looks like one for Justin.  If you shopped early access, we would love to hear about your favorite buys!
leopard print maxi dress– c/o|gold wedges (similar under $100)|louis vuitton clutch (similar under $400)|tortoise chandelier earrings- c/o (similar)
leopard print maxi dress– c/o|gold wedges (similar under $100)|louis vuitton clutch (similar under $400)|tortoise chandelier earrings- c/o (similar)
Shop maxi dresses:

Cheers,