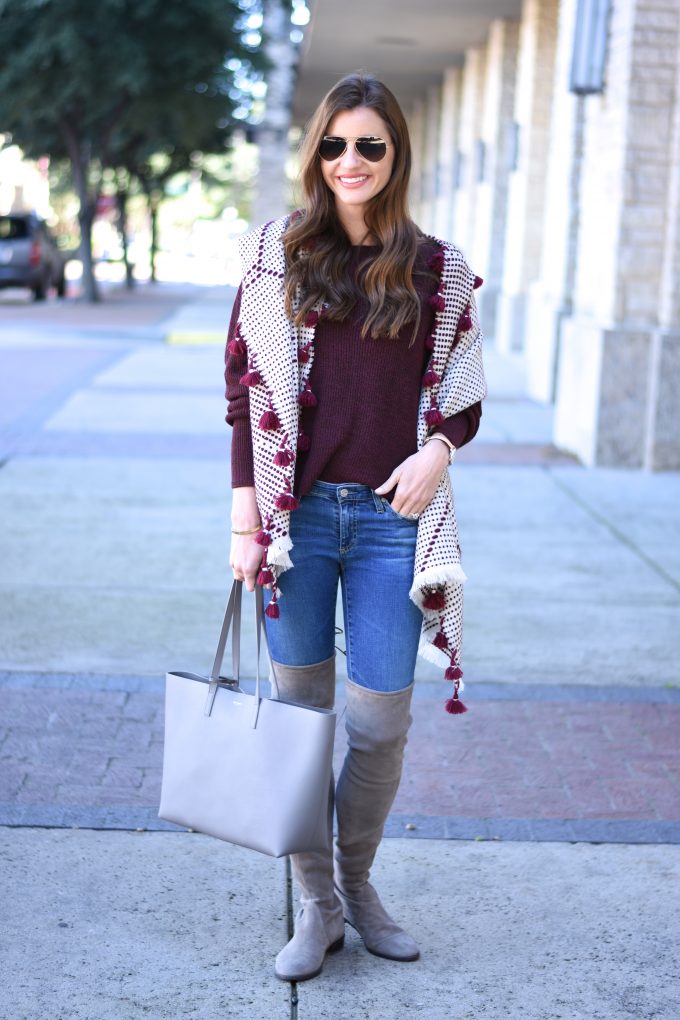 Happy Thanksgiving! We hope today is a day of relaxing, delicious food, good wine and time with family. There is nothing sweeter than those moments when you can take it all in and enjoy a day of just hanging out with the people you love the most. This off the shoulder sweater is a casual look that you will find us in this Thanksgiving. It's cozy, a little roomy to leave extra room for seconds, and comfortable for a full day at home or traveling to visit family.
This is also a day to recall the many ways that God has blessed us this year. While we always try to have an attitude of gratefulness, at Thanksgiving we make point of sharing the things we are especially thankful for at this time of year. God's grace, His love and the love that our family has for each other are always high on the list. Also high on the list is a special little guy that has been added to the family 🙂
We are also so thankful for you guys, our faithful readers! We want to thank all of you for coming back to bishop&holland daily, interacting with us on social media, emails, etc. and becoming our friends! This space wouldn't be here if it weren't for you – so thank you! Keep scrolling for the giveaway!
And, here are the best Thanksgiving Day Sales that we could find for you:
off the shoulder sweater|jeans|over the knee boots (similar under $150)|scarf-on sale!|gray tote bag
We would like to show just a small token of our appreciation to you by giving away two $100 Nordstrom giftcards! To enter, login to app below. It will take you through a step by step process to enter. Giveaway ends tonight at midnight- so enter now! PS: We have another giveaway scheduled for tomorrow!
We never share emails. Your privacy is top priority for us! We only need your email to notify you if you win. Giveaway ends Thursday, November 24th at 11:59 pm. Winner has 24 hours to email us before a new winner is selected. Good luck!
Shop off the shoulder sweater:

Cheers,
Stia, Jean and Katherine