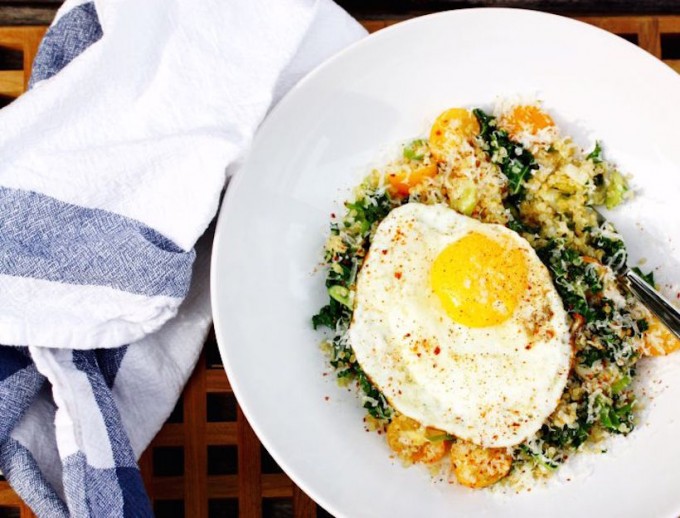 |image via|
On Saturday mornings we try to be pretty laid back.  It's nice to have a leisurely morning at home without having to rush out the door to work!  And it's nice to take a break from our on-the-go breakfast of greek yogurt & fruit.  Here's where goop comes in – have you heard about Gwyneth Paltrow's lifestyle website?  Goop is a great resource for fashion, beauty, travel, and healthy recipes.
Healthy eating has always been a part of our lives, but we tend to go with the easiest meals for breakfast, while we have heard over and over that it's the most important meal of the day!  This goop recipe for Kale & Quinoa Breakfast Bowl is incredible, and the perfect amount of healthy, delicious & filling for breakfast.  You better believe it's on the menu almost every weekend!
This recipe is for one serving.  We just adjust the amount of ingredients depending on how many are eating, and make it all at once.
Ingredients:
1 tablespoon olive oil
1 cup (packed) cleaned and roughly chopped kale (we use baby kale and don't chop it) (we have also subbed baby spinach and it was delicious!)
½ cup cooked quinoa
1 garlic clove, minced
¼ teaspoon aleppo pepper (you can sub crushed red chili)
6 cherry tomatoes cut in half
2 scallions, thinly sliced
1 teaspoon red wine vinegar
2 tablespoons grated parmesan or pecorino romano (we like shaved parmesan)
1 fried or poached egg
1. Heat olive oil over medium-high heat in a medium sauté pan. Add kale, season with a pinch of salt, and sauté for about one minute. Add minced garlic clove and aleppo pepper and sauté for another 30 seconds, or until the garlic becomes fragrant but hasn't turned brown. Add cooked quinoa, and sauté for one minute.
2. Add cherry tomatoes, scallions, and vinegar, and turn off heat. Toss to combine, and check for seasoning.
3. To serve, plate the mixture, garnish with grated cheese, and top with a fried or poached egg.
Cheers,