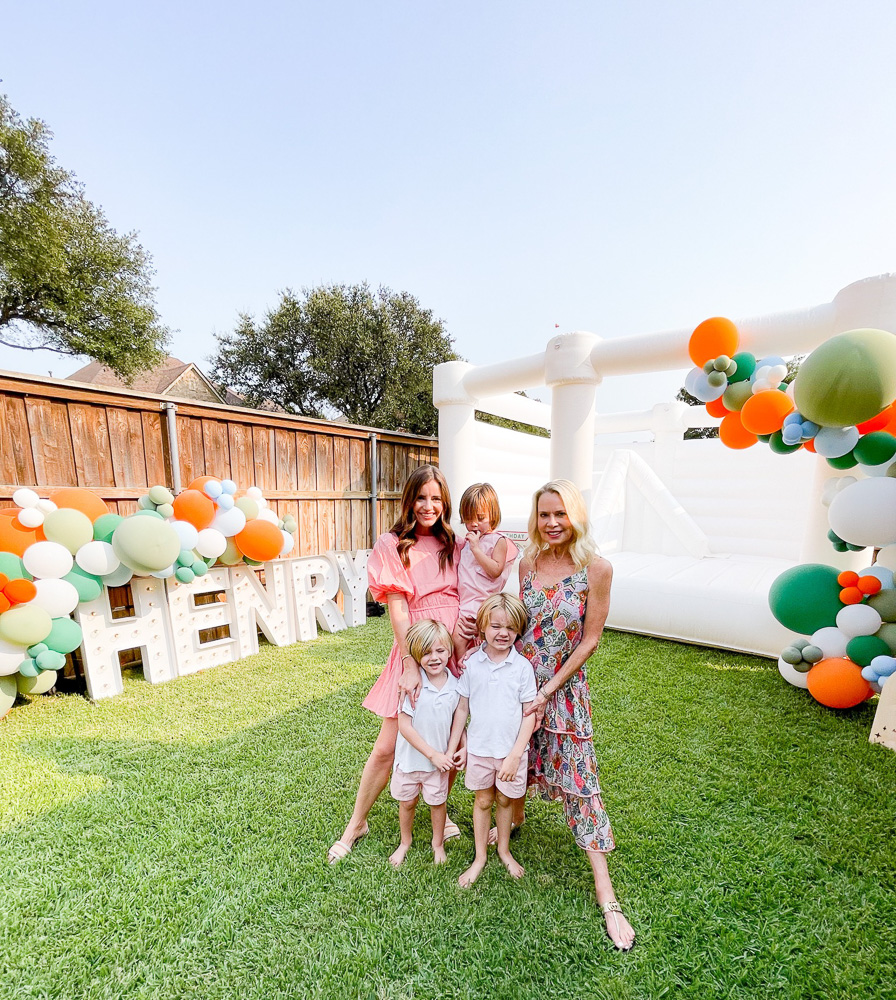 Henry loves the Teenage Mutant Ninja Turtles and he decided early on that was the kind of birthday party he wanted. He's seen the original cartoons just a couple of times, but we think what actually got him hooked was the TMNT theme song! It's really catchy and all three boys love singing and dancing to it. It was so much fun planning his birthday party and he loved every little thing. We had family, friends and a special appearance by his favorite Ninja Turtle – Michaelangelo. Everyone had so much fun and Henry had the very best time! Here are pictures and details from Henry's Teenage Mutant Ninja Turtle Birthday Party:
Invitations/Paper Goods
When I first started planning Henry's theme party, every TMNT (Teenage Mutant Ninja Turtle) item that I found was scary looking! I wanted it to be cute and more appropriate for a group of 4-year olds, so I reached out to Honey Bear Pages to create some artwork that we could use for invitations and party goods. We also did a party favor tags, stickers for the pizza boxes and a bar menu that all coordinated with the invitation and our theme. The birthday boy loved how they turned out and so did we!
Food
In theme with the Ninja Turtles (their favorite food is pizza!), we had mini pizzas for the kids and pizza and salad for the adults. The mini pizza boxes for the kids were a huge hit! I ordered them from Amazon and then used custom stickers from Honey Bear Pages to put on the top.
Activities
We rented the white slide bounce house from Dallas Party and the kids loved it! The slide was so much fun and there was plenty of space for jumping, too.
The Teenage Mutant Ninja Turtle character "Michaelangelo" stopped by and he was a huge hit! The character rental company we used also supplied a DJ to play music and organize games for the kids. The kids all enjoyed dancing and playing games to win prizes.
Decor
The party cups, napkins and placemats are from Sequins & Lipstick. I love the logo she came up with- very on theme for a Ninja Turtles birthday party!
Lushra did the balloon garland on the bounce house and the on the marquee lights. They also did the custom decal for Henry that was applied on the bounce house.
Since we knew the character rental came with a DJ for music and games, we thought the Alpha Lit "Henry" marquee lights would be the perfect touch!
What the Boys Wore
Henry loves these polos and shorts. The boys wore the polos in white with orange shorts (Henry's favorite color) and Ford wore the matching jon jon.
What We Wore
It's still hot in September, so we all opted for dresses. Stia wore this coral dress, Jean wore this maxi dress and Katherine wore this green maxi dress.
Cheers,
Stia, Jean and Katherine