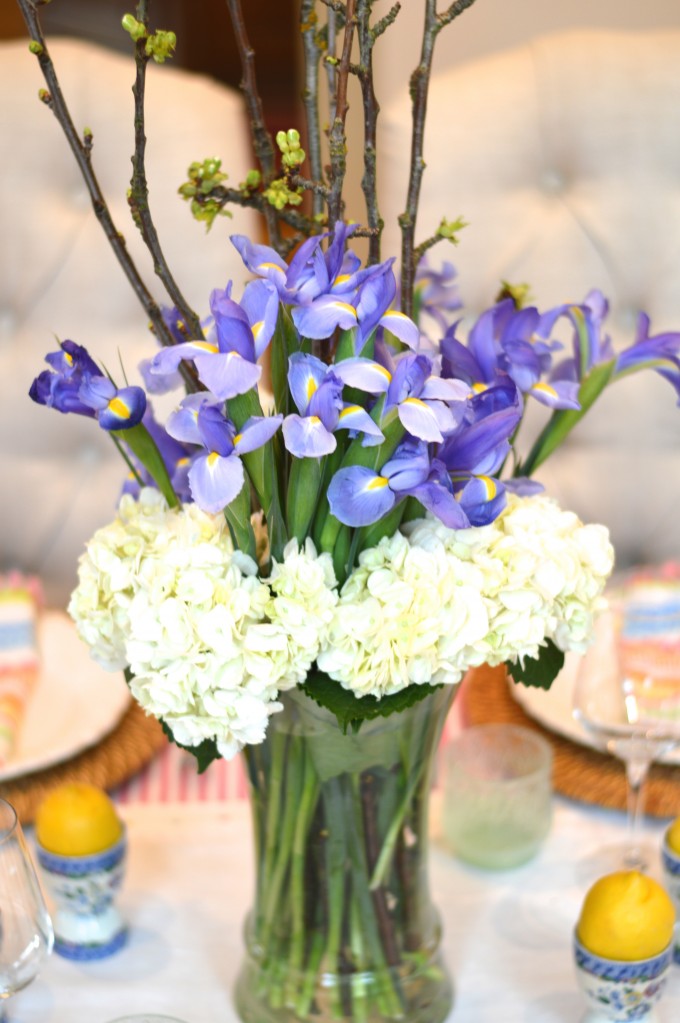 Every Easter we head to church, hunt for easter eggs and baskets, and then sit down for a meal together.  Setting the table in a way that expresses whatever we are celebrating  is one of our favorite things to do, and flowers go a long way to set a festive tone.  It can be hard to decorate using flowers without spending a lot of money, so we decided to see if we could create a spring arrangement for our Easter dinner table for under $25.  All the flowers are so beautiful and colorful this time of year, that you really can't go wrong, but here are our tips for creating a spring floral arrangement on a budget:
1) Start with a flower that is a good base- hydrangeas are great to use as a base because they add fullness with out having to spend a lot of money.  This base is your first layer, outermost on the container.
2) Use color- purple isn't usually our first choice, but the color was so vibrant, and it was perfect against the white – just the pop of color we were looking for!  Tulips, roses, or ranunculus could be used to create the same look.  This is your second layer, so you want a taller, more closely formed bloom to layer behind the hydrangeas.
3) Add flowering branches for added height- flowering branches are a great way to add an unique element, while also being cost effective.  These are tall and dramatic and make a great focal point of interest in the middle of your arrangement.
We did it!  We purchased all of the flowers above and put our arrangement together for under $25.
 Cheers,