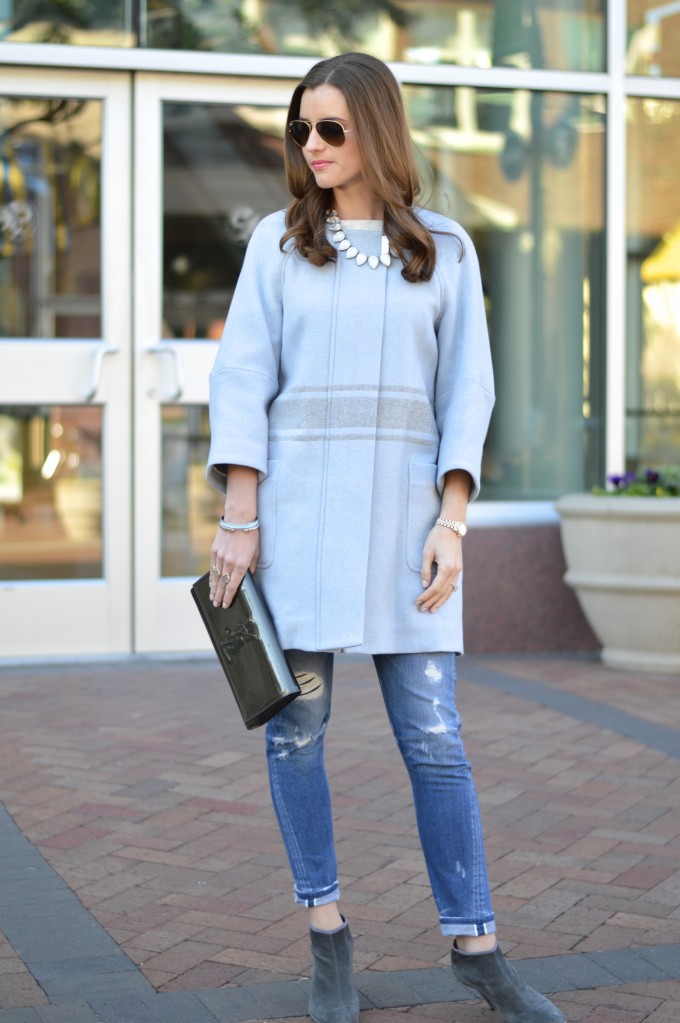 Living in Dallas, outerwear is something that we haven't put a lot of thought into in the past.  Yes, it gets cold, but usually for a short time before it warms up again.  For the most part, we've just worn something we've had in our closet for awhile!  But this year the cold started with a bang and hasn't let up, and outerwear is all we can think about.  Because our collection of coats was lacking, we decided that it would be smart to start with basic neutrals.  Best intentions!  When we spotted this gorgeous coat at French Connection, we couldn't resist.  We love everything about this coat — it's not a neutral per se, but it goes with so many of our outfits that it turns out it is the perfect mix of pop & practical!
Guess what?  Today, we are partnering with French Connection to offer one of our readers their choice of a coat or jacket from their beautiful collection (value up to $400).  The selection of great styles is going to make it hard to choose just one!  We think this belted coat with a faux fur collar would be a great choice!  Also, we love this two-tone coat in ivory & gray, and how can you go wrong with a pop of pink or leopard trim?  See the bottom of this post for instructions to enter.  Giveaway ends Monday, November 24th at 12:01 a.m.  We will email the lucky winner Monday afternoon.  Good luck!
Styling Tip:  When it's so cold that you have to stay zipped up, add a statement necklace in the same color family as your coat for some unexpected glam.
skyline wool coat- c/o french connection| olympic marl tunic top- c/o french connection|tortoise jeans- c/o bel air home|saint laurent clutch (similar)|gum drop necklace-c/o|360 pearl studs- c/o|stuart weitzman booties|ray ban aviators|hermes bangle-c/o portero|david yurman pearl bracelet
skyline wool coat- c/o french connection| olympic marl tunic top- c/o french connection|tortoise jeans- c/o bel air home|saint laurent clutch (similar)|gum drop necklace-c/o|360 pearl studs- c/o|stuart weitzman booties|ray ban aviators|hermes bangle-c/o portero|david yurman pearl bracelet
Shop French Connection Outerwear:

Cheers,