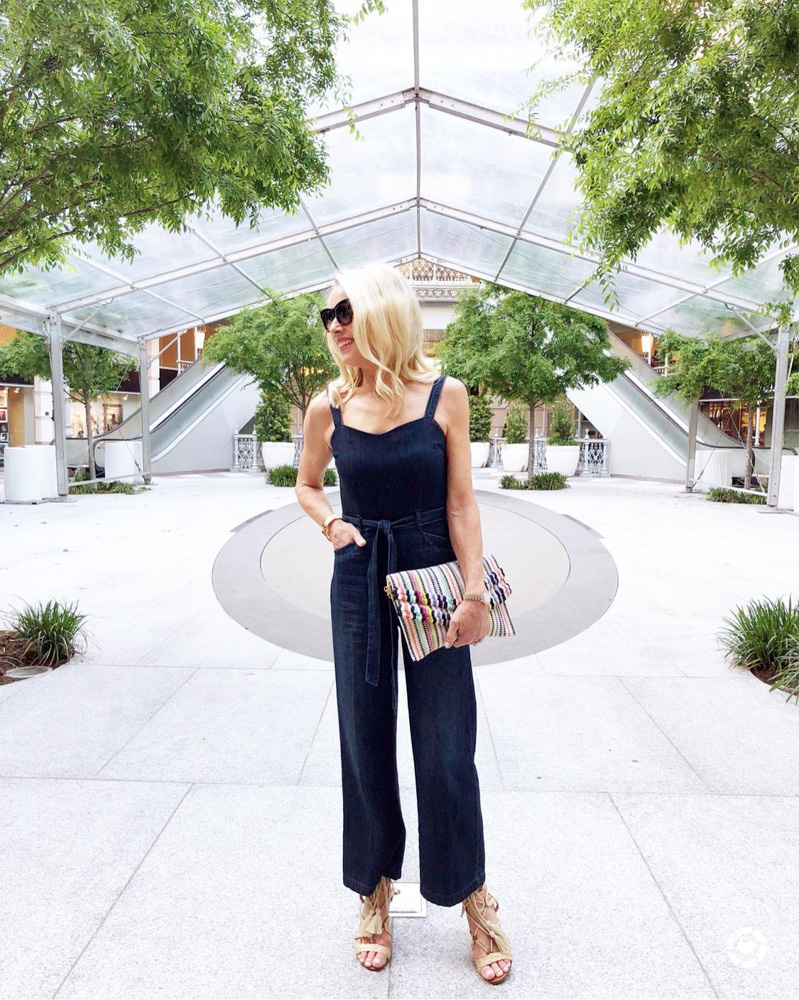 // outfit details //
In our opinion, wearing a jumpsuit is just about one of the easiest ways to look put together. It's one piece, so just add a cute pair shoes, a fun handbag and a pair of statement earrings and you're good to go. A jumpsuit can be so fun and playful too; which is exactly what we're looking for in the Spring and Summer months. If it's still chilly where you are, or if you like more coverage, some of these styles are perfect for adding a simple tee underneath. If you haven't worn a jumpsuit in a while, or if you've never worn one, we suggest you "jump" right in! Here are ten jumpsuits we are loving for Summer.
Ten Jumpsuits for Summer
 No. 1: Smocked Gingham Jumpsuit
Is there anything cuter than gingham in the Summer? This navy and white gingham jumpsuit is perfect for the 4th of July.
No. 2:  Linen Jumpsuit
It's hard to go wrong with linen in the summer and this black jumpsuit is on sale and under $100! 
No. 3: Chambray Jumpsuit
Jean bought this chambray jumpsuit for the rewardStyle conference and it's quickly becoming a favorite!
No. 4: Red Ruffle Jumpsuit
This red ruffle jumpsuit is a splurge – but it's amazing. The red color is beautiful and the ruffle details are too cute. Perfect for any summer event! 
No. 5: Floral Jumpsuit
We saw this floral jumpsuit in stores and it's even cuter in person! Would look adorable with some statement jewelry. 
No. 6: Casual Jumpsuit
This grey jumpsuit looks like the item in your closet you always want to put on! So soft and cozy – perfect for summer travel or even errands!
No. 7: White Jumpsuit
What's summer without a white jumpsuit? This one is so cute and we love the ruffle details. 
No. 8: Tassel Jumpsuit
This tassel jumpsuit looks perfect to wear on vacation – post pool, happy hour drinks!
No. 9: Wide Leg Jumpsuit
This striped jumpsuit almost looks like a maxi dress with the wide legs. Love the neutral stripes. 
No. 10: Neutral Jumpsuit
We love the neutral colors in this jumpsuit – plus, the cutout out is too cute! 
Shop Jumpsuits for Summer:

Cheers,
Stia, Jean and Katherine