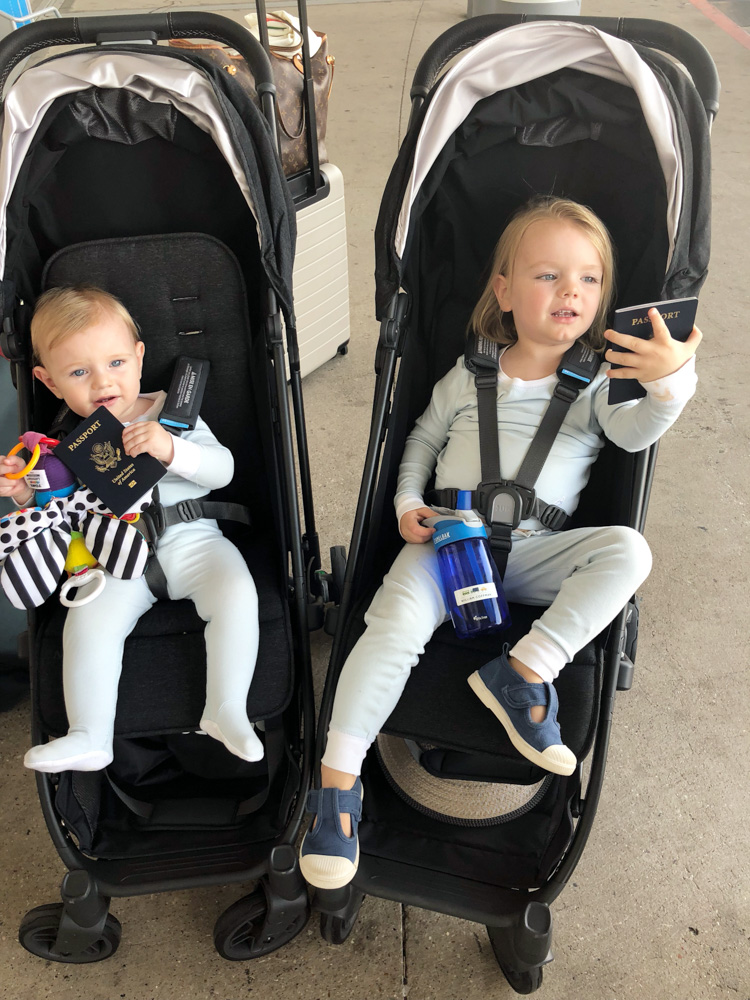 While we were in London, and Lisbon and the Algarve in Portugal, we received so many DMs for sharing tips on traveling with babies! It's so exciting that many of you are traveling abroad with babies soon, too! While we are not experts by any stretch of the imagination, these are ten tips that worked best for us while flying internationally with babies. A lot of these tips will work well for domestic trips, too. We hope that this is helpful for all you soon to be traveling mommas, and if you have any tips of your own, please share with us!
Ten Tips for Flying Internationally with Babies
No. 1: Buy a children's book about the place(s) you're visiting
This was a huge help in getting William excited for the trip. We have two London books (this one and this one) at home and while we've always enjoyed reading them, they took on a new meaning now that William is old enough to realize we were actually going to see everything in person. We took the books on the trip with us and we made sure to check off everything that we saw that was also in the book. While we were out and about William spotted a few things before we did and he still is talking about everything we saw!
You can also find similar books for: New York, Paris, San Fransisco, California, Pacific Northwest and National Parks. We have them all!
No. 2: Talk about what's expected on the flight.
The flight to London is long. William hadn't been overseas since he was 9 months old and this was Henry's first time. They've traveled a lot, but this was by far the longest flight with the two of them. We talked about it a lot prior to the the actual trip. We talked about how the flight would go – that we were flying at night and that we got to sleep on the airplane. The boys wore pajamas and I also carried on Henry's sleep suit and both boys' lovies. We let William watch his first movie ever and then after they served dinner it was time for bed. It was much later than his normal bed time, so he had no trouble falling asleep! Henry slept in the bassinet around the same time.
No. 3: Bring a travel stroller
We have talked about our travel strollers that we brought with us and they were absolutely the best thing to take! Because of the size, you don't have to break the stroller down when going through security, they are lightweight and you can open/close with one hand. Seriously a game changer for traveling.
No. 4: Eat before the flight
Airplane food is not the best, so we decided to get to the airport early, eat dinner at a restaurant where we knew the boys would get a good, full meal and then sleep well. We didn't want to depend on the airline's timing of the dinner meal or what the options might be for the boys.
No. 5: Snacks, snacks, snacks
If all else fails, snacks are usually distracting and take up time! I always get a few things we wouldn't typically eat all the time at home. Things that I know William likes (annie's fruit snacks and mini m&m's, for example), so that way he is excited to have them. They can also be used for bribing power! We are not above bribing 😉
No. 6: Buy a seat in the bulkhead
This is worth paying more money for when choosing seats for the flight. The bulkhead gives you lots of extra floor space! You can stand up and walk around or stretch without disturbing other people and… for the best part about the bulkhead… keep reading!
No. 7: Reserve a Bassinet
Airlines have baby bassinets available on long-haul flights, but they are only available for use in the bulkhead. So, if you are traveling with kids, be sure to book seats in the bulkhead so that you can request a bassinet when you get to the gate. Most planes only have 1-2 per flight and it's first come/first served – at least on American Airlines!
No. 8: Make it special- anything goes
You want to make the flight enjoyable for you and those around you. We typically don't do much screen time, so it was a special treat that William was able to watch a movie. Henry is at an age where you do everything you can to keep him entertained! It wasn't hard on the flight to London because he slept the whole way there. It was a different story on the way home – just due to his age and him being very busy. It actually made the time pass quickly since we were so busy keeping him occupied!
No. 9: Don't do more than one major time zone at a time
I would suggest flying into an initial location and staying a few days before moving on to the next location – especially if it's going through another time zone. Two years ago we flew into London, had a 2 hour layover and then flew from London to Helsinki, which was another 2 hour time difference. I was up every night with William for a few hours because he had a hard time adjusting. I think it would have been different if we had been able to stay in London for a day or two to adjust.
No. 10: Stay busy to beat jet lag
This was probably the thing I was most anxious about going into our trip, especially with two babies now. As soon as we got to London, we had lunch and then went for a six mile walk. Getting the boys outside was key and they slept in the strollers if they needed too. We went to a park and they got a lot of fresh air and William ran and played hard. We got back home around 6:00 pm after our walk and time at the park and then we started to get dinner ready. They ate as usual, took a bath and were in bed around 8:30 pm. They both woke up around 10:30 pm and then around midnight they fell back asleep. They slept the rest of the night and woke up around 10:00 am the next morning. That was our hardest night. After that they fell into the rhythm of London like a dream!
What are your tips for flying internationally with babies? We are always looking for new ideas!
Cheers,
Stia, Jean and Katherine