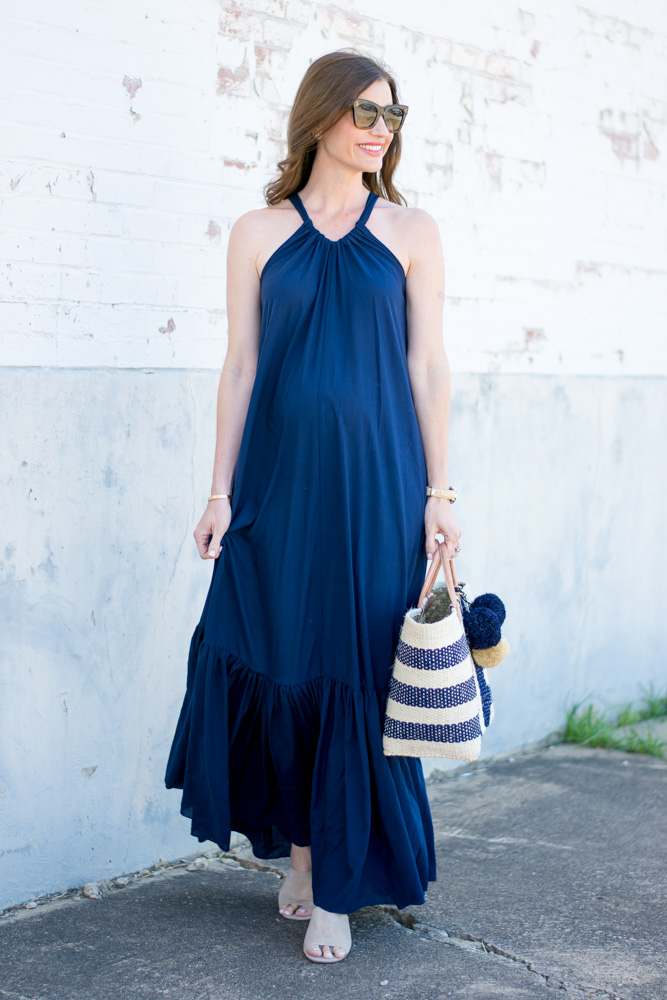 How was everyone's long weekend? It was so nice to have some down time and relax by the pool. William can't get enough of the water, so I'm pretty sure I know where we will be spending the majority of our summer. Thankfully, being in the pool feels pretty amazing when pregnant!
Babymoon time!
Caleb and I are heading out of town to Southern California on a babymoon this weekend and I could not be more excited for our little getaway. I'm already feeling sad about leaving William, though! We'll be spending our time in Del Mar which we haven't really done in a few years. Our home base will be L'Auberge and we have absolutely nothing on our agenda besides pool, beach, spa, eating and sleeping in!
This maxi dress will most definitely be coming along on our trip. I found it when we were shopping at Nordstrom last week. It's so soft, and even though it's not maternity, it accommodates my growing bump and is perfect to put on after the pool or for dinner! I love that I can dress it up with a pair of heels or literally throw it on over my swim suit with sandals. The tie at the back is the perfect finishing touch and the icing on the cake is that it's only $64! It also comes in a great shade of red which I may not be able to resist 🙂


To Do List before baby arrives
Once we get back, I'll need to start tackling my ever growing to-do list! Most of which includes picking up some things I need for the new baby. For some reason, when I hit the 25-week mark, things start to seem more real. Knowing that I have just three months to go gives me the motivation to start getting things done to prep for baby. Thankfully, we will keep the nursery the same because it's gender neutral and most of our baby gear is still in great shape – which means my to-do list is not near as long as when William was born!
Pack my hospital bag: When William was born, I tried to keep my hospital bag as light as I could. This time, I plan on bringing most of the same things – pajamas, loungewear and toiletries.
Pick up a baby carrier: There are a lot of options, but right now I'm leaning towards an ERGObaby. I like that the Cool-Air option has netted cutouts to keep baby cool, since our weather will still be warm for a couple of months after baby is born. Do you guys have any recommendations? I didn't use one with William so any input will be helpful!
Little Giraffe blankets: The sweetest softest baby blankets. I know baby will need a few of these and hopefully one special one will become one of baby's loveys. This is what William uses as his blanket and he can't go to sleep without it!
DockATot: I have heard nothing but rave reviews about the dockATot! This wasn't on our radar for William and I'm excited to incorporate it into our life with our new baby.
Learn how to use my breast pump: Ok, you guys, I am embarrassed to say that I never did master the technique with William! I just gave up on pumping and took him everywhere with me. I would like to be able to have the option to go on date night with Caleb alone this second time around. I have a feeling we'll need it!
Rumble seat to add to my stroller: I absolutely love my UppaBaby stroller system and I am so excited that I have the option to add a seat and continue to use it as a double stroller. It makes our traveling so easy, not to mention day to day shopping excursions and trips to the park!
Update our diaper changing station: This area definitely needs a refresh, if you know what I mean 😉
Nursing bras and camisoles: These are absolutely the softest and prettiest nursing bras and camisoles. I lived in them while nursing William and definitely need to refresh my supply!
Newborn supplies: This all in one kit looks like a great way to get the essentials in one simple package. We swear by the Nose Frida, so I'm excited to try the other products, too.
Start loading up on newborn diapers: We need to start picking up a box whenever we think about it- we will go through these things go fast!
My final to-do is to transition William to a big boy bed. I would like to start this before baby's arrival so he doesn't feel like he's being kicked out of his crib. I think he'll be excited, but he is still so young at 16 months. We would love any advice or ideas you guys have in this area!
Outfit Details

Cheers,
Stia, Jean & Katherine
Thank you to Nordstrom for partnering with us on this post! All opinions are our own.