// eyelet maxi //paisley maxi
Last week we shared our side trip from London to Lisbon with you guys and we mentioned that we also visited the Algarve area in Portugal as part of that trip. We were so excited to see another part of Europe and being able to incorporate a stay in a new city along with a beach vacation seemed like a win/win to us- and it was! When we read about the Algarve in this Vogue magazine article we were really intrigued (the beaches looked simply amazing!) and decided that's where we would spend our beach vacation. It's even more beautiful than the pictures, the food and wine are top notch and the people are so warm and welcoming. It's also fairly unspoiled and there is even a bit of a language gap between English and Portuguese, which in our opinion only adds to the unique experience. After our time in the Algarve, all we can say is… You guys need to go now!
Where to Stay
Tivoli Carvoeiro
We chose Tivoli Carvoeiro solely based on this article in Vogue and we are so happy with our choice. The sea views from everywhere in the hotel are fantastic! Now that we've been there, we can assure you the views are even more breathtaking in person than what we've seen in pictures (if that is even possible!).
Rooms: Tivoli Carvoeiro has a great set-up for families. They have a "family room" which is essentially a one-bedroom, two-bathroom suite with a pull out bed in the living room. We booked a family room with terrace, which gave us a huge outdoor patio and views of the amazing coastline and sea. Jean & Bill were in a one bedroom room, with the same terrace size and view. The rooms are spacious and so light and bright- perfect for a beach getaway.
Breakfast: Breakfast was included in the hotel room rate, so we ate there every morning before heading to the beach. It was a buffet breakfast with so many food items to choose from – plus, a champagne and mimosa bar!
Pool: We spent time by the pool each day after returning from our beach adventure. The views from the pool are spectacular too! There is a full bar and food service at the pool as well.
Sky Bar: The hotel has a rooftop bar with more amazing views. It is such a perfect place to start the evening with a cocktail before heading to dinner- we went here every night.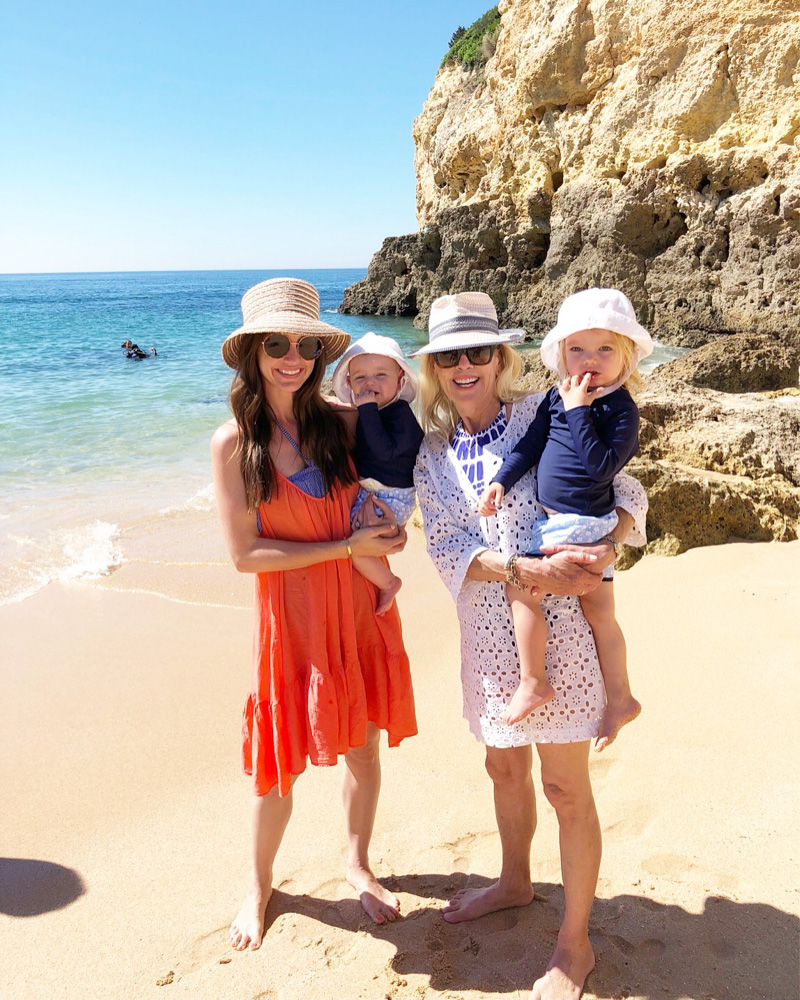 | beach on day two |
blue & white gingham two piece // coral coverup // eyelet coverup // blue & white one piece // blue & white sun hat // wide brim sun hat // round sunglasses (similar) // tortoise sunglasses
// rainbow striped maxi // tortoise sunglasses
// sailboat pjs //
Where to Eat
We had such great food and wine in the Algarve. Fortunately we all like fish, including William and Henry, because seafood is abundant and we ate it every day- except our husbands had steak on our last night. Also, the local wine selections are just so good. We tried wines that we've never heard of and loved them all. The level of service and cuisine was a pleasant surprise to us and again, everywhere we went William and Henry were warmly welcomed.
// floral maxi // tortoise sunglasses //
// eyelet coverup // blue & white sun hat // tortoise sunglasses
Beaches to Visit
There are so. many. beaches. in the Algarve! We were so happy to find the local area of Lagoa published a small handbook guide to the beaches near Carvoiero. It would have been hard to find many of them without the guidebook! And even with the guide, finding some of them was a little challenging, but so worth the effort once we arrived!
Praia da Marinha: This was the first beach we visited and it was beautiful. There are places to buy an umbrella/sunscreen and some food options, too. It was named one of the top beaches in the world – so it was also very busy.
Praia da Carvalho: You enter a tunnel through the rocks and once you make it down the steps, you are greeted with a breathtaking beach! There were people cliff jumping and great areas for the boys to play.
Praia De Vale Centeanes: We stopped by this beach after lunch one day and William loved exploring the caves!
Praia de Albandeira: This was the beach we visited on our last day and it was our favorite beach. It was quiet, and a huge rock separates the beach into two.
// coral coverup // white ruffle two piece // wide brim sun hat // round sunglasses (similar)
//eyelet coverup // lemon print one piece // blue & white sun hat // tortoise sunglasses
// blue & white one piece // blue & white sun hat // tortoise sunglasses
What to Wear
The Algarve is a beach area, so the dress code is basically casual, but definitely resort casual for dinner. During the day swimsuits and coverups were our uniform. At night we would freshen up and change in to a casual maxi dress or sundress. It is definitely a more relaxed vibe than Lisbon.

// coral coverup // white ruffle two piece // wide brim sun hat
Things to Know
Our hotel provided towels for the beach which was very convenient.
Bring plenty of sunscreen – we went through 1.5 bottles while we were there!
Buy a beach umbrella in town or from one of the local vendors near the beach.
We also bought a bucket and shovels for William and Henry to play in the sand.
Bring snacks and water. Many of the beaches don't have any food services or food nearby. The guidebook to the beaches indicate which beaches have services and which don't, so there aren't any surprises when arriving at the beach.
Some of the beaches are challenging to reach. Some have a lot of stairs to reach the beach, some have no stairs but a climb. We had more fun walking through caves and tunnels to reach some of the beaches, but we also were worn out from some the hikes back up from the beach! And, be aware if you are traveling with kids – there are beaches that aren't stroller accessible.
// eyelet coverup // wide brim sun hat // round sunglasses (similar)
// blue & white gingham two piece // wide brim sun hat // round sunglasses (similar) //
Cheers,
Stia, Jean and Katherine