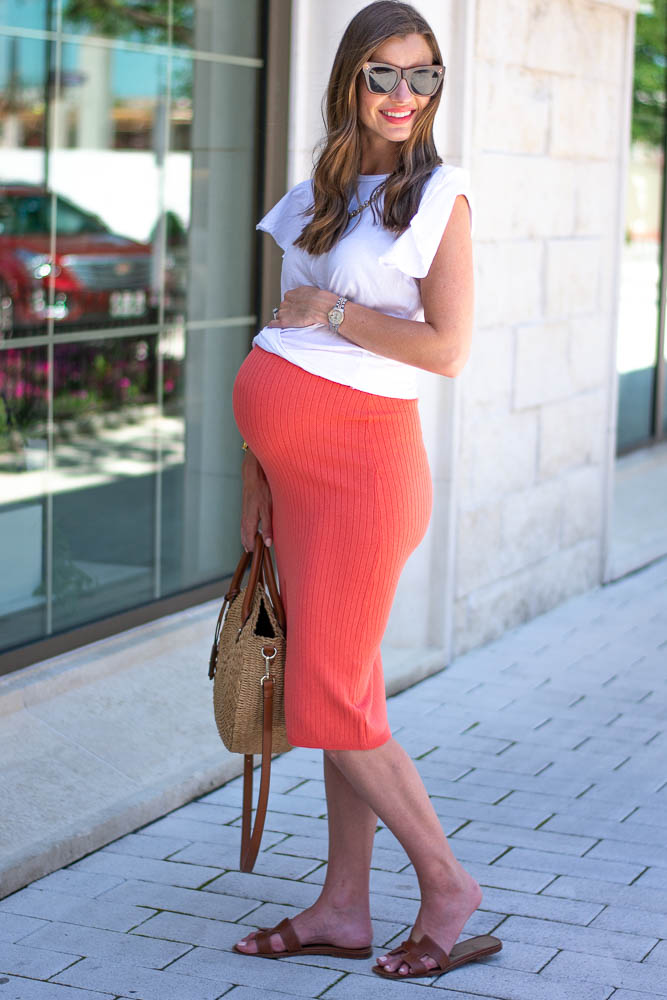 Things are starting to get real! With only five weeks left, we realize we'll be meeting our baby soon and we are so excited! We are starting to think about what we'll need for this baby and trying to get the house in order. I'm hoping that "nesting" will kick in sooner rather than later so I can get our house organized! Sharing a 34 week bumpdate below and answering some FAQs below!
34 Week Bumpdate Outfit Details:
ruffle sleeve tee // midi skirt // sunglasses // sandals (similar) // straw bag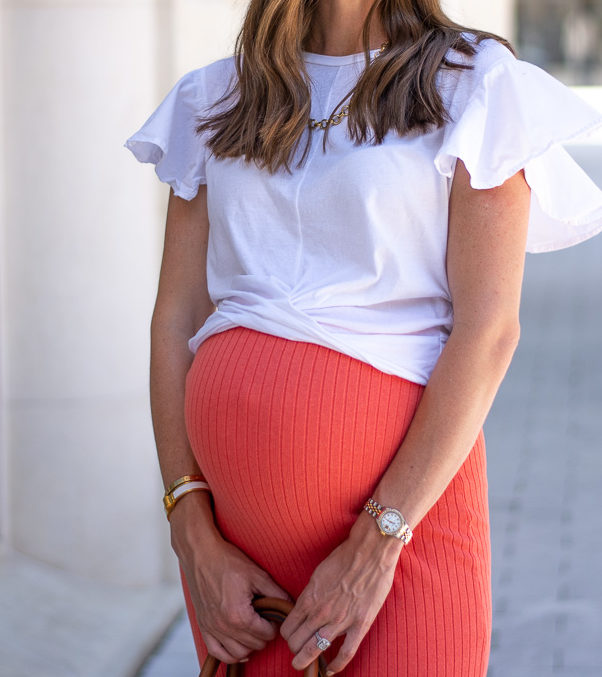 How far along?
34 weeks 4 days.
How are you feeling?
I've been better 🙂 This pregnancy has been hard on me! Maybe it's because it's my third time to be pregnant and my body is just tired… Or maybe it's because rest is hard to find with two toddler boys keeping me busy! I also don't know that my bump can get any larger – I've never seen anything like it! Looks like I'm smuggling a basketball 🙂 Since we are nearing the end of pregnancy, my body is sore and tired and the insomnia is starting, too. I'm just trying to enjoy the process and be thankful for every day that we get closer to my due date and baby keeps on growing!
What do you think you are having?
I feel so sure we are having a boy! The boys both think a sister, but everyone else around me thinks boy, too.
Do you have names picked out?
Girl name, yes. We are getting closer on a boy name, too. I am pretty confident we won't agree on a boy name until we know it's a boy!
Cravings?
I really haven't had any cravings this pregnancy. I am craving salads from Flower Child (went there three times for lunch last week) and The Original Chop Shop, but that's really all!
Weight Gain

I'm about right where I was at this time when I was pregnant with Henry. Trying to add in a few snacks per day that fit within the gestational diabetes diet.
Are you working out?
Yes, still taking Pure Barre classes two days a week!
Frequently Asked Questions:
Do you have gestational diabetes this time?
Yes, I do. I failed the one hour test and instead of taking the 3-hour test, my OB and I just assumed I have it given my history of having it while pregnant with both the boys. It hasn't been too bad, just trying to stick to the gestational diabetes diet. For those who are unfamiliar, gestational diabetes is when a hormone in the placenta doesn't process insulin the right way. I am able to control it with diet – limiting carbs/sugar. For breakfast, I can have 15-30g of carbs, then a mid morning snack of 15g of carbs. Lunch and dinner is 30-45g of carbs with one snack after each of 15g of carbs. I'll also balance out each meal/snack with protein.
What are you doing to get ready for #3?
Not much! We do have a new car seat and I have the boys newborn clothes organized. I'll probably start to wash them and get the bassinet and diaper area ready to go in our bedroom mid-June. Other than that, we are just waiting to see if we're having a boy or girl before making any nursery decisions, etc! It's amazing how much more laid back you become with each baby! I did ​​​​​​​order this newborn set for boy or girl for the hospital!
Where to buy maternity cocktail dresses for a wedding?

Hatch makes the best maternity clothes that you can wear post-partum, too! This blue dress is perfect for summer events, this dress is also perfect for a bump!
Did you have thyroid problems after pregnancy?

I haven't had thyroid problems post-partum.
What is your #1 piece advice for first time moms?

This is hard! But, you will get lots of advice leading up to delivery and even after baby. Take each with a grain of salt and do what works best for you, your baby and your family. Also, know that each phase is that – just a phase. So try to enjoy every moment – even the sleepless nights because they will be over soon enough!
How are the boys doing as you get closer to having your third baby?

They are both getting really excited. William asks everyday if we get to meet our baby today and Henry always says "Hi, Baby" and gives my bump kisses. It's been really sweet to see how much William is excited for a baby. He was only 20 months old when Henry was born, so he was still so young! Now, he is taking care of his "guys", showing me bottles and asking me all kinds of questions about the baby. I'm excited that he gets to experience it at this age, too! I think Henry will have a harder time – he is a momma's boy and I can't help but think there will be an adjustment for him. I'm praying it goes smoothly!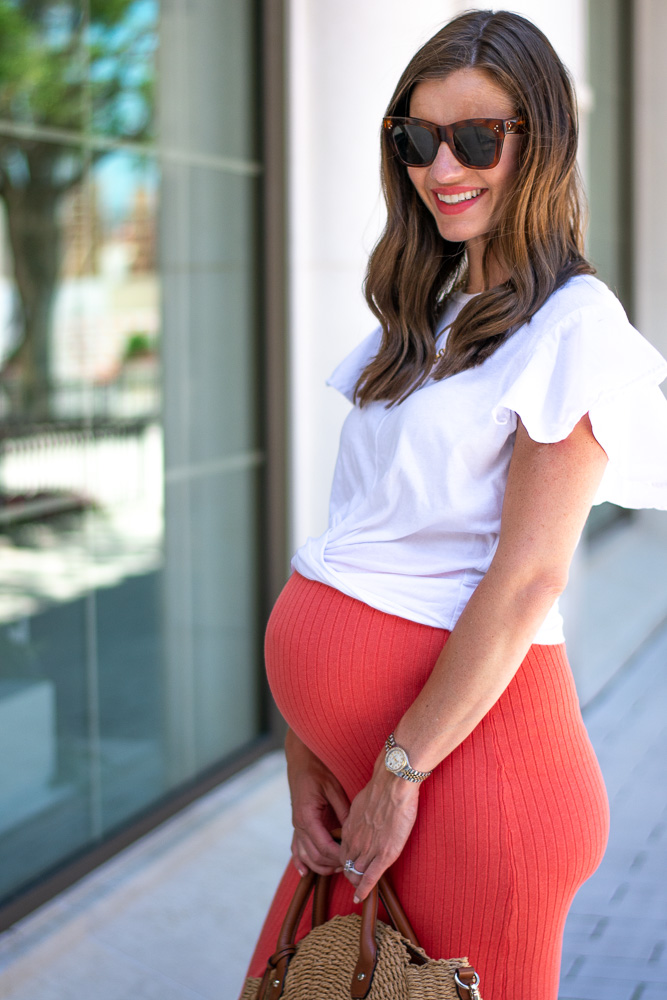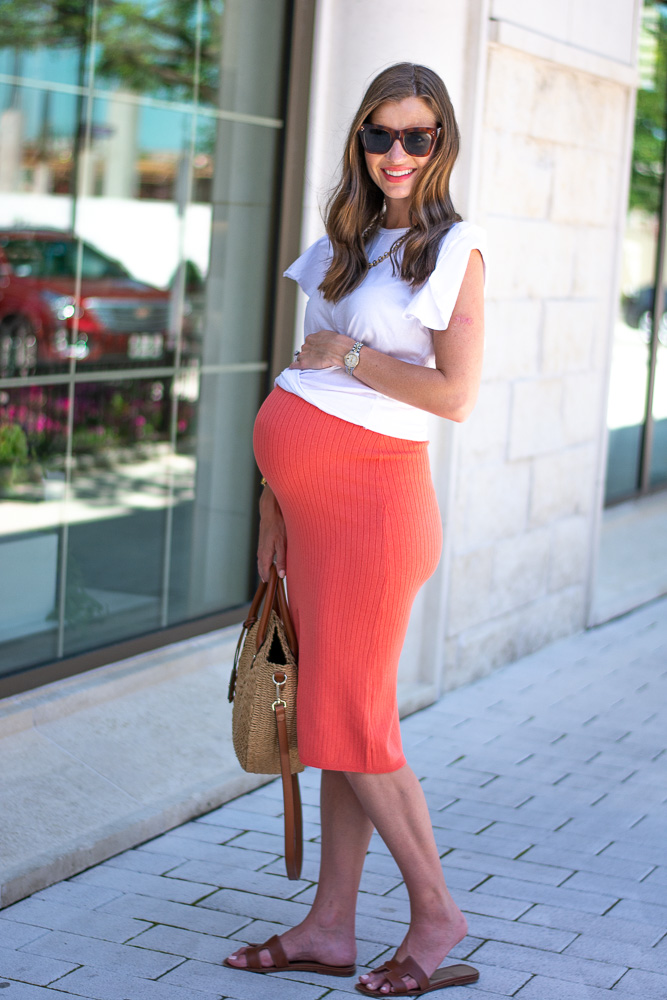 Shop 34 Week Bumpdate Details:

Cheers,
Stia, Jean and Katherine