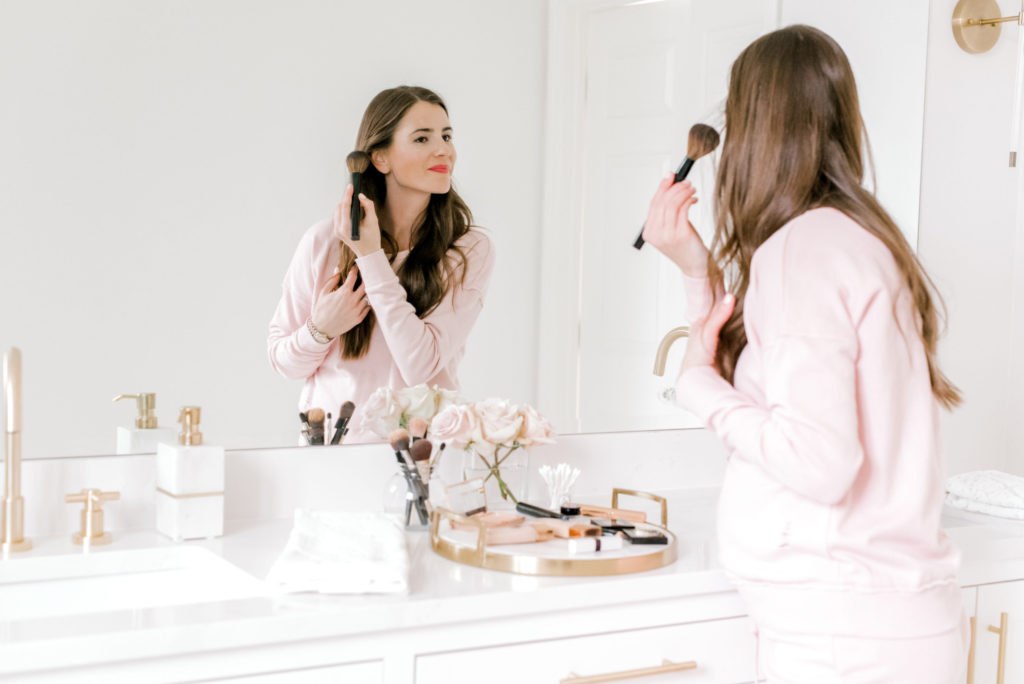 With the boys usually waking me up in the mornings (I wish I was a morning person, I just am not!), it's always a struggle trying to get myself presentable and ready to get out of the house, while also trying to keep the boys entertained! In the past few months, I've added a few products and narrowed down my make-up routine to be just five minutes. That's about all I have time for these days!

I should preface that without a doubt – the first thing I do after my skincare is apply sunscreen. It's my #1, never leave the house without wearing! I tend to prefer Supergoop or Elta MD. I've been using Elta MD since college, but I really like some of the new Supergoop formulas, too.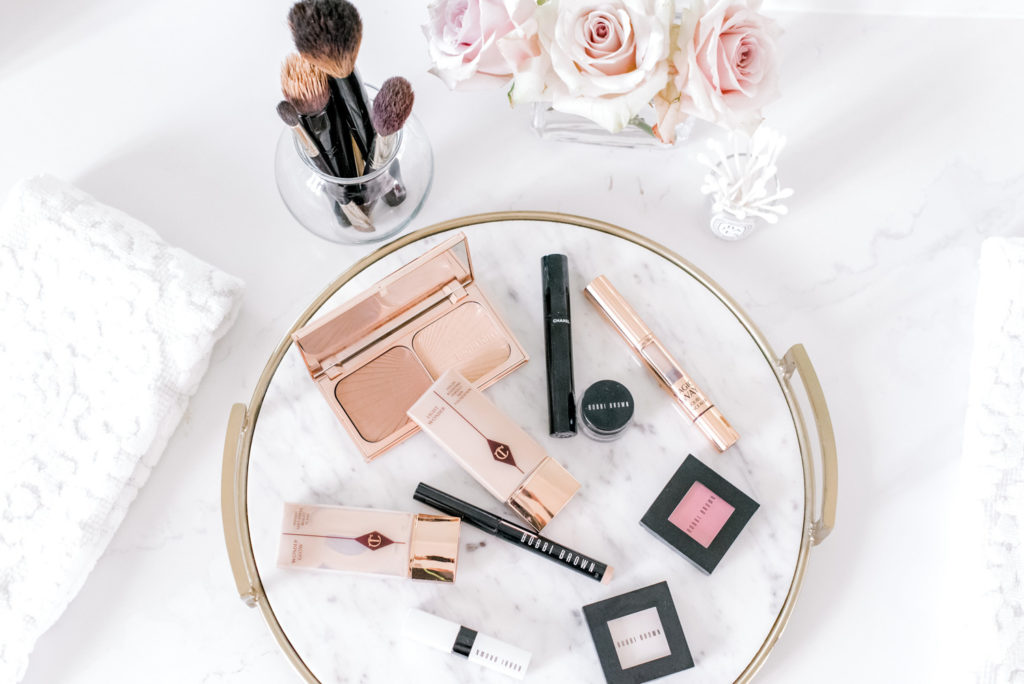 Cream Shadow Stick
I start with my eye makeup first, so I can clean up any stray shadow around my eyes before applying concealer, etc. I love this cream shadow stick. I use it on my eye lids and it's so easy to apply.
Eye Shadow
Next I apply an eye shadow all over my eyelid. I stick with pretty neutral colors and am using ivory right now. I'll add some smokiness at night with darker color in my crease – typically cement.
Brush: All Over Eye Colour & Finishing Brush for the crease
Gel Liner
I started using this gel liner in espresso ink in high school and have recently gone back to it. I love that it's easy to apply and stays on all day. This is all I wear during the day, and at night I'll add a little bit of a powder shadow to give a "smokier" look.
Brush: Ultra Fine Gel Liner Brush
Mascara
I started using this volume mascara around Christmas and I am loving it so far. It definitely amps up my lashes!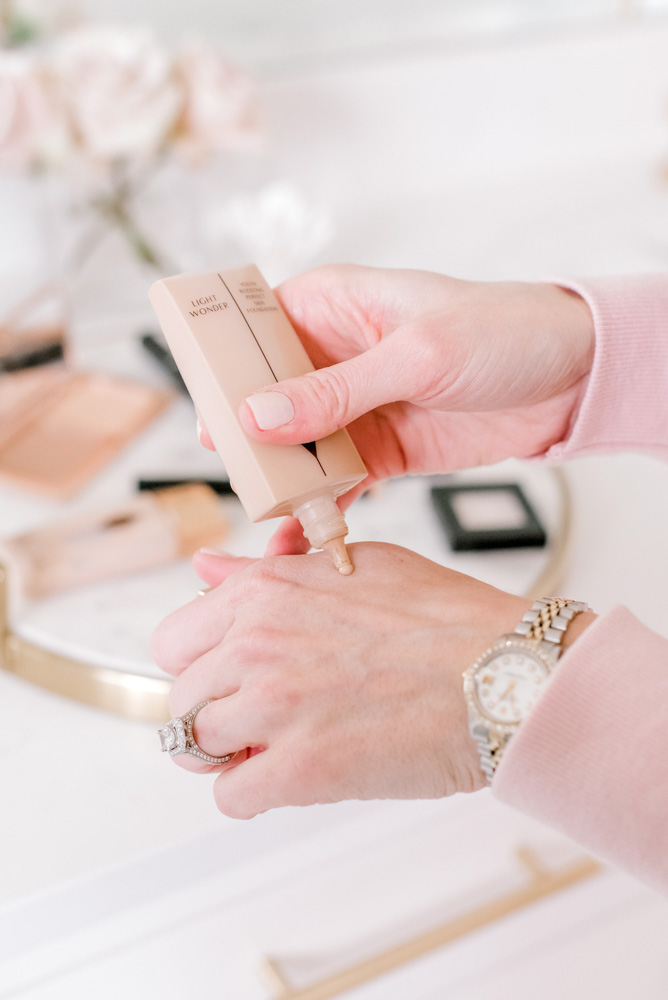 Light Wonder Foundation
I was looking for a new tinted moisturizer and was introduced to the Light Wonder Foundation. Even though it's called a foundation, I find it as light as a tinted moisturizer and you can layer for more coverage if needed. I wear shade No. 3.
Brush: I apply with my fingers and use a beauty blender or this smoothing face brush.
Magic Away Concealer
This is probably the best concealer I've used. It goes on so easy and you don't need much to hide tired eyes! I use one shade lighter than the Light Wonder Foundation, shade No. 2.
Brush: This concealer comes with a built in brush tip. I usually pat with my ring finger to blend.
Bronze & Glow Contour Duo
I use this duo mostly for the bronzer, but if you are into highlighting it also has a highlighting powder. Again, it's quick to apply and gives a sun kissed look.
Brush: This is actually a powder brush , but I use it as a bronzer brush. I find that it gently applies bronzer vs it being too heavy.
Blush
Brush: Cheek Colour Brush
I've been using this blush in Tawny and love it. It gives some good color to your cheeks, but I find it to to be a very natural look, which I like.
Extra Lip Tint Lipstick
I am obsessed with this lip tint. It's called a lipstick, but I would say that is misleading – it's more like a hydrating chapstick with color. I wear the color "bare raspberry" but plan on trying a new color for Spring!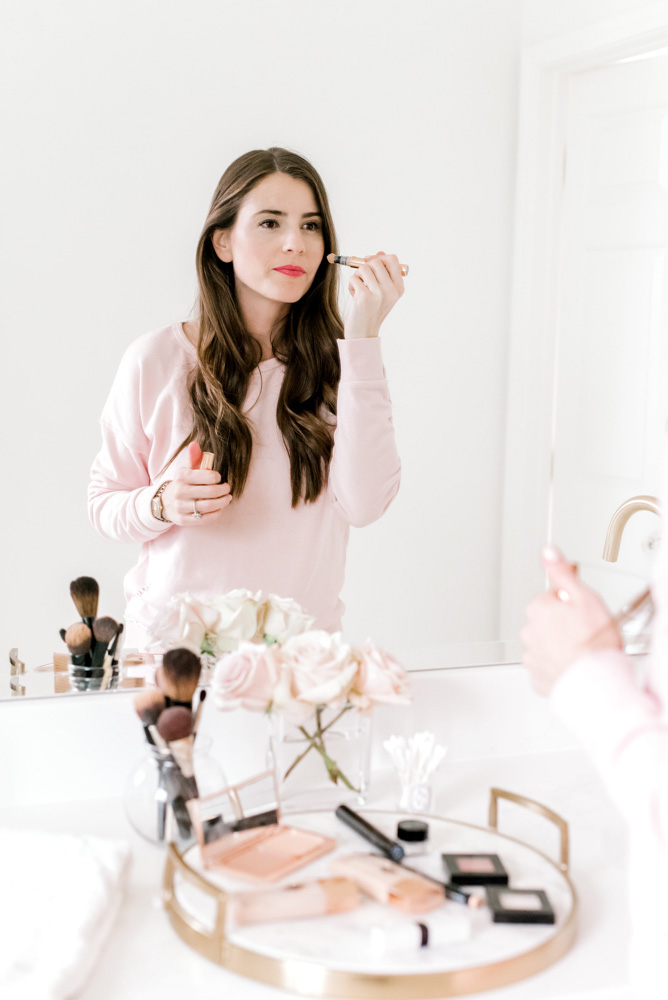 What We are Wearing:
Shop Five Minute Makeup Routine:

Cheers,
Stia, Jean and Katherine