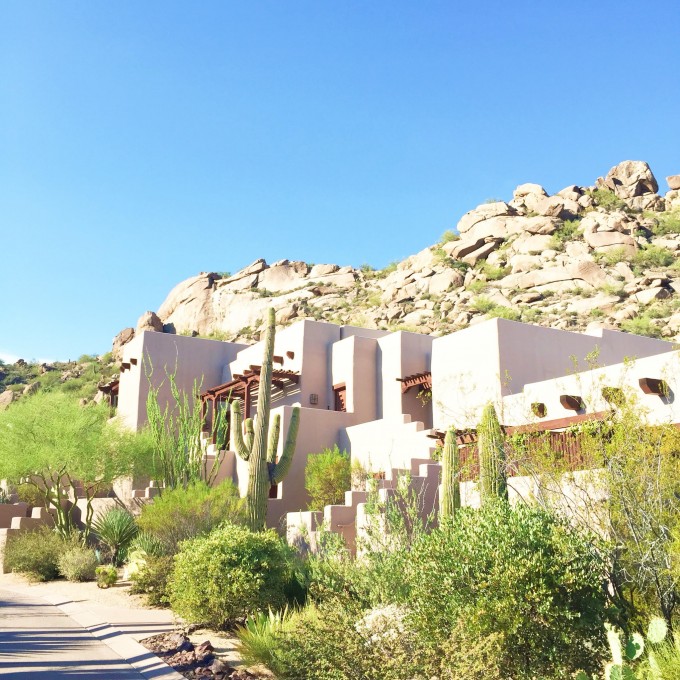 Over the Fourth of July, Caleb and I spent a long weekend at the Four Seasons in Scottsdale, Arizona.  It is one of our favorite places to visit, you can see pictures from our trip last year here.  The desert is so beautiful and we love any chance to get away, especially before Baby Coffman arrives!  After two trips to Four Seasons Scottsdale, we can't imagine staying anywhere else.  Four Seasons Scottsdale is giving away a stay! To enter, Instagram a picture of your favorite summer moment with the hashtag #FSGold.  Winner will be chosen by Four Seasons Scottsdale and prize includes a two-night stay, daily breakfast for four, dinner at Proof for four and a 60-minute photo shoot with Flytographer!
Stay:
Four Seasons Scottsdale: This is one of our favorite resorts.  A quick 30 minute  drive from the airport, the resort has beautiful mountain peaks and so much natural wildlife surrounding it.  Each room is actually a casita with beautiful patios that overlook the mountains or pool.  We thoroughly enjoyed starting our day and ending our day at that exact spot!
Eat:
Talavera: One of the top steakhouses in Scottsdale, Talevera is on-site at Four Seasons Scottsdale.  We ate dinner there on Fourth of July and the views were incredible, along with the food.  A few of our recommendations: For starters we highly recommend the soft shell crab and asparagus risotto.  The salmon was a new addition to the entree menu and was delicious.  For sides, you can't go wrong with Arizona vegetables, and the lobster mac n' cheese is to die for!  Oh, and have the sommelier pair wine for your meal!
Proof Restaurant: Proof is a casual restaurant at the Four Seasons and offers breakfast, lunch and dinner.  We always love to go to Proof for breakfast because it has the best breakfast buffet ever.  The coffee is also incredible and they make the best juevos rancheros and oatmeal you'll ever have!  Proof also has great dinner options, too.  On Friday nights during the summer, they have a BBQ with live music.  Caleb ordered the BBQ while we were there and I had an amazing Super Food salad.  Other items worth trying: pretzel knots, hand cut fries and homemade ice cream, which I may have indulged in too often!
Saguaro Blossom: Most afternoons you could find us out lounging by the pool!  The poolside restaurant, Saguaro Blossom, is perfect for those days you can't get off your lounge for lunch.  We enjoyed a few meals in the cabanas and highly recommend: carne asada nachos (ask for jalapeños on top), and the cilantro jalapeño hummus which we became addicted to last year.  If you are looking for a tropical drink, you can't go wrong with the AZ Mai Tai, served in a pineapple! This year, I had to get a virgin Mai Tai, but it was still delicious!
Do:
Cheers,