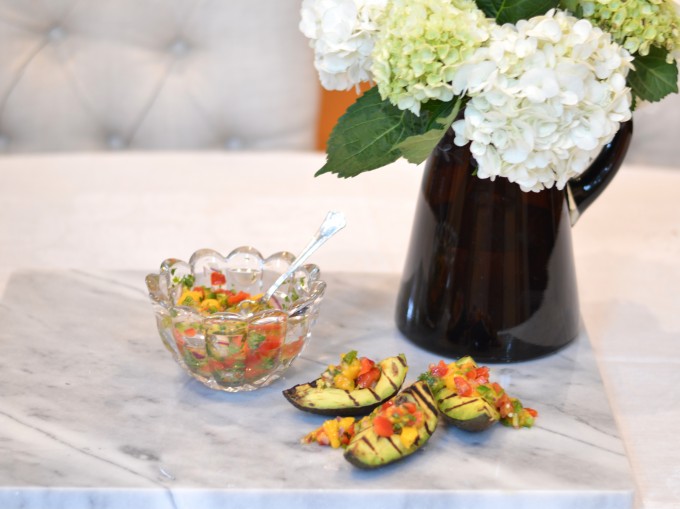 Dallas has an amazing selection of restaurants.  In fact, our list of must try restaurants is growing by the minute.  One of our favorite restaurants is Neighborhood Services.  It has been a long time favorite of ours and they recently opened a new location with an outdoor patio.  For the past few months, we have been attending Saturday night church, then heading straight to Neighborhood Services to get a table on the patio before the crowds get there.  A few weeks ago, we opted for grilled avocado for an appetizer.  Being huge avocado fanatics, we couldn't believe we had never tried grilling them!
Over Father's Day weekend, we decided to try grilled avocados on our own.  Neighborhood Services serves their grilled avocado with marinated tomatoes, which is great, but we decided to change up by serving a mango jalapeno salsa instead.  We found the recipe on the back of the bag of tortilla chips that we picked up at Whole Foods.  It was incredible! Not only is this one of the easiest recipes to make, it is delicious and perfect for summer nights by the pool – and great with a margarita!
Grilled Avocado:
Plan on 1/2 to 1 avocado per person.
Cut the avocado in half and remove the pit.  Place on a hot grill for a minute or so, until you have nice grill marks.  Don't go too long or your avocado will become too soft.
Place the avocados on a serving tray and spoon some salsa over each one.  Serve additional salsa alongside.
We served this with baguette slices brushed with butter and toasted on the grill.  Chips would be a great alternative!
Mango Jalapeño Salsa:
Ingredients:
1 ripe mango
1/4 cup finely chopped red onion
2 diced  jalapeños (remove the seeds first for a milder salsa)
1/2 cup chopped red bell pepper
1//4 cup chopped cilantro
2 tbsp. fresh lime juice
1/2 tsp. salt
1. Toss mango with red bell pepper, red onion, cilantro, jalapeño, lime juice and salt.
2. Chill for 30 minutes before serving.  Adjust salt to taste.
3. Enjoy!
Cheers,