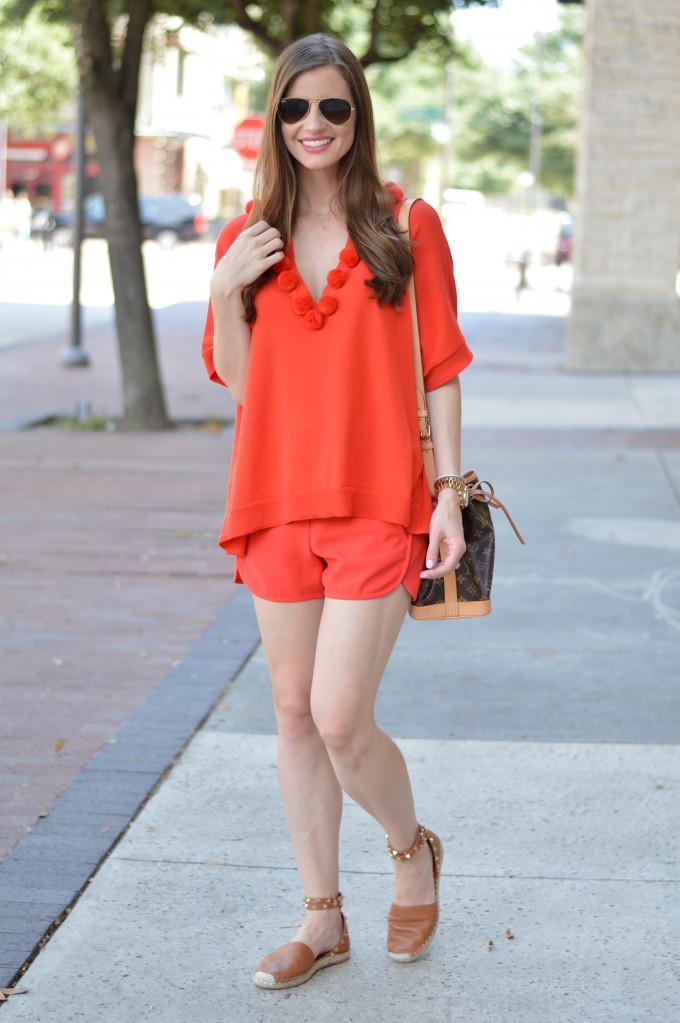 Going back to work after a long weekend is always so hard!  It was so nice to have a few relaxing days at home and today we are feeling very refreshed.  The whole weekend was laid back, until we got to Monday afternoon – the Family Fantasy Football league draft!  It's always so much fun, but also a little stressful 🙂 Some of us (girls) have no idea what our teams look like, but that doesn't mean we won't win!
The Labor Day sales were amazing this year and some of them have been extended to today.  So if you missed the chance to shop this weekend, be sure to check out our best of labor day sales post from Friday.
Red is been a color that we've started to wear a little more in the past year.  It started with this handbag, then these suede heels and then an adorable red slip dress.  It used to be a color that we were somewhat hesitant about because it can be a little tricky to find the just right red. But after wearing it more, the more we like it! And when we saw this sweater with pom poms in the prettiest red and with matching shorts, we immediately said yes, please to this monochromatic look.
pom pom sweater|shorts (now on sale and under $100)|handbag (similar)|espadrilles|sunglasses|boyfriend watch
pom pom sweater|shorts (now on sale and under $100)|handbag (similar)|espadrilles|sunglasses|boyfriend watch
Shop Red Looks for Fall:

Cheers,