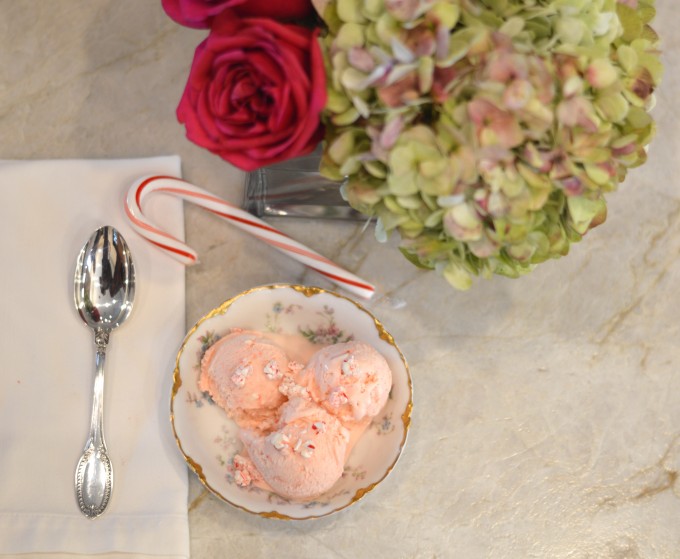 Happy Monday! We hope everyone enjoyed a wonderful Christmas with family and friends. We sure did! While we were in Santa Barbara for Katherine's Birthday Bash, we did some exploring downtown and came across McConnell's Fine Ice Cream. Of course, we had to go in and try a scoop. Jean saw they had peppermint stick ice cream, a childhood favorite, and had to have a scoop. Since we don't have McConnell's Ice Cream near us, we decided to try making our own homemade peppermint stick ice cream for Christmas dessert. The recipe is from an article in the Wall Street Journal last week, but we've included the instructions below!
For making ice cream at home, we like the Cuisinart Ice Cream, Frozen Yogurt and Sorbet Maker. It freezes the ice cream very quickly, and makes a smooth and creamy product. Also, we didn't freeze the ice cream in the freezer for 3-4 hours before enjoying it and it was great! The recipe seemed a little complicated when we first considered making it, but it's really not, and the end result is so worth the effort. Make it. We promise you will love it!
Peppermint Stick Ice Cream:
2 1/2 cups heavy cream
3/4 cup whole milk
1 cup granulated sugar (divided use)
1/8 teaspoon kosher salt
5 large egg yolks
2 teaspoons natural peppermint extract (we found this at Whole Foods- don't use spearmint)
1/2 teaspoon vanilla extract
red or pink food coloring, preferably natural variety
3/4 cup crushed candy canes, plus more for garnish
Make ice cream base: Bring cream, milk, 1/2 cup sugar and salt to a simmer in a medium saucepan over medium-high heat. Just before boiling, remove from heat.
In a large heatproof bowl, whisk egg yolks and remaining 1/2 cup of sugar until pale yellow and fully combined. While whisking, slowly pour half of hot milk-cream mixture into egg-sugar mixture.
While whisking, pour egg-cream mixture into saucepan containing other half of milk-cream mixture. Place pan over medium-low heat and cook, stirring constantly, until thick enough to coat the back of a spoon, 5-10 minutes. Do not let liquid boil. Remove from heat and strain mixture through a fine mash sieve into a medium bowl.
Whisk in peppermint extract and vanilla. Whisk in food coloring until you get the color you prefer (we like light pink). Continue to whisk vigorously to release excess heat, 2 minutes more. Cover and refrigerate at least 4 hours or overnight (ours took less than three hours to chill). It is essential for the custard to be completely chilled before adding to the ice cream maker.
When custard is chilled, pour into ice cream maker and process according to manufacturer's instructions. Two to three minutes before the ice cream is finished, stir in 3/4 cup of crushed candy canes. Move ice cream to an airtight container and freeze until completely frozen, 3-4 hours.
Based on a recipe found in Baked Occasions by Matt Lewis and Renato Poliafito.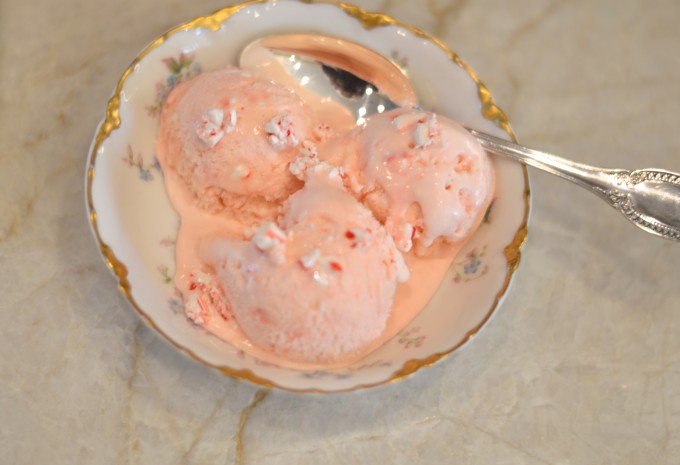 Cheers,