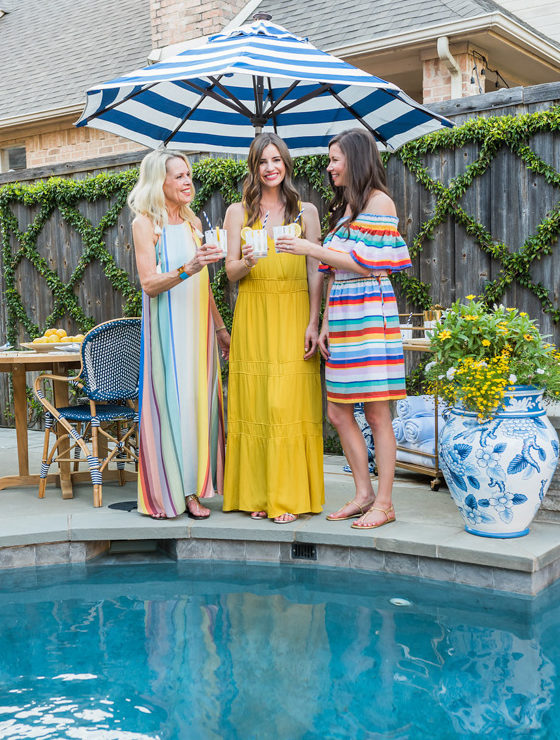 striped maxi (similar) // yellow maxi (similar) // off the shoulder dress (similar) // umbrella // table // chairs // glasses// bar cart
Happy Summer! We are living for these summer pool days, that turn into evenings and then enjoying our favorite cocktail by the pool before dinner.​​​​​​​
While we have been trying a lot of different cocktails so far this season, one of our all time favorites is this Rum Grapefruit Cooler that we've been making for years. We found the recipe in "Gourmet's Parties" cookbook that focused on dining and entertaining and we've been making it every summer since. Having fresh mint growing in the garden makes this so easy to put together on a whim and the dash of Angostura bitters to top it off adds a a really special flavor- don't skip that step :)​​​​​​​
Rum Grapefruit Cooler Recipe
*Serves 2
4 mint springs
1 tbsp sugar
2/3 cup fresh squeezed grapefruit
1.5 tbsp fresh squeezed lime juice
3 ounces light rum
Grapefruit flavored sparkling water (we use Waterloo)
Angostura bitters
Muddle sugar, juices and mint leaves in the bottom of a cocktail shaker.
Add rum and 1 cup of ice.
Shake about 30 seconds.
Strain into two glasses full of ice.
Top with sparkling water and bitters.
Garnish with mint sprig and enjoy!
Cheers,
Stia, Jean and Katherine