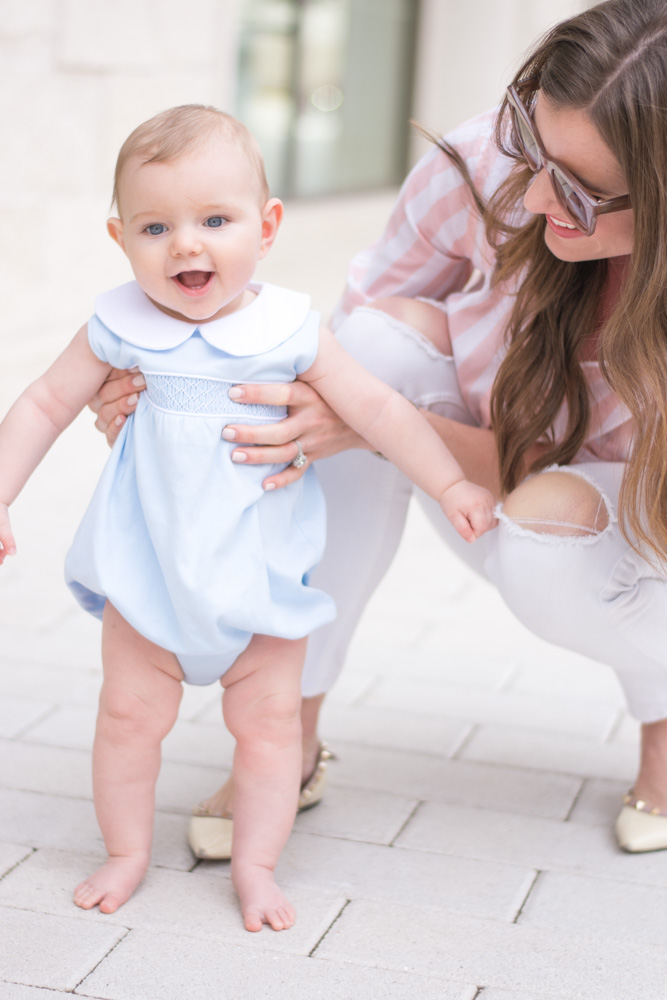 I cannot even believe my baby is six months old! It seems like just yesterday he was sleeping all day long and here we are a few months later and his little personality is really coming through. So much has changed from the beginning of December to now. We went through the terrible 4-month regression and finally came out of it. On Saturday night, he slept for 11 hours straight (I'm still in shock!). We will be introducing solids soon and he is rolling all over the place. He is so determined to get toys that are out of reach- I'm sure crawling will be happening sooner rather than later.
Henry is happy as can be. From the minute he wakes up, until he gets tired or hungry, he is so content. He is quite the snuggler and loves to be held and cuddled. Henry is so intrigued with William. He watches William's every move. Their little relationship is so sweet. William just adores Henry and thinks he is the cutest thing ever. He's always leaning over to give him kisses on the forehead and giggles when Henry reaches out for his hand. I can't wait to see how their relationship evolves in the next three months!
Here is Henry's six month update! We hope that all of the questions you had for us are answered. Please be sure to let us know if you have more questions or if we missed something! Thank you for joining us on this journey 🙂
on henry: bubble // on stia: striped top // jeans // shoes // belt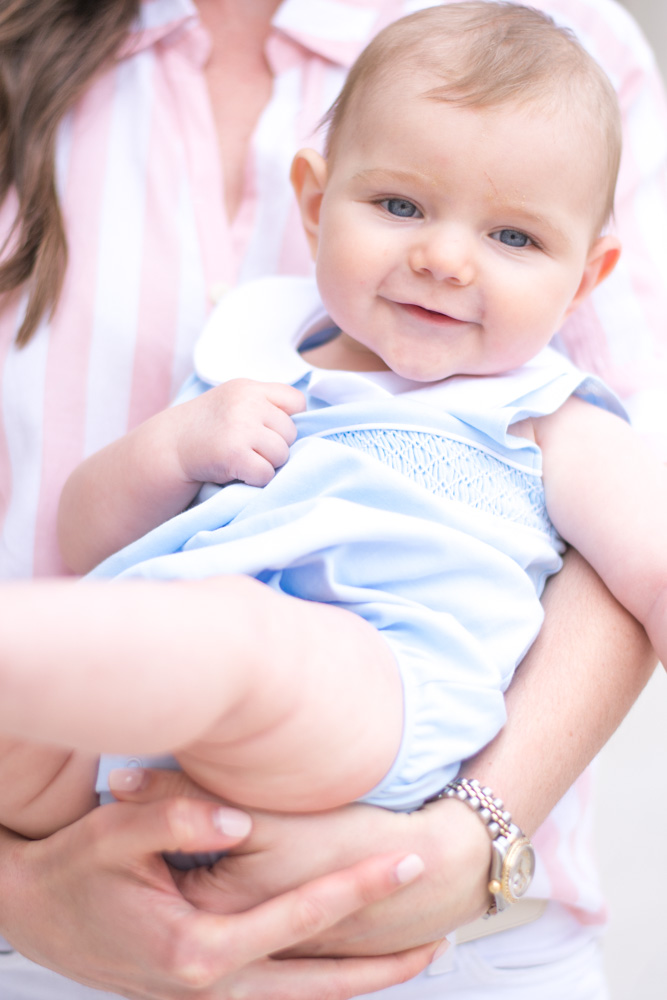 Weight/Height
Henry is like his brother – long and lean! He's 28 inches long (92%) and he weighed 17.5 pounds (50%) at his six month appointment.
Sleeping
We went through the absolute worst sleep regression I have ever experienced around Christmas/New Year's. Those were some of the hardest weeks I can ever remember as a mom. Looking back, I think it's because we dropped the DockATot and the swaddle at the same time. FYI: I absolutely loved the DockATot. It's such a great baby item to use when baby is little. We took it all over the house for naps based on where William and I were playing. Henry slept so well in it. And it's great for tummy time. I'm happy to say that Henry now wakes up typically 1time at night (sometimes 2 times) and it's the best thing ever!! Currently, Henry sleeps in the Merlin's Sleep Suit, but we are getting ready to transition out of it because he is rolling from back to tummy. I know we should have already done it, but he hasn't done it while sleeping and, honestly, I'm not ready to go through another transition period quite yet!!
Henry is still in our room, because he's been waking so often. He and William will share a room eventually, but I wasn't ready to move him into William's room while he was waking up so frequently. That, and the fact that William still doesn't want to give up his crib. I'm not trying to pressure him at all, since that will be a big adjustment for him. Although our situation is not ideal, it won't last forever- hopefully!


Personality
Henry is the sweetest baby ever. He continues to be smiley, happy and hardly cries at all. He babbles all the time. Da Da is the phrase he says most frequently and those high pitched squeals are the cutest! He watches everything that William does and I love to see how their relationship has changed over the past few months. William has always loved having Henry around, but now that Henry's getting older and more playful, they are so sweet to watch together!
He's into anything he can get his hands on, but especially loves soft toys and anything that crinkles. This firefly toy is his favorite. We pretty much bring it with us everywhere and I love that it keeps him entertained by doing so many different things. Now that he's more comfortable being upright, he also loves this Step 'N Play piano. As soon as we put him in it, he was so excited, bouncing all around, looking at himself in the mirror and hitting the keys to make noises. Definitely not the prettiest toy (ha ha), but when he is able to stand on his own the orange seat moves out of the middle, which makes this toy relevant for a long time!
Schedule
I've found that it's hard to have a schedule with the second baby. Although, we've never really been strict about a schedule for either baby, I try to have Henry get a nap at least 1.5 – 2 hours after waking. I also try to make sure Henry gets one crib nap a day, the others can be on the go in his car seat or the stroller.
Henry usually wakes up around 8 am. I'll nurse him, change his diaper and then we'll head downstairs for breakfast. He typically goes down for his first nap around 10 am. We just follow the pattern until it's bed time! I try to get Henry down before I put William to sleep, but sometimes it happens the opposite way. I try to aim for nursing around 7-7:30 pm and then in bed right after that.
Nursing/Eating
Henry is still nursing – anywhere between 6-10 times a day, based on how often he wakes up in the night. I still nurse on demand, so if he seems unsettled or needs help falling asleep I'll nurse him, even if it has been less than 2-3 hours.
Now that Henry's six months old, we'll start to introduce solids. We plan on starting him this week actually! We'll introduce sweet potatoes first, then avocado a few days later. I'm also very excited to try Raised Real once we get a few meals under his belt. I can't wait to share more about that with you guys!
Travel
We're headed out of town this weekend for a wedding in Scottsdale and could not be more excited! I cannot wait to get Henry in the pool and take him on another adventure. We haven't traveled since our trip to Boston in November, so I am more than ready for a few days away! I feel like he's going to be a great traveler just like his big brother.

Milestones
Henry cut his first two teeth – the bottom two! I honestly had no idea he was close to getting teeth. He was super drooley one day and then the next day it had stopped. I felt around on his gums and sure enough his first tooth had cut through! The second one followed a few days later. He'll chew on his FireFly toy or Sophie if she's handy or the edges of his blanket. He'll actually chew on pretty much anything that gets close enough for him to grab- we have to watch our fingers! He also loves to pick up one of William's mega blocks and chew on it if he gets a chance.
Rolled back to tummy – surprised us all! I left the room for a minute and when I came back he was about four feet from where I left him.
Giggles – the sweetest sound ever.
Must-Have Baby Items
Cheers,
Stia, Jean and Katherine