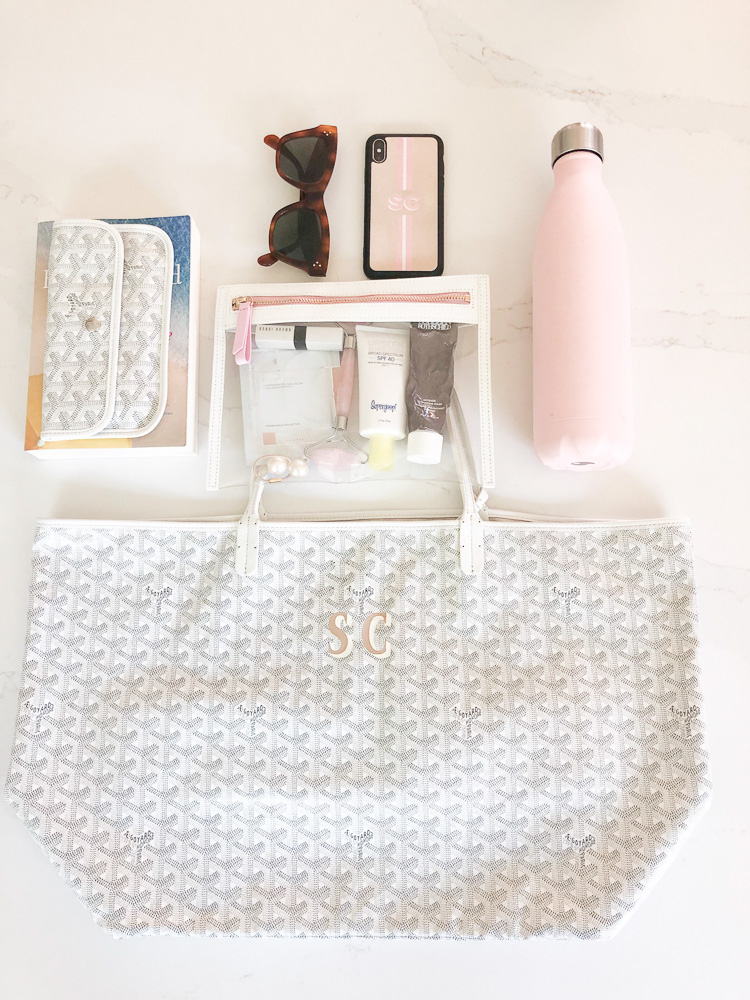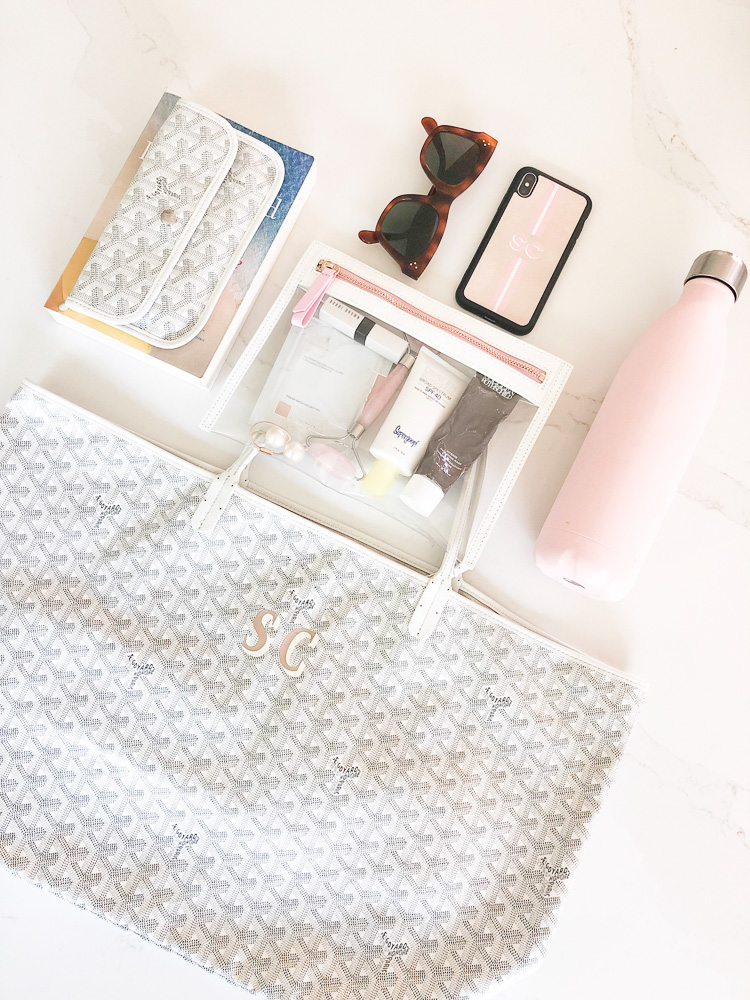 Happy Summer! Along with Summer come fun trips, so we thought it would be fun to share what's in our carry-on bags on a typical trip. We each pack a lot of the same items, but also some different things too. And, each of us is sharing a carry-on/travel tip as well. We'd love to hear some of yours, too!
What's in Our Carry-on Bag Details:
goyard tote bag // goyard pouch // book // sunglasses // monogrammed phone case // clear pouch // hydrating lip balm // eye mask // roller // sunscreen // hydrating mask // water bottle
Stia
My carry-on tends to be slightly different if I'm traveling with the kids or by myself. When we go on a family trip, I try to keep the boys' things in their backpacks so I know where to reach for what I need! When I'm by myself, I tend to put a little more in my carry-on bag!
As a family, we always use carry-on luggage, too. I try to put as much as I can into my Away luggage, but sometimes it overflows into my tote bag!
Katherine
Packing my carry on is pretty easy for me. I don't pack a ton in it, just the essentials!
Headphones: A must have in my book are headphones for in-flight movies
iPhone charger: I love the extra long cord on this charger
Makeup bag: I carry my makeup in my carry-on for easy access during the flight
Hairbrush: I love being able to brush my hair up into a pony if i feel like it
Chapstick: My lips always dry out on the plane, so I use this stick to keep them hydrated
Hand lotion: I apply this hand lotion throughout the flight
Tip: I like to fly clean faced and apply my makeup towards the end of the flight. I feel like it's easier to keep my skin hydrated and my makeup is fresh when we arrive at our destination.
Jean
I almost always have the same items in my carry-on, which it makes it so easy for me to pack that bag! The rest of my packing is always a last minute frenzy, so it's nice not to worry about that one.
iPhone: I always have my phone with me, but usually don't bring a charger, because my husband always has his along
Credit Card Case: To make them easy to find, I like carrying my ID and main credit cards in a small card case
Medium makeup bag: Travel size skin care items from the Colleen Rothschild Discovery Kit
Larger makeup bag: Products for my makeup routine. Even though I almost always carry on my suitcase, I like to know that I have anything I need handy.
Book and magazines: My husband is always working on our flights, so I like having a book or magazines to help pass the time.
Tip: I gather the magazines that I haven't had a chance to read and take them on the flight. It makes my bag a little heavy at the beginning, but I leave them behind after I've finished and I feel like I've accomplished something!
Shop What's in Our Carry-on Bag Details:

goyard tote bag // goyard pouch // book // sunglasses // monogrammed phone case // clear pouch // hydrating lip balm // eye mask // roller // sunscreen // hydrating mask // water bottle
Cheers,
Stia, Jean and Katherine