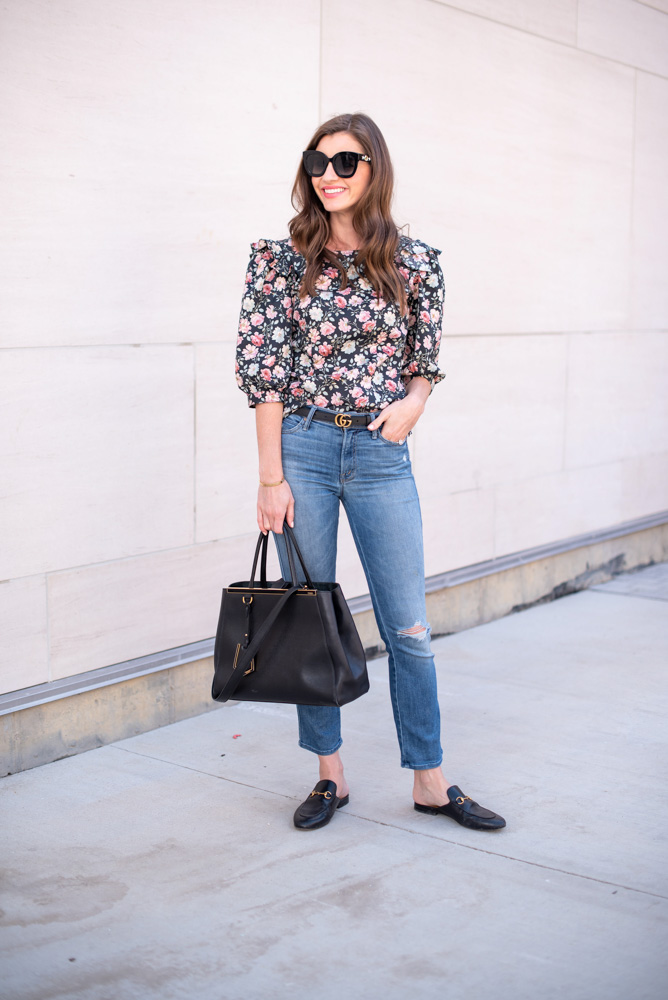 It's no surprise that we love floral. In fact, it may just be our favorite pattern and we are not about to give it up during the colder months! My mom bought this floral top earlier this Fall and since we're living with my parents right now – I have borrowed it too many times to count! Sometimes it can be tricky wearing floral in the cooler months, so here are three tips for wearing floral this fall.
Three Tips for Wearing Floral this Fall
Choose a Darker Floral Pattern
We find floral easier to wear in the fall/winter when it has a darker floral pattern. We love the black background on this floral top and this floral dress is another example!
Opt for Sleeves
Longer sleeves make floral seem appropriate for Fall/Winter. A three-quarter inch sleeve like this one is a cute option. Plus, we can never say no to some ruffles!
Wear with your Go-To Fall/Winter Shoes
We seem to wear our mules with everything (this outfit is one example), but our over-the-knee boots would be just as cute! Especially when it gets really cold. Black booties are another good option to make floral a good option for Fall!
Outfit Details
floral top // jeans // bag // belt // sunglasses // mules
Outfit Details
floral top // jeans // bag // belt // sunglasses // mules
Cheers,
Stia, Jean and Katherine
Photography by: Audrie Dollins