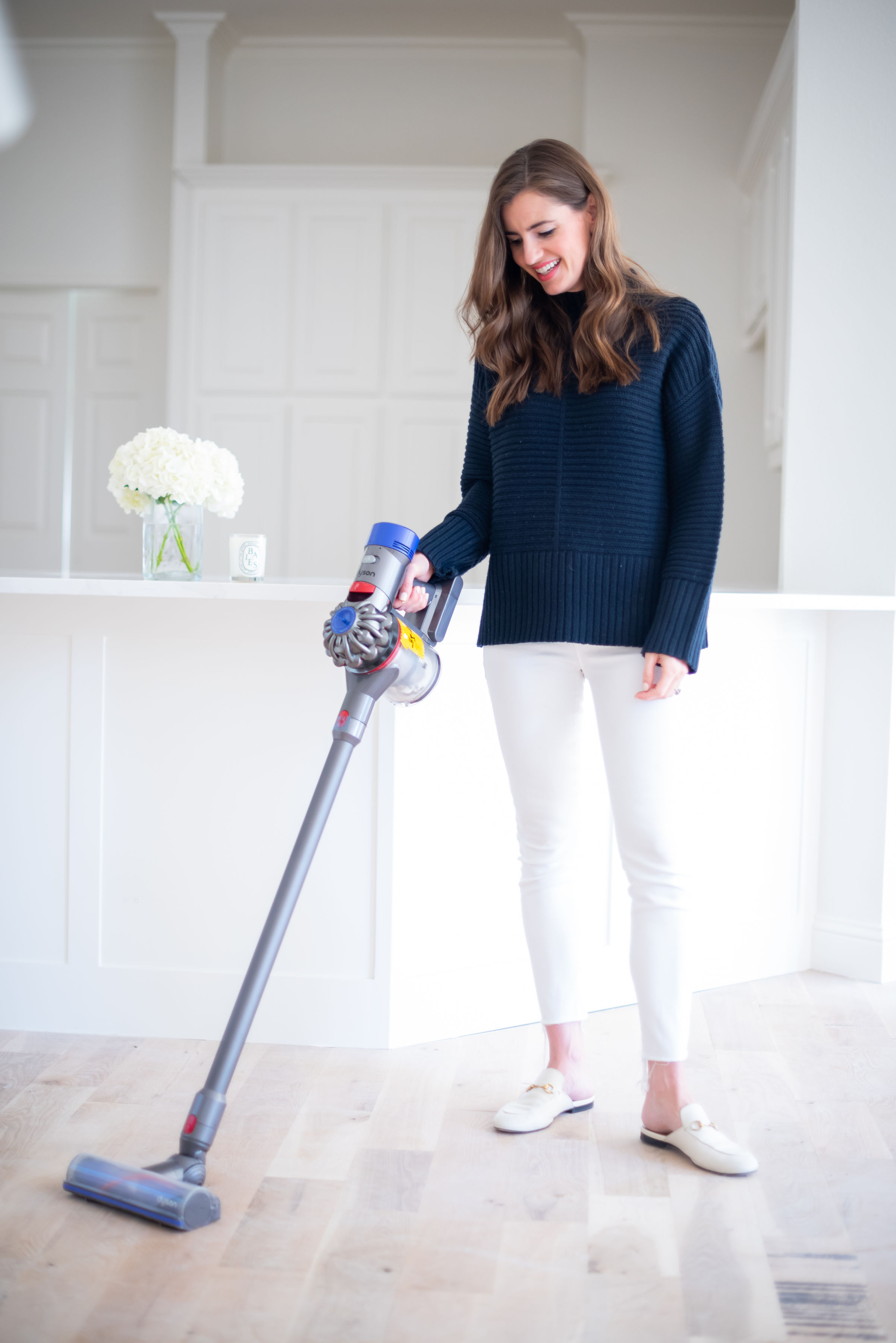 When we purchased our home in June, I thought we would have plenty of time to be finished with renovations and be somewhat settled in before the holidays. Fast forward to now and we're still working on a move-in date, which is now looking like mid-November. Since we'll be moving in just a week or two before Thanksgiving, I'm planning for the essential items we'll need to get our home ready for the holidays and for holiday guests!
I'm using eBay to help me with the list of things I'll need on hand once we make the move. The Home and Garden section has everything I need to be holiday ready. It's so easy to search for the items I'm looking for by filtering for keywords, new or used, free shipping or local pickup, etc. We've found that eBay is a great place to start (and finish) getting your home ready for the holidays. They always have great deals on needed items, which is how I got this cordless vacuum- life changing with two messy little boys!
Thank you to eBay for partnering with us on this post! 
Tips to get ready for the Holidays
Quick Clean-Up
The Dyson Cordless Vacuum is the best way to clean up quickly. My mom has one and I am now obsessed Being cordless makes it so quick and easy to use. It's perfect for cleaning up quickly after meals, snacks or just little messes. I don't know about you other boy moms, but my boys are messy! We love having friends and family over on the spur of the moment and the Dyson Cordless Vacuum is a great home too; to have on hand for a quick spruce up before guests arrive. The handheld option is great to use on upholstery – perfect for after the boys eat a snack while cuddling on the sofa. I love pulling out the lightweight Dyson for quick cleans ups at any time!
Christmas Tree and Holiday Decor
We're planning to get a new Christmas tree for the new house and I love the idea of buying it on eBay; having it delivered and waiting in the garage. We love to put our tree up the day after Thanksgiving and I'm not going to have much time to spend looking for a tree with only days before Thanksgiving. I'm pretty sure I can find everything I need to decorate for the holidays here. This will definitely take some stress off! The only thing holding me back is that I'm trying to decide between a flocked tree or a traditional pre-lit tree…
Gift wrap and Ribbon
Having gifts wrapped and under the tree early in the season is important to me. I like to have everything done early so we can all enjoy the wrapping and anticipation of opening gifts. eBay has a great selection of wrapping paper and ribbon. Just what I need to have on hand for nap time wrapping sessions!
Candles and diffusers
When we packed up our old house I got rid of most of my candles. I couldn't imagine how they could survive months of being in storage! Thankfully I can find all of my favorite candles on eBay. This one and this one are my favorite scents! I also plan to add some holiday diffusers, so I can enjoy the aroma of the holidays without worrying about burning candles during the day when we're in and out. To me there's nothing like that "Christmas tree smell" during the holidays- it's so welcoming for guests.
Fresh flowers
I love having fresh flowers around the house, especially around the holidays when guests are coming and going. I ordered some of these inexpensive clear glass vases, so I can fill them with flowers and place them around the house. These vases make it so easy to arrange flowers quickly and I don't have to worry about the boys accidentally knocking them over.
Toys
The boys are obsessed with anything to do with cleaning or helping me out. Since so many of their toys are in storage I ordered a few things for them to play with now. This lawn mower has been such a hit with them and when I ordered my Dyson Cordless vacuum, I couldn't resist ordering the children's size too. It actually picks up debris! While I'm getting ready for guests or cleaning up after a gift wrapping session, the boys can be helping right beside me. Doing most of my Christmas shopping online is a must. With their extensive collection of children's toys, eBay has so many things to choose from. Leaving me more time to get my house holiday ready!

Shop The Post:

Cheers,
Stia, Jean and Katherine