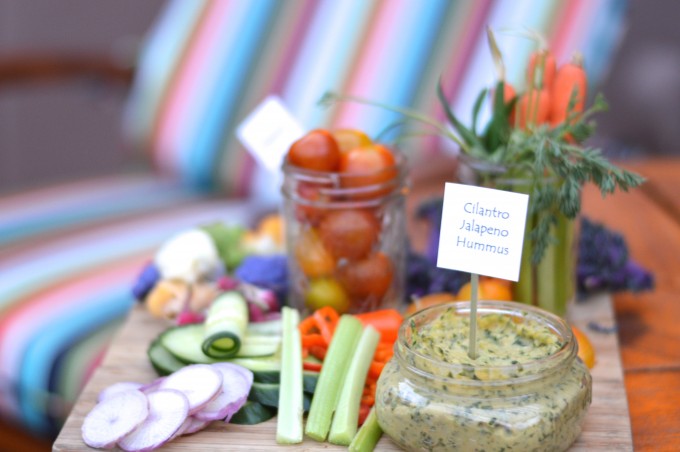 During our stay at the Four Seasons Scottsdale last week, we were introduced to a new snack – Cilantro Jalapeño Hummus.  We have been fans of hummus for years and we always like to try new varieties, but this was a first for us.  In just a matter of a few bites, we were completely addicted.  This hummus seems much lighter than most & the mix of flavors is amazing!  We had to ask for a second round of veggies so we could get every last drop.  It's kind of embarrassing to say that we ordered it every day at the pool!  In fact, on our last day, the pool staff brought us an order gratis, along with the recipe.  What a relief that we can make it at home!   We hope that you will enjoy it as much as we do!
Cilantro Jalapeño Hummus
2 (16 oz) cans garbanzo beans, rinsed and drained
1/4 cup extra virgin olive oil
1/4 cup lime juice (approximately 3 limes)
3 cloves garlic, minced
2 cups roughly chopped cilantro (about 1 bunch)
2 – 3 large jalapeños,  cut in half (we like to leave the seeds in)
salt & pepper to taste
Directions:
Place everything in a food processor or Vitamix and blend together.  We like to leave the hummus slightly chunky, rather than a smooth puree.  Chill overnight and season with salt & pepper before serving.
Serve with triangles of pita bread and veggies.  We like carrots, jicama, cucumber, broccoli, sweet bell pepper, cherry tomatoes & cauliflower!  Enjoy!
Cheers,